Le travail en soi / The work itself / El trabajo de uno
(La versión en español sigue)
About the exhibition
Curator: Nuria Carton de Grammont
Artists: Ifeoma U. Anyaeji, Maria Ezcurra and Meera Margaret Singh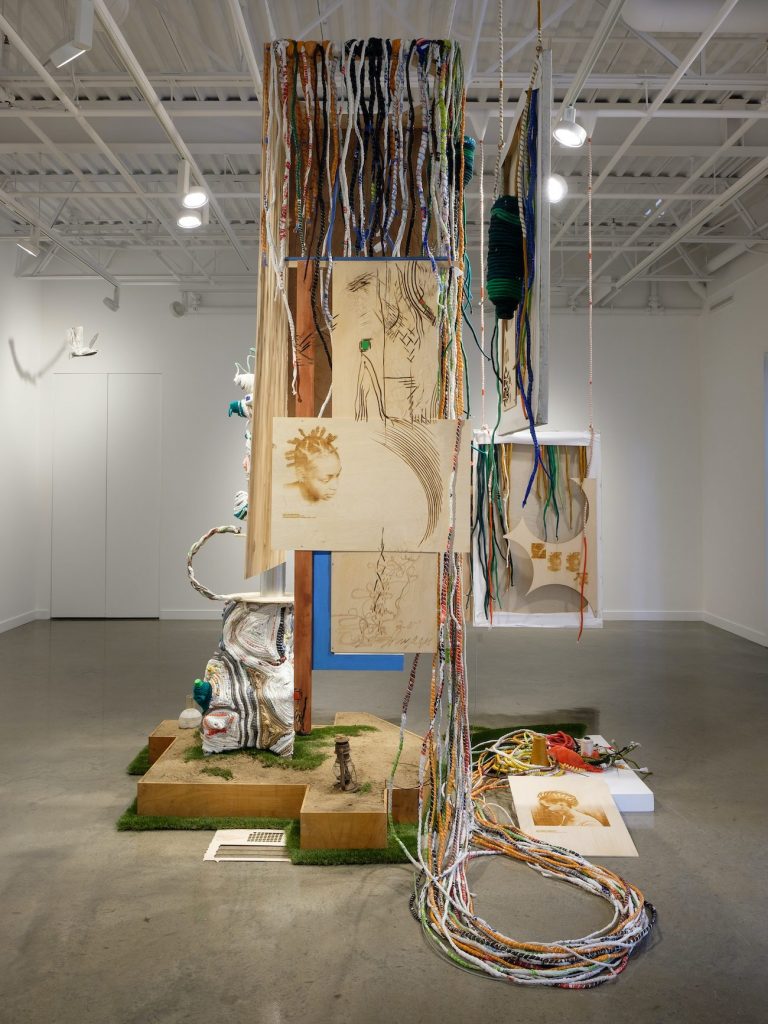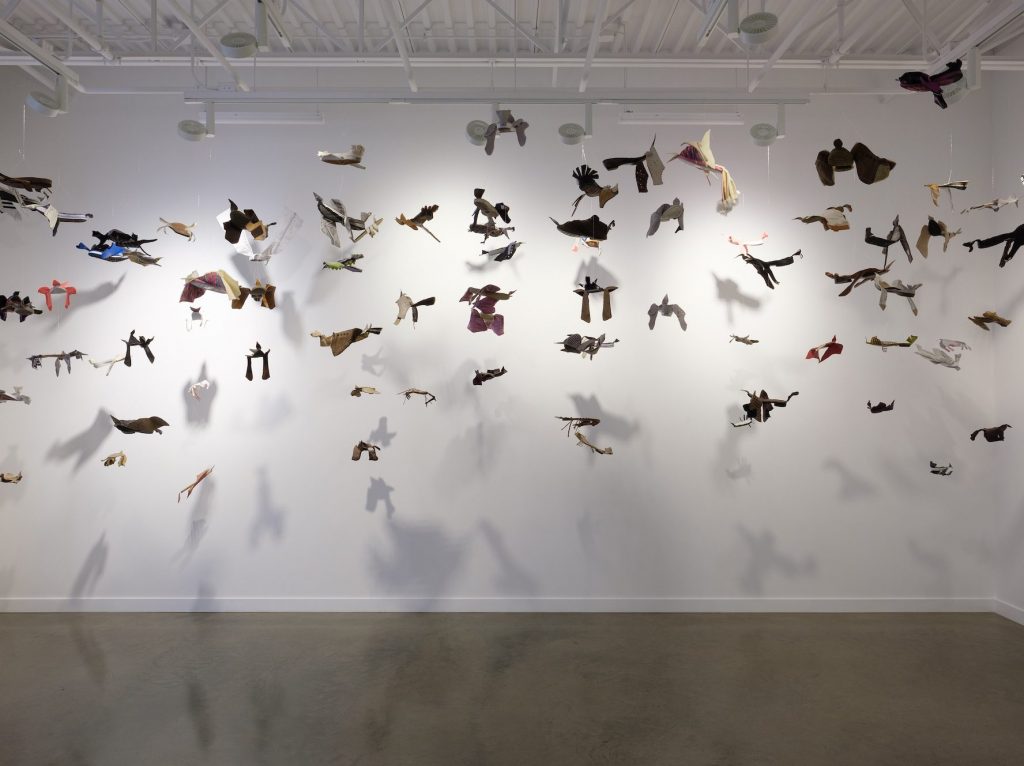 Little more than five months after the start of the forced shutdown, L'Imagier opens its doors to the public on August 15 with the exhibition Le travail en soi / The work itself / El trabajo de uno, curated by Nuria Carton de Grammont. If it's true that the theme of the exhibition was defined long before the health crisis; however the issues raised by it are even more relevant today. By exploring the concept of work not only as an economic activity, but also in its socio-cultural dimensions, the artists tackle sensitive questions such as ways of increasing productivity, ecology, deterritorialization as well as the notions of identity and belonging that derive from these questions.
At the core of this exhibition are the works of three women artists, Ifeoma U. Anyaeji (Nigerian), Maria Ezcurra (Latin American-Canadian) and Meera Margaret Singh (Indo-Canadian). Following their own migration experience, they unite their voices in the consideration of labour from a perspective of uprootedness. The curator, Nuria Carton de Grammont, sees the exhibition as a centre for geopolitical reflection. She explains: "[labour] represents a will to claim identity in its relationship to the construction of the territory in its geographic, as well as in its sensorial dimensions".
Also at the core of this proposal, there is a desire to direct a special kind of attention to the neoliberal production system and to rehabilitate the value of handmade work. In this perspective, Nuria Carton de Grammont underlines: "Beyond productivity and the capital it constitutes, work highlights space as an affirmation of practices, know-how and traditions". Whether through the use of traditional West African weaving techniques (Anyaeji), the transformation of clothing (Ezcurra) or through the photography of immigrant farmers (Singh), the artists not only approach the work accomplished by oneself (as an individual); they also consider the social, cultural and political dimensions that modulate our relationship to the territory.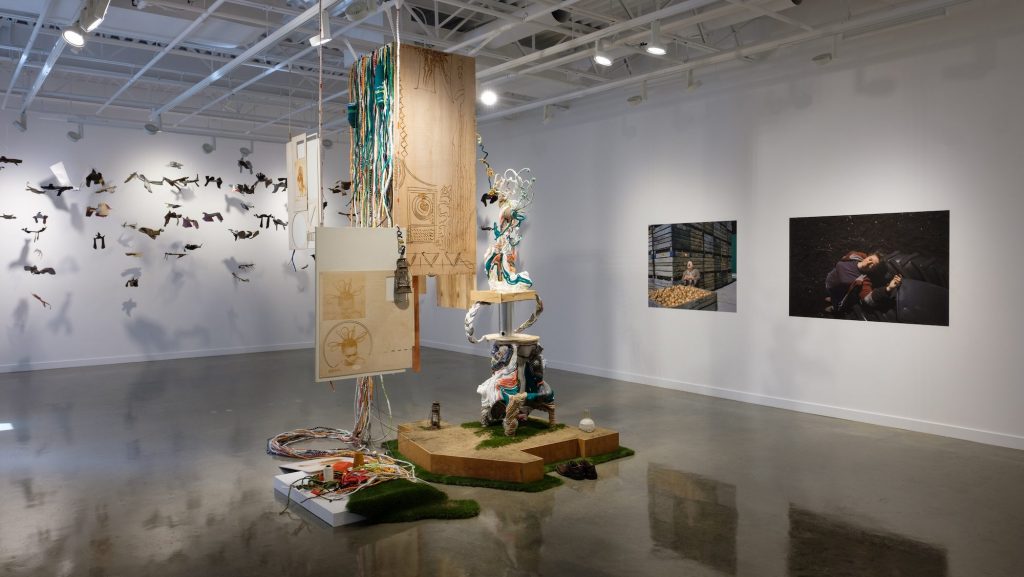 Activities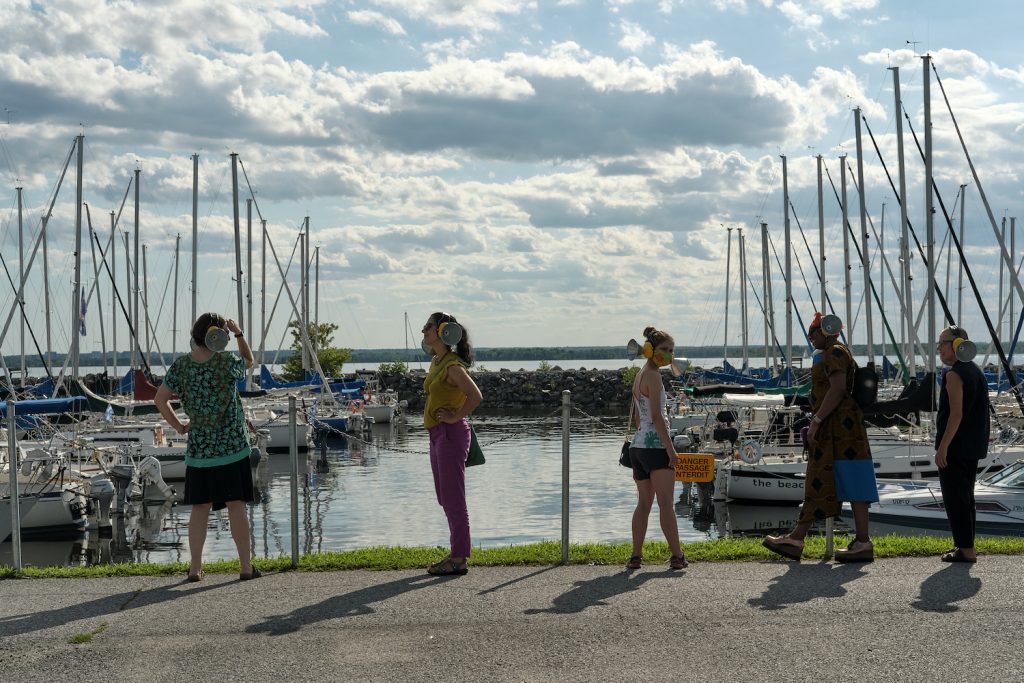 Sound tour
For those who wish to continue their visit beyond the walls of the gallery, the artistic duo Béchard Hudon offers a sound tour allowing to you discover the territory in all its subtleties. The work The Listeners (2011-) is presented as a sound and contemplative stroll, bypassing the productive constraints of work and awakening our senses to creative potentialities.
When: available during the L'Imagier Art Centre's opening hours.
Where: the tour starts at L'Imagier (9, rue Front, Gatineau).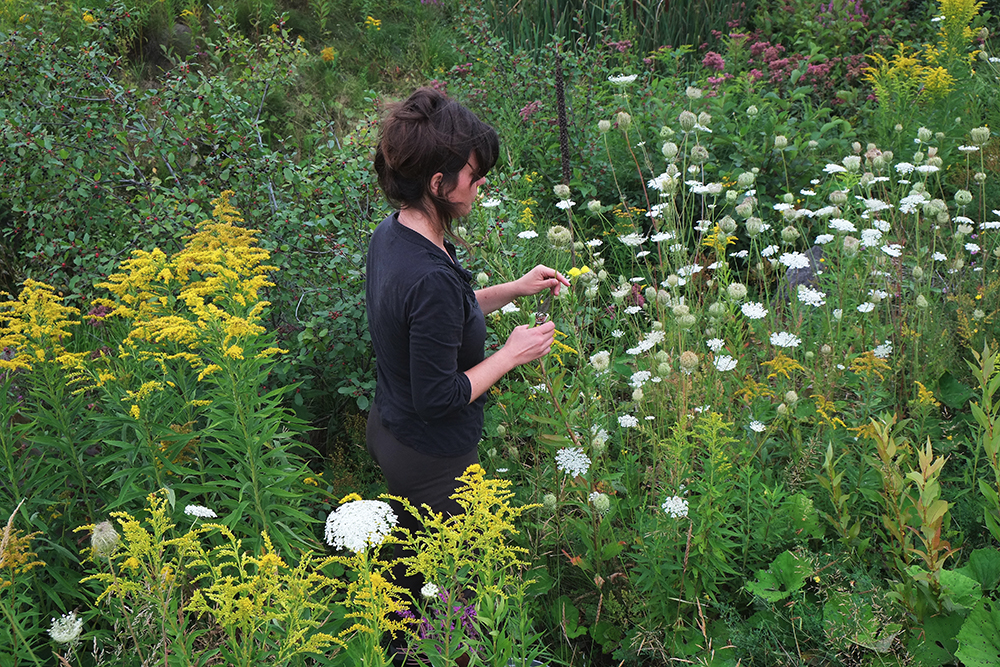 Creative workshop
The creative potential of the territory will also be the object of a discussion during a workshop with floral artist and coureuse des bois Annie Lord. A Walk, pickings, a discussion and the design of bouquets will be on the program.
When: August 29, 10 a.m. – 12 a.m.
Where: Parc de l'Imaginaire (by reservation).
Biographies
Nuria Carton de Grammont is an art historian, curator and lecturer at Concordia University, specializing in contemporary Latin American and Latin American Canadian art. She arrived in Quebec in 2004 to complete her master's studies at UQÀM and obtained her doctorate in Art History from Concordia University. As a curator, she has presented several contemporary art exhibitions in Mexico and Canada, including the exhibition Un, dos, tres por mí y mis compañeras. Latin-Quebecperformance at the Center for Contemporary Art Optica (2020), Gilberto Esparza. Plantas autofotosintéticas at Galerie de l'UQAM (2017). She co-produced the artistic installation Objets personnel / Personal belonging / Objetos personales for the permanent collection of the Americas at the Montreal Museum of Fine Arts where she was also a specialist and consultant for the Arts of One World. She is currently director and curator at the SBC Contemporary Art Gallery in Montreal. She has been invited to several conferences, nationally and internationally and has published specialized articles in the journals Fractal, Esse arts + opinions, Inter-Art Actuel, Les Cahiers ALHIM, Artediseño, Oltreoceano and Archee and has co-edited the book Politics, Culture and Economy in Popular Practices in the Americas (Peter Lang, 2016).
Ifeoma U. Anyaeji is a Nigerian neo-traditional artist born in Benin City. Growing up in a society fueled by the dualities of excesses and repression, where art was yet to be accepted as a "decent" profession, Ifeoma decided to take-up art as a full-time career exploring her boundaries, as a female artist beyond the conventions of her initial academic training in painting. Anyaeji holds an MFA degree in sculpture from Washington University in St Louis, US; a B.A in painting from the University of Benin, Nigeria and is currently an Interdisciplinary PhD candidate. She has participated in several exhibitions in Africa, Europe and the USA, including the ongoing exhibitions: Les Éclaireurs – sculpteurs d'Afrique (Palais des Papes, France), Home: Contemporary African Artists Consider Place and Identity in Our Connected World (The Miller Gallery, Otterbein University, United States of America). Upcoming exhibitions include traveling exhibition Plastic Entanglements: Ecology, Aesthetics, Materials (The Pennsylvania State University). Collections include Fondation Blachère (Apt, France), US Embassy (Abuja, Nigeria), and Art in Embassies Program, US State Department, Washington DC.
Maria Ezcurra is an artist, educator, researcher and mother born in Argentina, raised in Mexico, and currently living in Canada. She has participated in numerous exhibits worldwide, including the Museum of Modern Art in Mexico City, the Carl Freedman Gallery in the UK, the Nuit Blanche in Toronto, the Montreal Museum of Fine Arts and a recent solo show at La Centrale Gallery. She obtained a PhD at Concordia University with the first research-creation doctoral project presented at the Department of Art Education, and currently teaches art at the Faculty of Education at McGill University. She is the art facilitator of the McGill Art Hive, where she develops art projects with and for students and other communities, including the co-development and facilitation of art workshops for refugee children and families in Montreal. Her areas of research are collaborative and inclusive art practices, women's (un)dressed body, gender-based violence, memory, identity and immigration.
Meera Margaret Singh is a Winnipeg born, Toronto-based artist. With a background in anthropology and art history, Meera first became interested in photography as a documentary tool. While pursuing her degree in Fine Art at OCAD University (Photography), Meera began to explore the tension between documentary and fiction. She further seeks to represent fluidity (of culture, of gender, etc.), challenging the viewer to ask questions of her work. Through a succession of photographic series and more recently video works, Meera has questioned and interrogated cultural, physical, geographical, and emotional ideas of displacement and suspension. Meera has been selected as a scholarship winner and participant in the Magnum Workshop with international photographer Alessandra Sanguinetti and as a selected artist in an international residency with German photographer Thomas Struth at the Atlantic Centre for the Arts in Florida. Her work has been included in numerous exhibitions and festivals throughout Canada and the United States. She is currently an assistant professor of the Faculty of Arts at OCAD University.
Catherine Béchard and Sabin Hudon (Béchard Hudon) are based in Montreal. Their interdisciplinary work probes the in-between spaces, and the variations and subtle gaps of time. It operates at the intersection of multiple parameters, such as those of sight and hearing, materiality and its resonance, time and space, movement and immobility, sound, silence and listening. They are interested in meeting lines, hazy areas or in the simultaneity curves that shape our experiences of the territory. They seek to direct a special brand of attention towards the alternative temporalities of the oscillations of matter and to give account for states of the world that escape us by working on the imperceptible. Béchard Hudon have taken part in numerous exhibitions, most notably in the Triennale Banlieue at the Maison des arts de Laval (2018), in the Biennale nationale de sculpture contemporaine à Trois-Rivières (2018), at the MA Musée d'art of Rouyn- Noranda (2018), in the International Digital Art Biennial in Montreal (BIAN) (2016), in the Mois Multi in Quebec (2016), at the Knockdown Center in Brooklyn, as part of the Quebec Digital Art in NYC (2015), in the Device Art triennial in Zagreb (2015) and at the National Museum of China during the exhibition, ThingWorld: International Triennal of New Media Art (2014).
Annie Lord is a floral artist and coureuse des bois, living in Val-Morin in the Laurentians. After studying visual arts, horticulture and environmental sciences, Annie began to work as a "researcher-gatherer" of wild plants. Her motivation to join the ancient gesture of picking to her profession as a florist lead her to investigate certain know-hows, like exploring the territories on foot, observing, looking for nearby plants, identifying and harvesting. Driven by an intimate research that characterizes the work of performance artists, her eclectic approach, initiated in 2015 seeks to link the action of gathering, understood in its ethymological sense "to collect, to assemble" or "to collect (oneself)", to one's own relationship to the territory, to the local flora and to discovery. In addition to her custom floral arrangement services, Annie Lord offers exploratory picking workshops and is involved in various contemporary art projects.
English Digital Publication
To learn more about the exhibition, download our digital publication.
---
Versión en español
Le travail en soi / The work itself / El trabajo de uno
15 de agosto – 27 de septiembre de 2020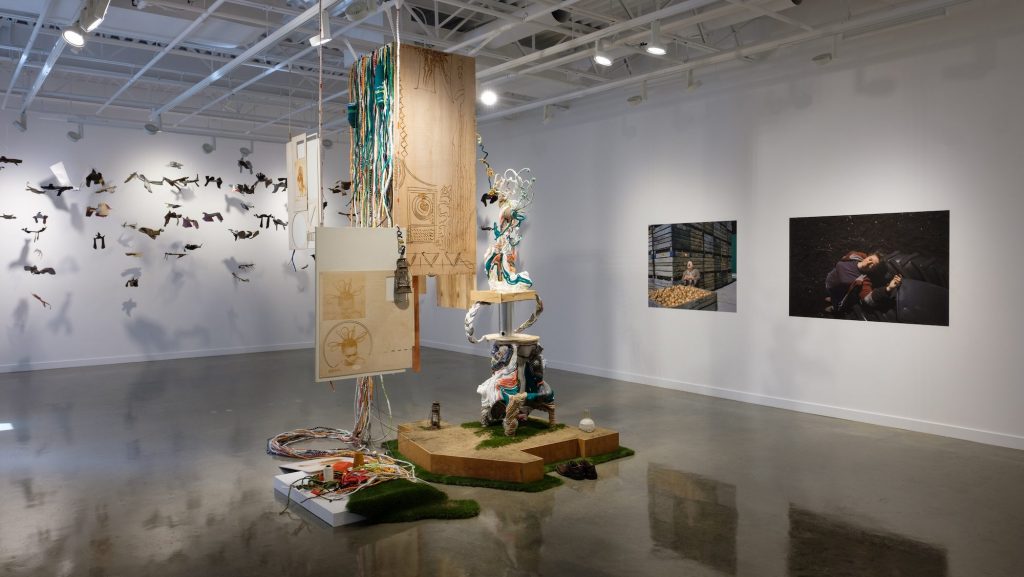 Un poco más que cinco meses después del inicio del cierre forzado, el equipo de L'Imagier abre sus puertas al público el 15 de agosto con la exposición Le travail en soi / The work itself / El trabajo de uno, de la curadora Nuria Carton de Grammont. Si bien el tema de la exposición ya estaba definido mucho antes del estallido de la crisis sanitaria, los temas que plantea resultan aún más relevantes hoy en día. Explorando el concepto del trabajo no solo como una actividad económica, sino también en su dimensión sociocultural, los artistas abordan temas sensibles, como el acrecentado modo de la productividad, la ecología, la desterritorialización, así como las nociones de identidad y pertenencia que derivan de estas.
Al centro de esta exposición encontramos las obras de tres mujeres artistas, Ifeoma U. Anyaeji (afro-nigeriana), Maria Ezcurra (latino-canadiense) y Meera Margareth Singh (indo-canadiense). Siguiendo su propia experiencia de migración, unen sus voces para considerar el trabajo desde una perspectiva de desarraigo. La curadora Nuria Carton de Grammont concibe la exposición como un polo de reflexión geopolítica. Ella explica: "[el trabajo] representa aquí una acción de reivindicación identitaria en su relación a la construcción del territorio tanto geográfico como sensorial".
También, al centro de esta propuesta, está la voluntad de prestar especial atención al sistema de producción neoliberal y de renovar el valor del trabajo artesanal. En este sentido, Nuria Carton de Grammont enfatiza: "Más allá de la productividad y del capital que constituye, el trabajo define un espacio para la afirmación de usos, saberes y tradiciones". Ya sea a través del uso de técnicas tradicionales de tejido de la cultura de África occidental (Anyaeji), de la transformación de la ropa (Ezcurra) o de la fotografía de agricultores inmigrantes (Singh), los artistas no solo abordan el trabajo realizado por uno mismo (como individuo), también consideran las dimensiones sociales, culturales y políticas que modulan nuestra relación con el territorio.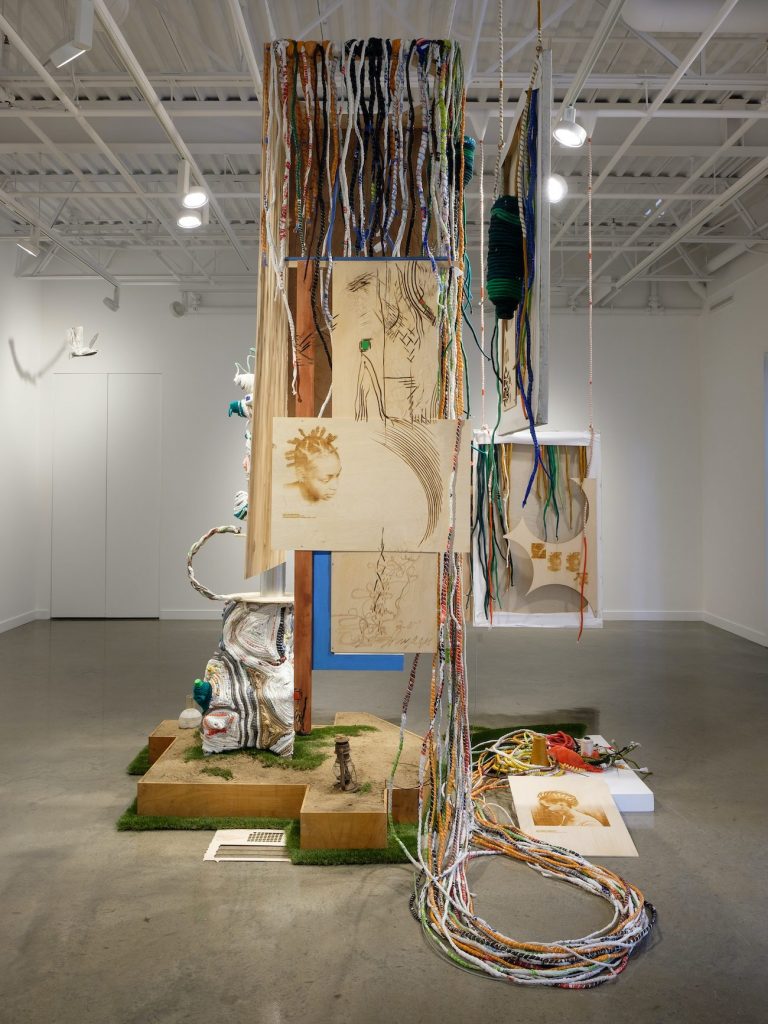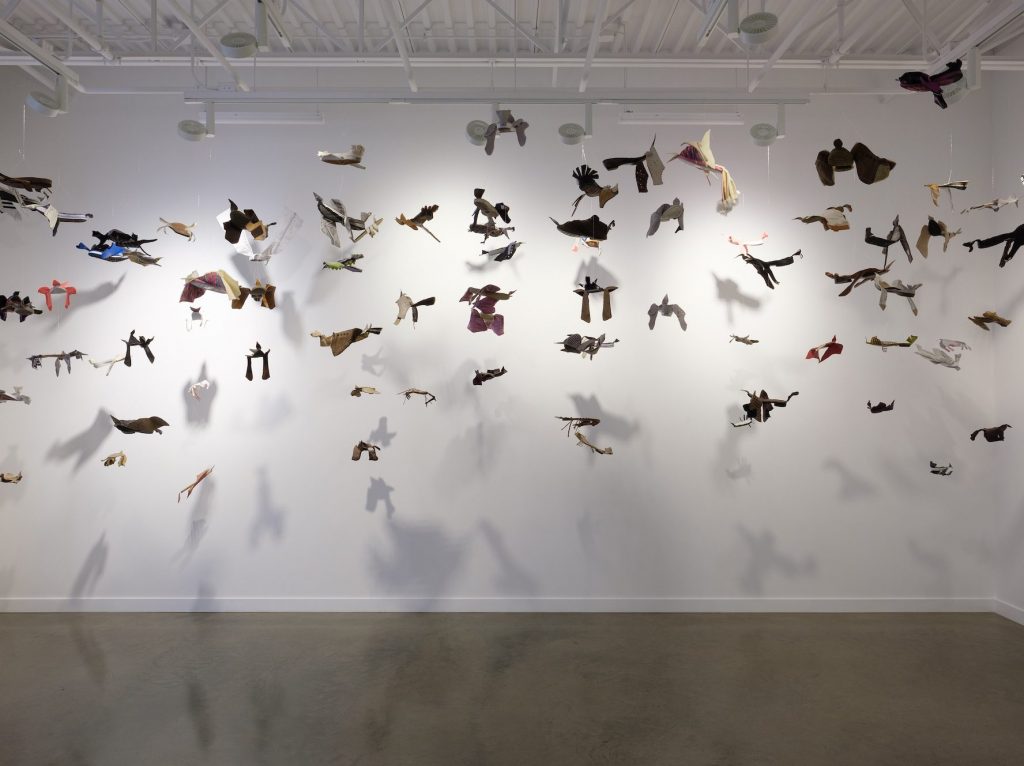 Actividades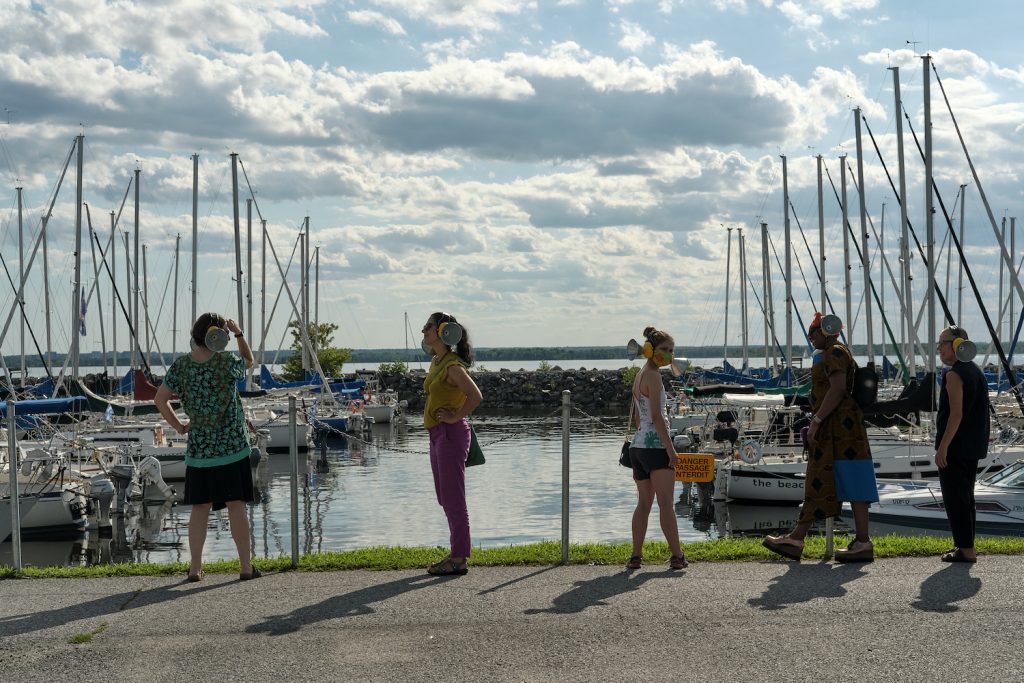 Recorrido sonoro
Para aquellos que desean continuar la visita al exterior de la galería, el dúo de artistas Béchard-Hudon ofrece un recorrido sonoro que les permite descubrir el territorio circundante en todas sus sutilezas. El trabajo Les Écouteurs (2011 -) es presentado como un paseo sonoro y contemplativo que evita las limitaciones productivas del trabajo y agudiza nuestros sentidos relativamente al potencial creativo.
Cuándo: El recorrido es disponible durante el horario de apertura del Centro de Exposiciones.
Dónde: El recorrido es gratuito y comienza en L'Imagier (9, rue Front, Gatineau).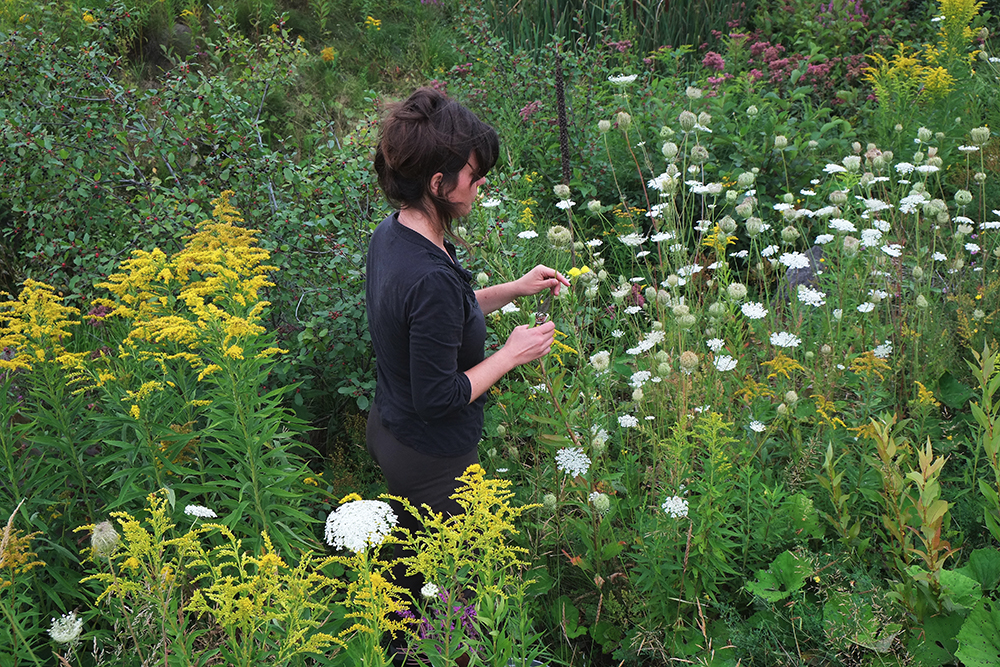 Taller creativo
El potencial creativo del área también será un tema de discusión durante de un taller impartido por la artista floral y coureuse des bois Annie Lord. El programa incluye caminatas, cosechas, discusiones y concepción de ramos.
Cuándo: El 29 de agosto, de 10 a.m. a 12 a.m.
Dónde: Parc de L'Imaginaire (con reserva).
Biografías
Nuria Carton de Grammont es historiadora del arte, curadora y profesora en la Universidad Concordia, especializada en arte contemporáneo latinoamericano y latino canadiense. Llegó a Quebec en 2004 para completar sus estudios de maestría en la UQÀM y obtuvo su doctorado en Historia del Arte de la Universidad de Concordia. Como curadora, ha presentado varias exposiciones de arte contemporáneo en México y Canadá, incluyendo Un, dos, tres por mí y mis compañeras. Performance latino-quebequense en el Centre d'art contemporain Optica (2020), Gilberto Esparza. Plantas autofotosintéticas en la Galería de l'UQAM (2017). Ella coprodujo la instalación artística Objets personnels / Personal belonging / Objetos personales para la colección permanente de las Américas en el Museo de Bellas Artes de Montreal, donde también fue consultora especializada para la colección Arts du Tout-Monde. Actualmente es directora y curadora en la Galería de Arte Contemporáneo SBC en Montreal. Ha sido invitada a dar varias conferencias nacionalmente e internacionalmente y ha publicado artículos especializados en las revistas Fractal, Esse arts + opinion, Inter-Art Actuel, Les Cahiers ALHIM, Artediseño, Oltreoceano y Archee. También Coeditó el libro, Politics, Culture and Economy in Popular Practices in the Americas (Peter Lang, 2016).
Ifeoma U. Anyaeji es un artista neo-tradicional nigeriana nacida en la ciudad de Benin. Al crecer en una sociedad alimentada por la dualidad de los excesos y la represión, donde el arte aún no se había aceptado como una profesión "decente", Ifeoma decidió abarcar el arte como una carrera de tiempo completo, explorando sus límites como mujer artista más allá de las convenciones de su formación académica inicial en pintura. Anyaeji posee una maestría en escultura de la Universidad de Washington en St-Louis, EE. UU, una licenciatura en pintura de la Universidad de Benin, Nigeria y es actualmente candidata al doctorado interdisciplinario. Ha participado en varias exposiciones en África, Europa y Estados Unidos, incluidas las exposiciones en curso: Les Éclaireurs – sculpteurs d'Afrique (Palais des Papes, France), Home: Contemporary African Artists Consider Place and Identity in Our Connected World (The Miller Gallery, Otterbein University, États-Unis). Las próximas exposiciones incluyen la exposición itinerante Plastic Entanglements: Ecology, Aesthetics, Materials (The Pennsylvania State University). Sus obras forman partes de varias colecciones de varias instituciones, entre las cuales están la Fundación Blachère (Apt, Francia), La Embajada de los Estados Unidos (Abuja, Nigeria), y El programa Art in Embassies, del Departamento de Estado de los Estados Unidos, Washington DC.
Maria Ezcurra es artista, educadora, investigadora y madre nacida en Argentina, criada en México y actualmente viviendo en Canadá. Ha participado en numerosas exhibiciones en todo el mundo, incluyendo en el Museo de Arte Moderno de la Ciudad de México, en la Galería Carl Freedman en el Reino Unido, en la Nuit Blanche en Toronto, el Museo de Bellas Artes de Montreal y ha presentado recientemente una exposición individual en la Galería La Centrale. Obtuvo un doctorado en la Universidad de Concordia con el primer proyecto de doctorado de investigación y creación presentado en el Departamento de Educación Artística, y actualmente enseña arte en la Facultad de Educación de la Universidad McGill. Es la facilitadora de arte del McGill Art Hive, donde desarrolla proyectos de arte con y para estudiantes y otras comunidades, incluyendo el desarrollo conjunto y la facilitación de talleres de arte para niños y familias refugiados en Montreal. Sus áreas de investigación son las prácticas artísticas colaborativas e inclusivas, el cuerpo de mujer (sin vestir), la violencia de género, la memoria, la identidad y la inmigración.
Meera Margaret Singh es una artista nacida en Winnipeg, y viviendo actualmente en Toronto. Con experiencia en antropología e historia del arte, Meera se interesó a la fotografía como herramienta documental. Mientras cursaba su licenciatura en Bellas Artes en la Universidad OCAD (Fotografía), Meera comenzó a explorar la tensión entre el documental y la ficción. Ella busca representar la fluidez (de cultura, de género, etc.), incitando el espectador a interrogarse sobre sus propias condiciones laborales. A través de una sucesión de series fotográficas y más recientemente de obras en video, Meera ha cuestionado e interrogado ideas culturales, físicas, geográficas y emocionales relativas al desplazamiento y la suspensión. Meera ha sido seleccionada como ganadora de una beca y como participante en el Taller Magnum con la fotógrafa internacional Alessandra Sanguinetti. También fue seleccionada en una residencia artística internacional con el fotógrafo alemán Thomas Struth en el Atlantic Center for the Arts en Florida. Su trabajo ha sido incluido en numerosas exposiciones y festivales en Canadá y Estados Unidos. Actualmente es profesora asistente de la Facultad de Artes de la Universidad OCAD.
Catherine Béchard et Sabin Hudon (Béchard Hudon) viven en Montreal. Su trabajo interdisciplinario sondea los espacios intermedios, y las variaciones y las brechas sutiles del tiempo. Se ubica en la encrucijada de múltiples parámetros: entre vista y oído, materialidad y su resonancia, tiempo y espacio, movimiento y quietud, sonido, silencio y escucha. Les interesan las líneas de encuentro, las áreas borrosas o las curvas de simultaneidad que dan forma a nuestras experiencias del territorio. Buscan dirigir la atención particularmente hacia las temporalidades alternas de las oscilaciones de la materia y tomar en cuenta los estados elusivos del mundo trabajando en lo imperceptible. Béchard Hudon han participado en numerosas exposiciones, incluyendo la Triennale Banlieue, Maison des arts de Laval (2018), la Biennal nationale de sculpture contemporaine, Trois-Rivieres (2018), en el MA Musée d'art ,Rouyn-Noranda (2018), en la Biennale Internationale d'Art Numérique, Montreal (2016), en Mois Multi, Québec (2016), en el Centro Knockdown, Brooklyn, como parte del evento Quebec Digital Art en NYC (2015), en la trienal Device Art, Zagreb (2015) y en el Museo Nacional de China durante la exposición ThingWorld: International Triennal of New Media Art (2014).
Annie Lord es una artista floral y coureuse des bois, que vive en Val-Morin en las Laurentides. Después de estudiar artes visuales, horticultura y ciencias ambientales, Annie comenzó a trabajar como "investigadora-recolectora" de plantas silvestres. Su deseo de unir el antiguo gesto de la recolección al de su profesión como florista, la lleva a explorar ciertos saberes, como recorrer el territorio a pie, la observación, la búsqueda de plantas a proximidad, su identificación y cosecha. Motivada por una investigación íntima como artista del performance, su enfoque ecléctico iniciado en 2015, busca vincular la acción de reunir, etimológicamente "recolectar, ensamblar" o (recolectar(se)), a la propia relación con el territorio, con la flora local y el descubrimiento. Además de sus servicios de arreglos florales personalizados, Annie Lord ofrece talleres exploratorios de recolección y participa en varios proyectos de arte actual.
Publicación digital en español
Para saber más sobre la exposición, descargue nuestra publicación digital.
* Meera Margaret Singh, George, Farmland Series, digital photography, 2011.