DESCRIPTION OF THE POSITIONS TO BE FILLED
Under the responsibility of the general management
We are looking for candidates who are willing to support our mission by joining our team. L'Imagier offers an opportunity for a creative and self-motivated individual to expand their knowledge and embark on new challenges.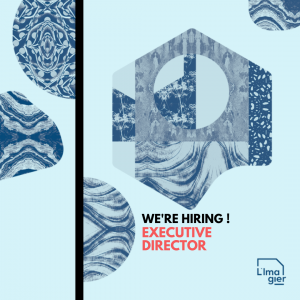 POSITION OF EXECUTIVE DIRECTOR
L'Imagier Art Centre in Aylmer, Gatineau, is seeking an individual to fill the position of Administration Manager. Although knowledge of contemporary art is an advantage, the ideal candidate will be a dynamic individual with experience in resource management and the development of cultural organizations.
RESPONSABILITIES
The Executive Director reports to and is accountable to the Board of Directors. He or she plans, organizes, directs, controls, and evaluates the activities of L'Imagier's human, financial, real-estate and organizational resources.
More specifically, his responsibilities are to:
Manage the overall administration and Board of Directors;
Develop and administer policies;
Coordinate and manage budgets;
Develop and manage private and operating revenue development;
Prepare operational and financial analyses, recommendations and reports;
Recruit and train professional, technical and support staff;
Manage premises;
Manage internal communications;
Work closely with the Board of Directors and the Programming Manager to develop and update L'Imagier's strategic plan.
Collaborate in the planning and execution of projects and grant applications;
Ensure the development and execution of advertising and public relations programs;
Carry out programming duties as required;
MINIMUM REQUIREMENTS FOR THE POSITION  
A bachelor's degree in administration or in a field related to L'Imagier's mission;
General knowledge of contemporary arts is an asset;
A minimum of three (3) years' relevant administrative experience;
Ability to write grant applications and develop autonomous and private revenues;
Excellent command of French and good command of written and spoken English;
Knowledge of cultural funders is an asset.
SALARY
To be discussed, depending on years of experience.
STATUS
Regular, full-time and open-ended after one year.
CLOSING DATE TO APPLY
Position open until the ideal candidate is found.
To apply, send your application by email in PDF format to: direction@limagier.qc.ca 
Leonore-Namkha Beschi
Director
L'Imagier Exhibition Centre
9 Front Street
Gatineau QC J9H 4W8  
Your email should have the subject line "Executive Director". Applicants are asked to include a cover letter describing their interest in the position and their relevant experience, as well as a current CV, and any other material in support of their application.  
L'Imagier is committed to promoting diversity and representation within our organization. We strive to provide and maintain a fair and equitable environment for all by valuing and respecting individual differences for our enrichment and that of the community we serve.  
---