Explore your creativity by participating in a guided tour and a creative workshop inspired by the

natural environment

that surrounds

L'

Imagier

!
A day of ready-to-go activities
L'Imagier offers a brand-new bilingual school tour program that takes place in person at our gallery. Take part for a day in a rich and creative experience that will stimulate the minds and imaginations of all. Meet professionals from the art world by participating in a guided tour of the current exhibition of the day and in a creative workshop specially designed for the occasion. Students are divided into 2 to 3 groups and will alternate between the proposed activities, while having access to Parc de L'Imaginaire. With a studio that opens directly to the park, the students take advantage of L'Imagier's exceptional natural location to explore and expend their energy.
Details
Maximum of 30 students/group.
Maximum of 3 groups/day.
1 personalized and in-depth guided tour led by L'Imagier staff.
2 workshops to choose from and led by a local professional artist and educator.
The teacher must be present and/or accompanied by a second adult for group supervision.
Available in French and English.
Possibility to stay for lunch inside L'Imagier or in the Parc.
Minimum reservation 1 month in advance.
Learning objectives
Discovery of contemporary artistic practices and vocabulary.
Development of fine motor skills and creativity through the creation of a work of art.
Development of critical thinking through discussions encouraging curiosity, observation, and analysis.
The visit
(1 hour)
The guided tour, led by a member of L'Imagier team, includes a presentation of the Centre, its history and its mission. The tour continues with a visit to the current exhibition, during which the students' attention is drawn to a discussion of the themes and contemporary artistic practices involved.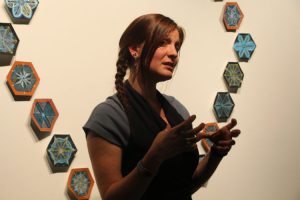 The workshops
The workshops developed are inspired by the place and environment in which L'Imagier is set. They can also refer to the themes of the current exhibition.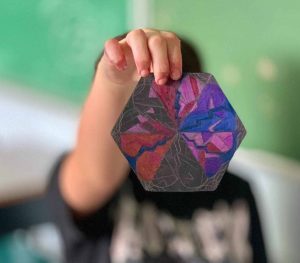 Workshop #1: H2O reflections
(2 hours)
Have you ever looked at a water molecule under a microscope? It has six sides (like a snowflake) with a centre; something that is observed in nature and studied in biology, geology, chemistry, physics and astronomy. In this drawing workshop, you will:
Explore the hexagonal pattern in nature.
Reflect on our relationship with water and the ways in which we are all connected.
Learn more about how water molecules can change shape when exposed to information such as music or words.
Students design their own hexagons (in drawings, with coloured pencils) based on a word of their choice. Once completed, the project culminates in a collective mural where all the hexagons are assembled like a mosaic or a beehive. This workshop includes a theory section to deepen the knowledge of colour theory and basic drawing techniques (shapes, line, expression). Optional for older participants: They are invited to write down their personal thoughts on the intentions behind their pieces.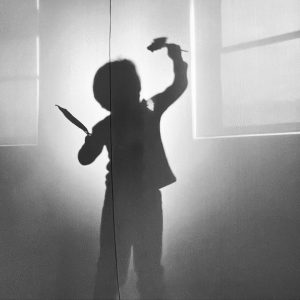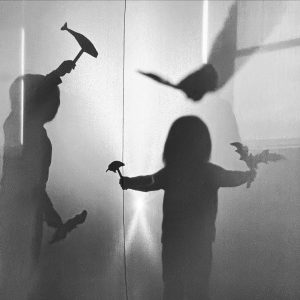 Workshop #2: Shadows and Light
(1 hour)
By exploring the play of light and shadow, students develop their sense of observation by activating the two hemispheres of our brain. Through a series of fun activities, the group discovers the essential notions of gray values (the degree of lightness or darkness of an image) to define volumes, thus sharpening their perception of the world around them. Equipped with a graphite pencil, each of them creates a mini portrait in black and white.
Costs
The following fees follow the recommendations of Ministère de la Culture et des Communications and include the costs of preparation, facilitation, organization and purchase of materials for the workshop.
Option 1 (complete experience for 60-90 students)
Guided Tour of L'Imagier and the exhibition
Total of 4 hours for two groups (each with a maximum of 30 students)
Total of 3 hours for three groups (each with a maximum of 30 students)
Option 2 (1-hour experience for 30 students)
Guided Tour of L'Imagier and the exhibition