Dates: from July 11 to August 19, 2022
Bilingual Day Camp
For more information, download the information package.
EN PLEIN ART!
Our specialized day camp introduces children aged 6 to 12 to various artistic techniques and mediums. Each creative workshop offers a fun and interactive experience, during which they are encouraged to develop their curiosity and a range of artistic skills, while being guided in the exploration of their creative potential.
Each week we offer an in-depth approach to drawing, painting, photography, sculpture and mixed media techniques, inspired by contemporary cultural practices and references. Our educators are assisted by group leaders to provide personalized instruction on the basics of creation including colour and tone; line, texture and form; as well as volume, perspective and rules of composition.
* Week 1 (July 11 – 15);
* Week 2 (July 18 – 22);
* Week 5 (August 8 – 12);
* Week 6 (August 15 – 19) are full!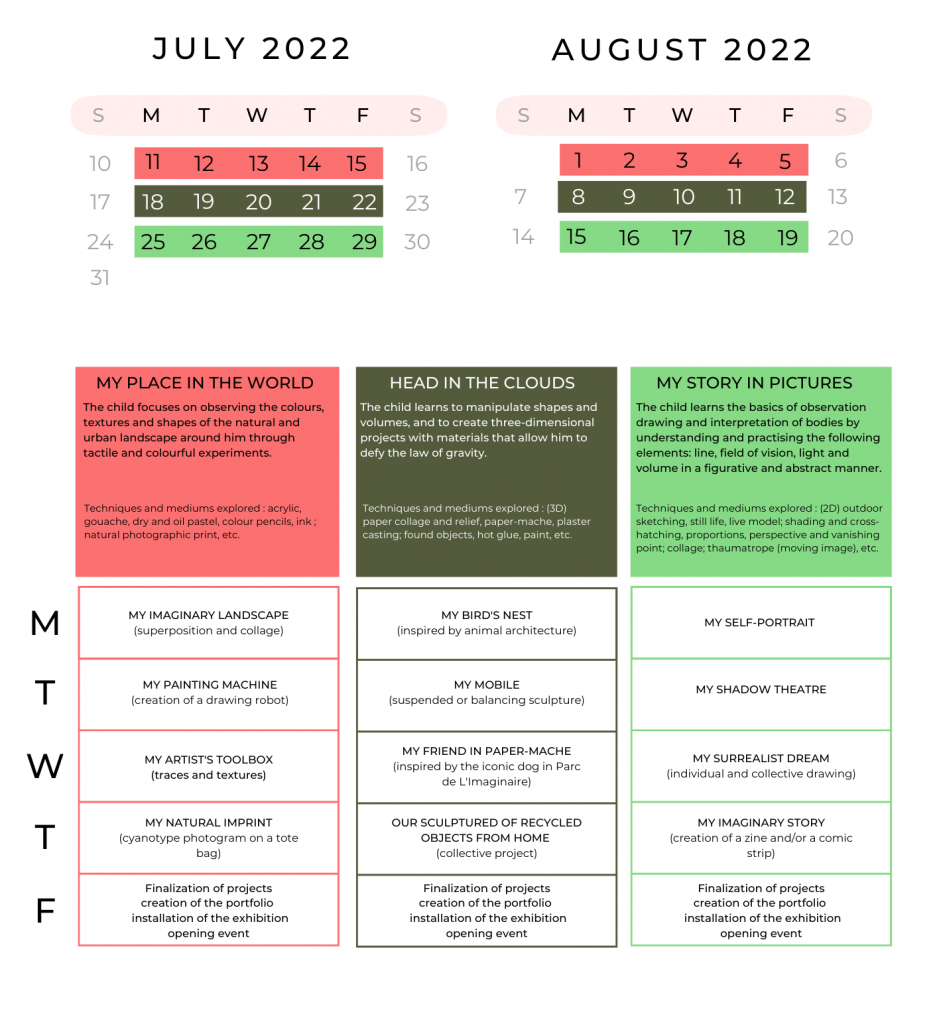 * L'Imagier reserves the right to modify the content of the program without prior notice to adapt to changing sanitary measures and weather conditions.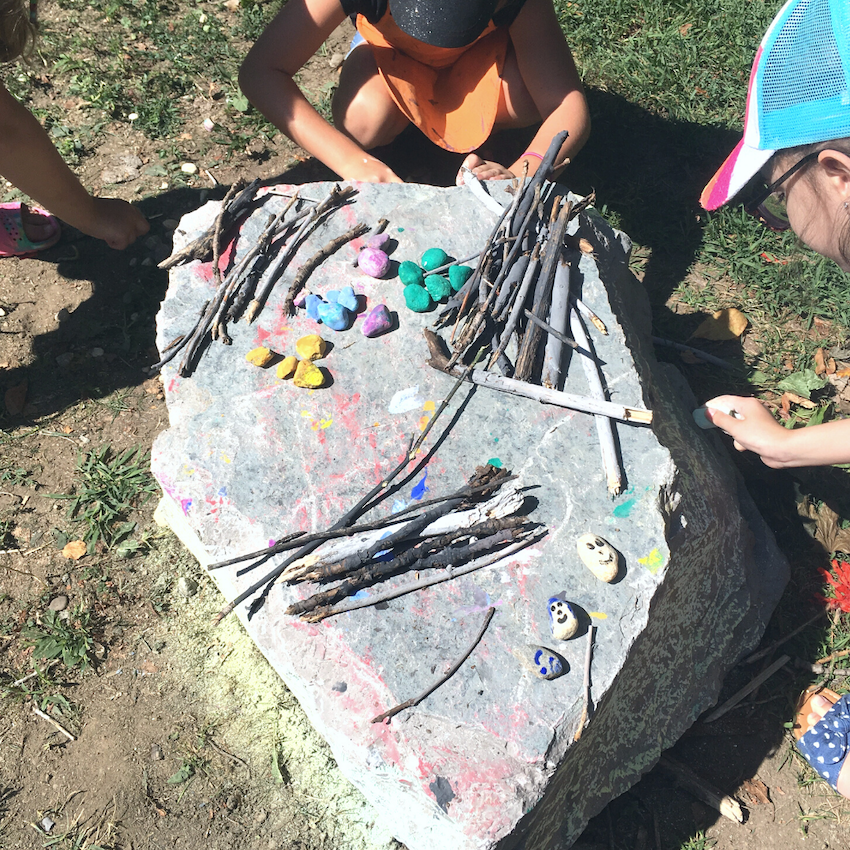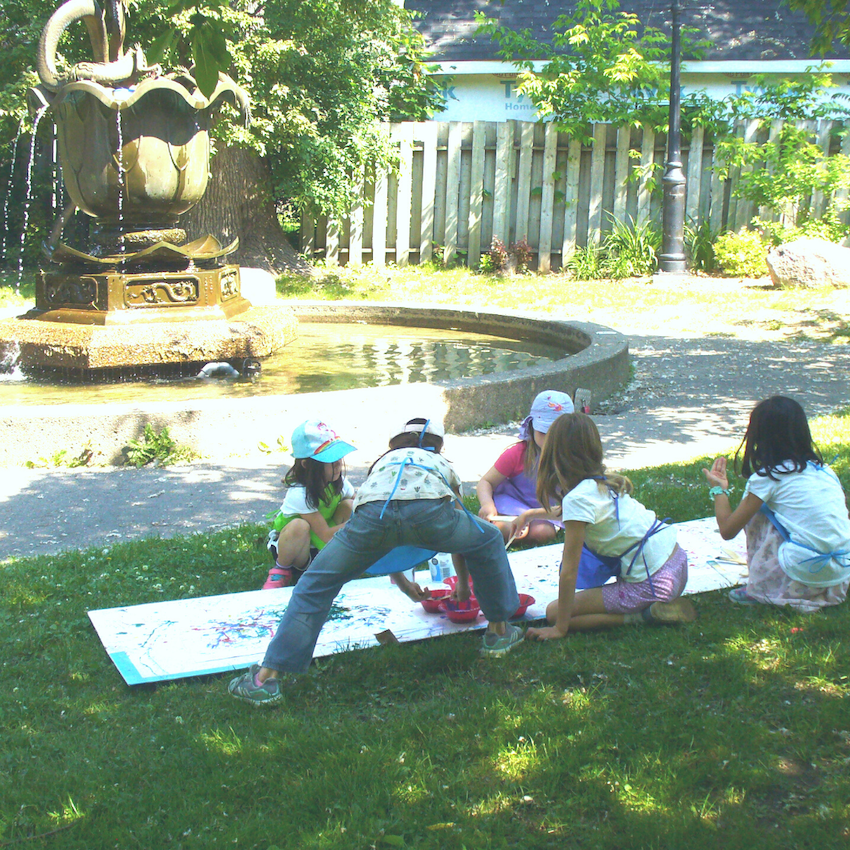 Prices
$275/week (+ tax) for the registration of the 1st child.
$250/week (+ tax) for the registration of the 2nd child and more (registered the same week) or for each additional week.
* Prices include creative materials and openings.
** Expenses are eligible for tax credit.
---
Explore creativity by participating in a series of workshops inspired by the lively nature that surrounds L'Imagier. En plein art is directly inspired by the natural landscape of Parc de L'Imaginaire. The themes, mediums and techniques explored are unique each week, allowing children to participate in one, two or three weeks camp, without ever repeating the same activity. The program has been designed to follow a learning progression. 
With a studio with views of the Parc de L'Imaginaire, the children take advantage of L'Imagier's exceptional natural location to have fun and be active. Every Friday, the children create their portfolio and actively participate in the creation of their own exhibition. Parents are invited to the opening event to view the works created during the week by our budding artists.

For a creative summer!
Camp is for children ages 6-12.
25 spots available; 2 groups (6-9 years, 8-12 years).
Each group of children (max. 13) is supervised by a group leader.
Art materials are included in the registration fee.
The daily schedule includes time for snacks, relaxation and games.
Daily outings to Parc de L'Imaginaire are scheduled, weather permitting.
Children and parents will be able to visit the current exhibition according to the artistic programming.
The Day Camp will be adapted according to the sanitary measures put in place at that time by the Quebec government.
Children must bring their own meals and snacks (cold dishes only).
The day camp is bilingual.
Children enjoy safe supervision in a welcoming atmosphere.
For more information, download the information package.
Information: info@limagier.qc.ca
"My boys had an amazing time during their week of camp. They developed their creativity and had the chance to live beautiful moments with their friends in a very stimulating outdoor environment. Thank you to their group leaders for their passion, kindness and enthusiasm!

—Guillaume, 2019.