Rihab Essayh's Instagram Takeover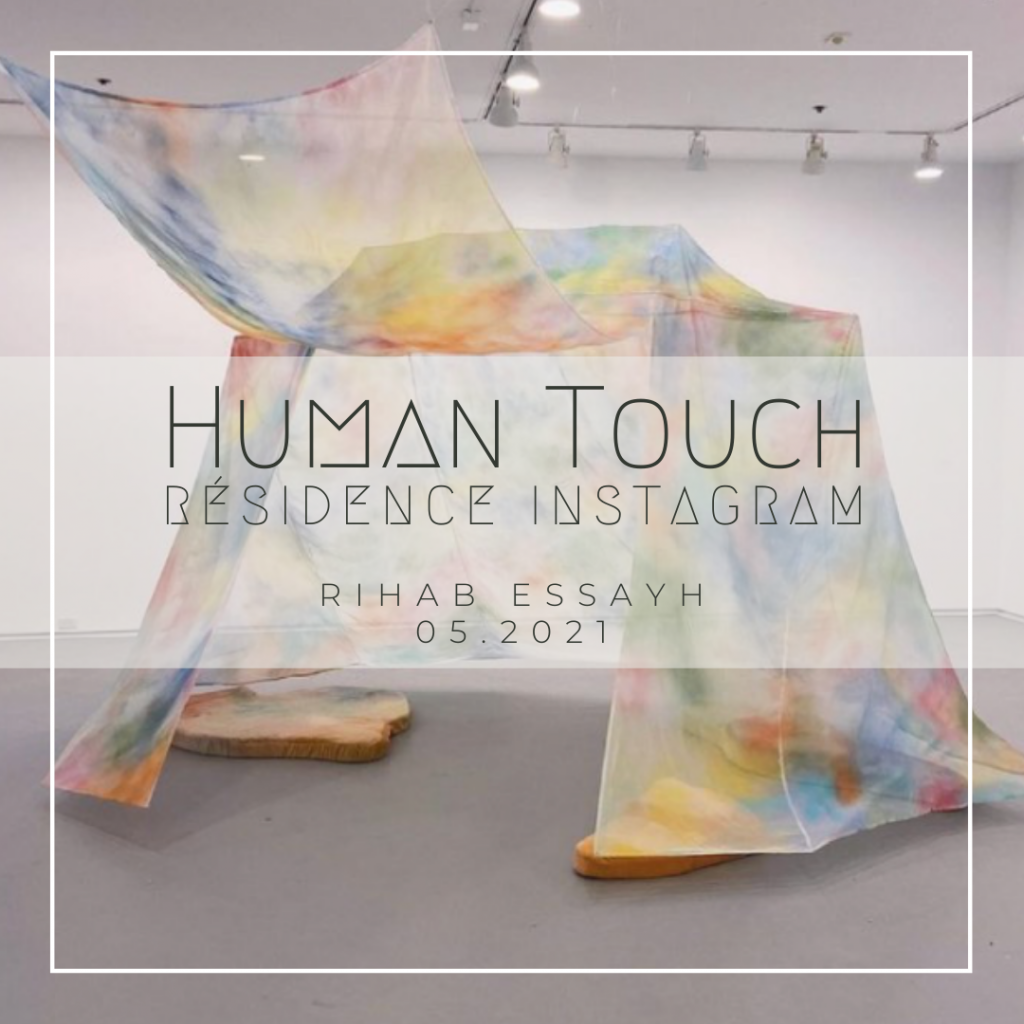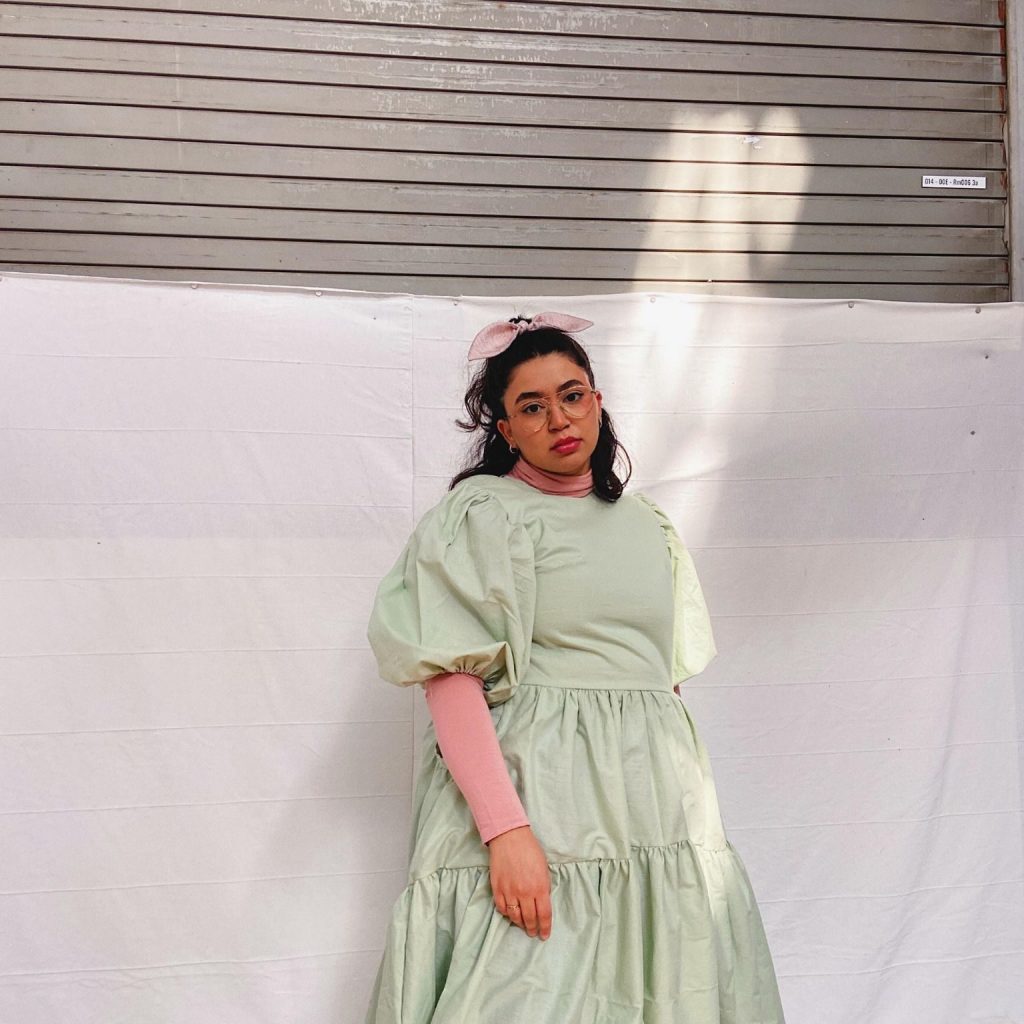 Did you know that all the artists who take part in the series "Human Touch" are connected to each other in some ways ? This beautiful project works on the basis of word-of-mouth and mutual respect, allowing us to highlight creative beings with truly unusual approaches!
The series continues with our third "takeover". This time, we invite you to discover the artistic practice of the Canadian-Moroccan artist based in Ontario, Rihab Essayh. Starting tomorrow, you will be able to discover her most recent works, and learn more about her inquiries and inspirations that guide her master's studies at the University of Guelph.
Stay tuned
Follow Rihab Takeover on Instagram: https://www.instagram.com/l.imagier/
Day 1 : May 31, 2021
We are pleased to present Rihab Essayh, a Canadian-Moroccan artist based in Guelph, Ontario. Despite the lightness of the materials and the delicacy of the environments created by this multidisciplinary artist, her works deal with universal themes related to the human condition, emphasizing the benefits of belonging, empathy and caring. Rihab's most recent installations are participatory and therefore invite touching. They could not fulfill their purpose due to the current sanitary measures. Imagine yourself touching these textiles and let yourself be charmed by these contemplative diaphanous atmospheres.
My interdisciplinary artworks are grounded in drawing, photography, video, and installation while taking into account material properties. The initial thought of my research process starts with an auto-ethnography documentation process. The thought is then transformed through a research-based methodology, referencing the current state of cultural anthropology. I am interested in the human state in a digital age when part of our identity and social encounter reside online. In terms of technical expertise, I long for a deeper knowledge of materials to move my practice forward.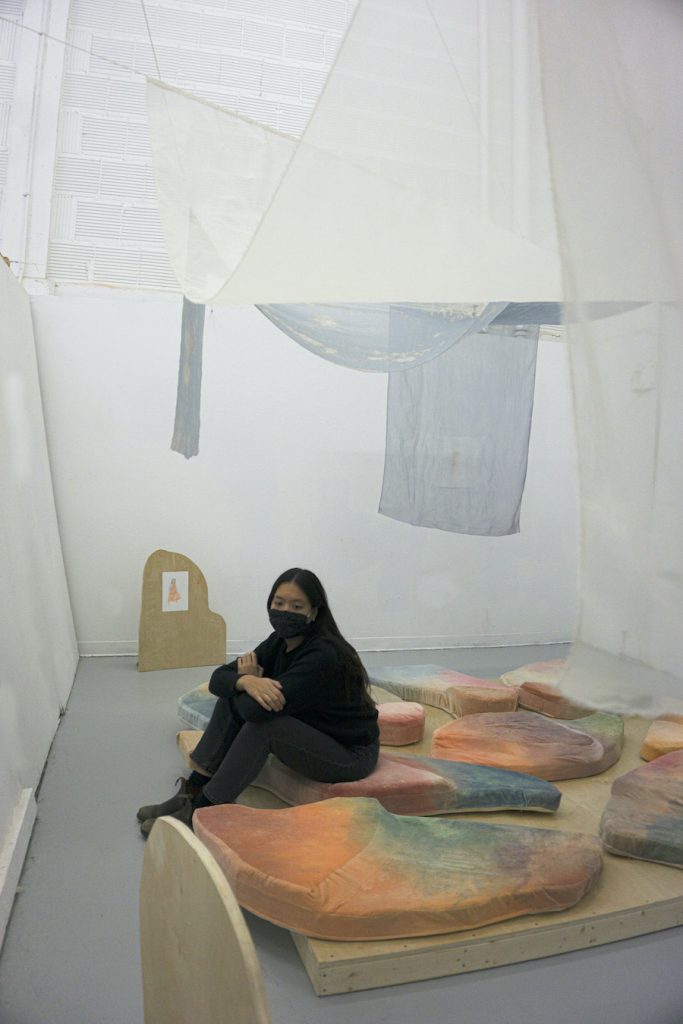 I seek to foster a feeling of ambivalence in the viewer, with the interest of blending personal, analytical and universal attributes. Employing an immersive approach, my installation artworks serve a contemplative gaze of contemporary interpersonal issues. In my installations, I often reference the aftermath of intimate and interpersonal trauma through researching works of fiction, historical, science and social experiments as well as through public participation.
Day 2 : June 1, 2021
Within the context of the global pandemic, our modes of connecting have been restricted and as a result our capacity to fulfill our social and intimate needs for connection has been hindered. I've been researching how installation art can cater to people's emotional needs in and out of the current context. Can artworks soothe the longing for contact caused by social distancing? How can a space be healing when our capacities are crippled?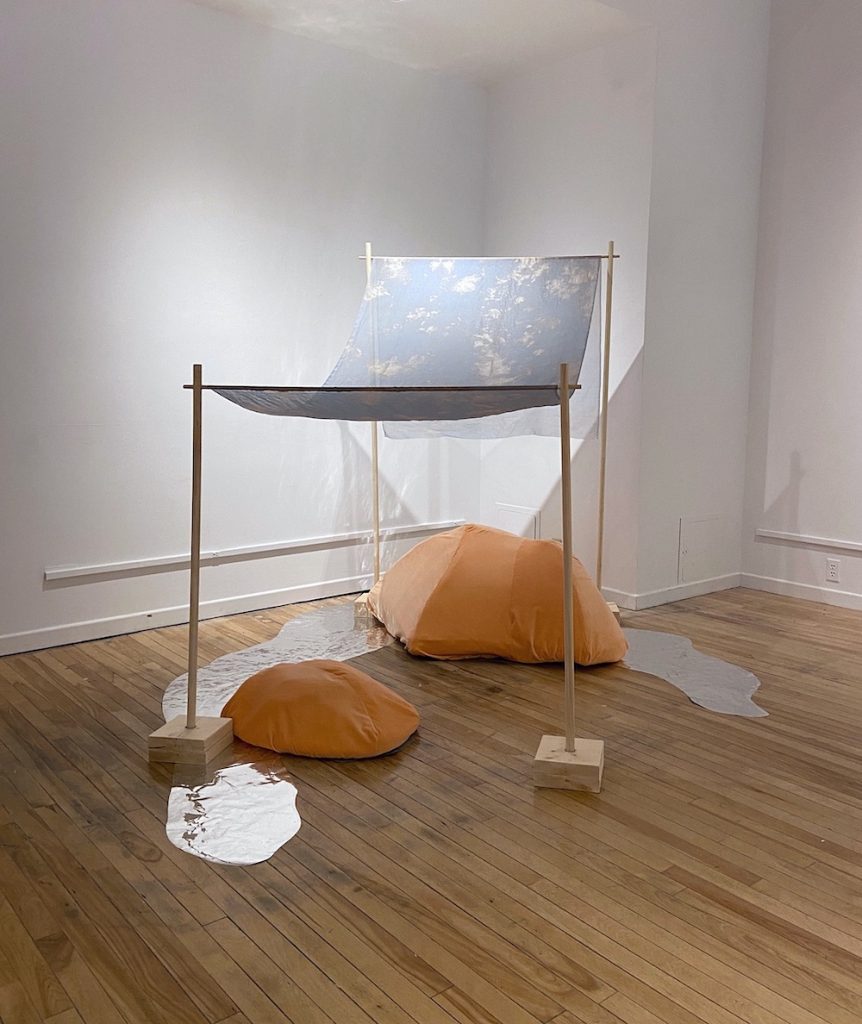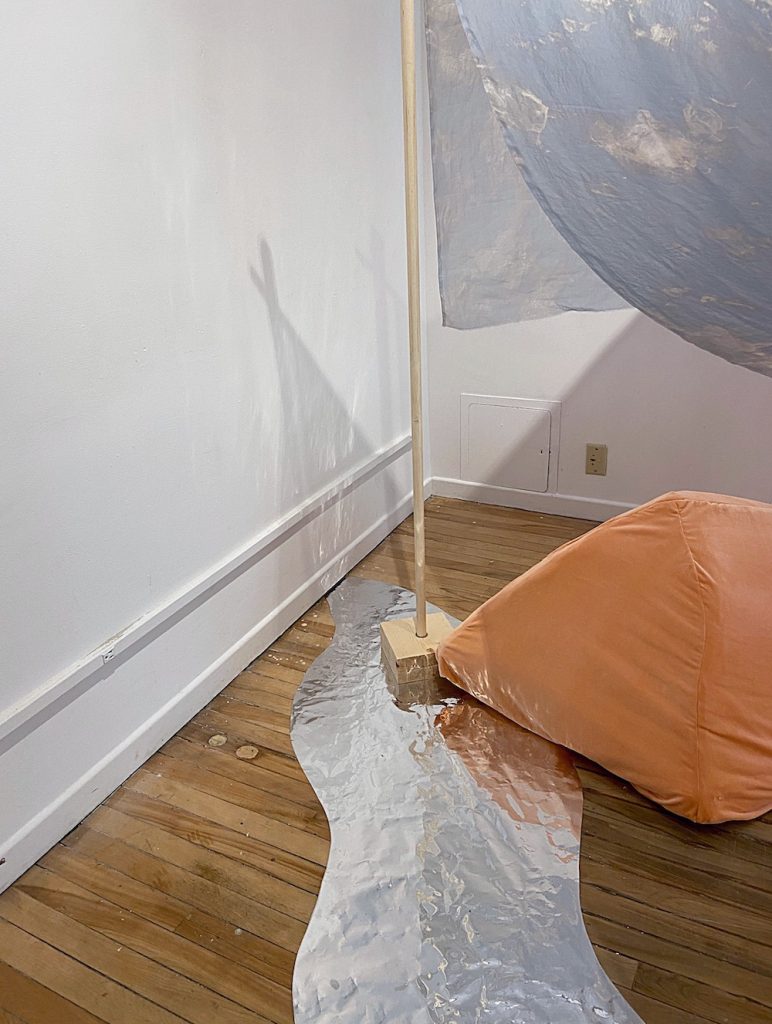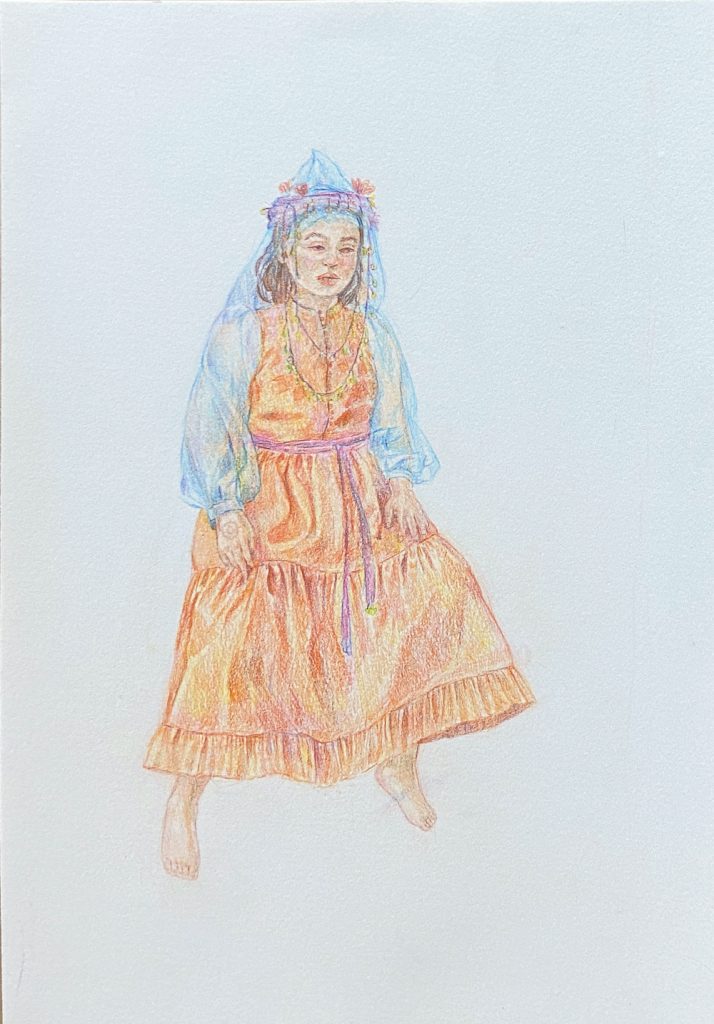 Our domestic spaces now overlap to become home, office, the space for leisure and more; an overwhelming multitude which prevents retreat to safe spaces and control over our sensory stimulation. One of the hindered senses associated with intimacy and connectivity is touch. Professor Asim Shah stated that humans are wired to touch and be touched (Pierce, link in bio), that touch is the first communicative act of care and bonding between a newborn child and their mother. The recodification of contact as a preventative measure against the spread of COVID-19 causes touch deprivation, contributing to a cascade of negative physiological effects (Pierce). When looking at how we can satiate this hunger for touch, physical stimulation is the suggested solution (Hasan).
Hasan, Maham. "What All That Touch Deprivation Is Doing to Us."
Pierce, Shanley. "Touch Starvation Is a Consequence of COVID-19's Physical Distancing."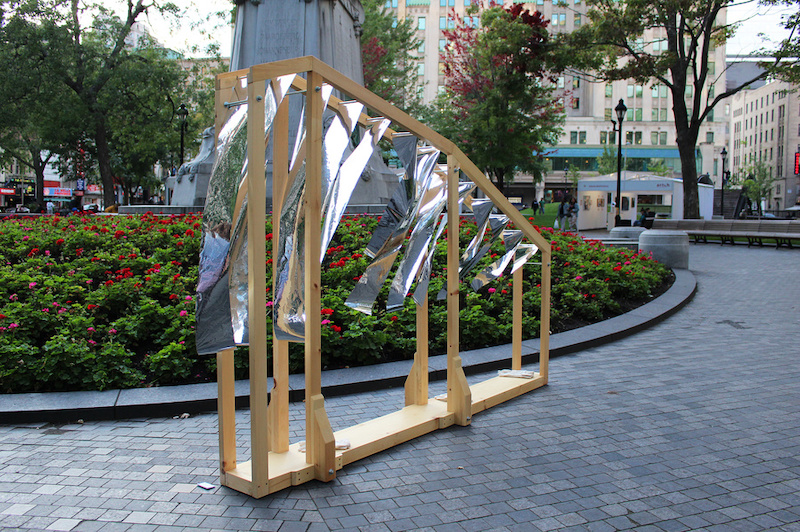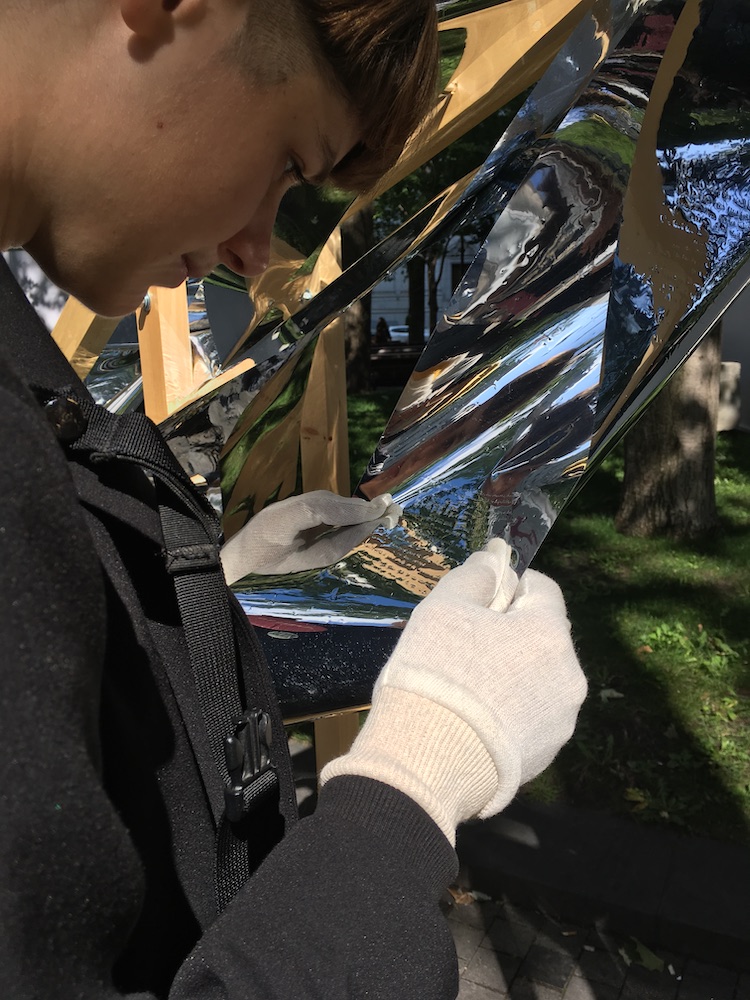 Day 3 : June 2, 2021
I tend to do my research in the roam of works of fiction, history, science, psychology, and current political state as refinement of point of view. I prefer taking that opportunity to showcase my deepest respect to some amazing womxn artists. Azadeh Elmizadeh ( آزاده علمی زاده) @AzadehElmizadeh is an Iranian artist based in Toronto, working painting and collage.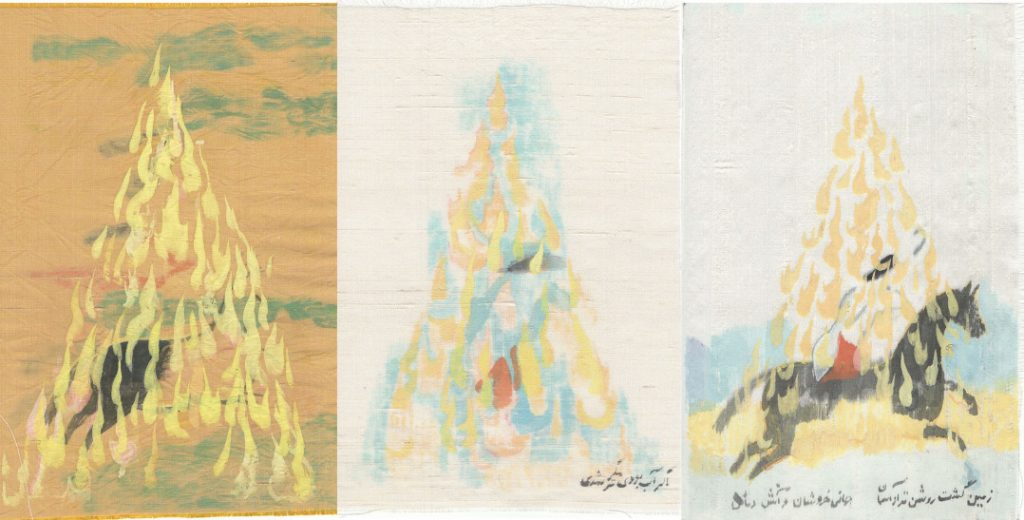 In conversation with Persian miniature paintings, Elmizadeh's durational process of layering and sanding into pigment discloses the history of the painting itself, thus rendering the frame both a site of spatial and aesthetic experimentation and historical excavation. Elmizadeh engages with the metaphysical possibilities of the medium, as informed by twelfth-century Sufi cosmologies and their attendant mythologies, giving her work their shapeshifting, ludic quality. (she's one of the kindness soul I know, sending her some love.)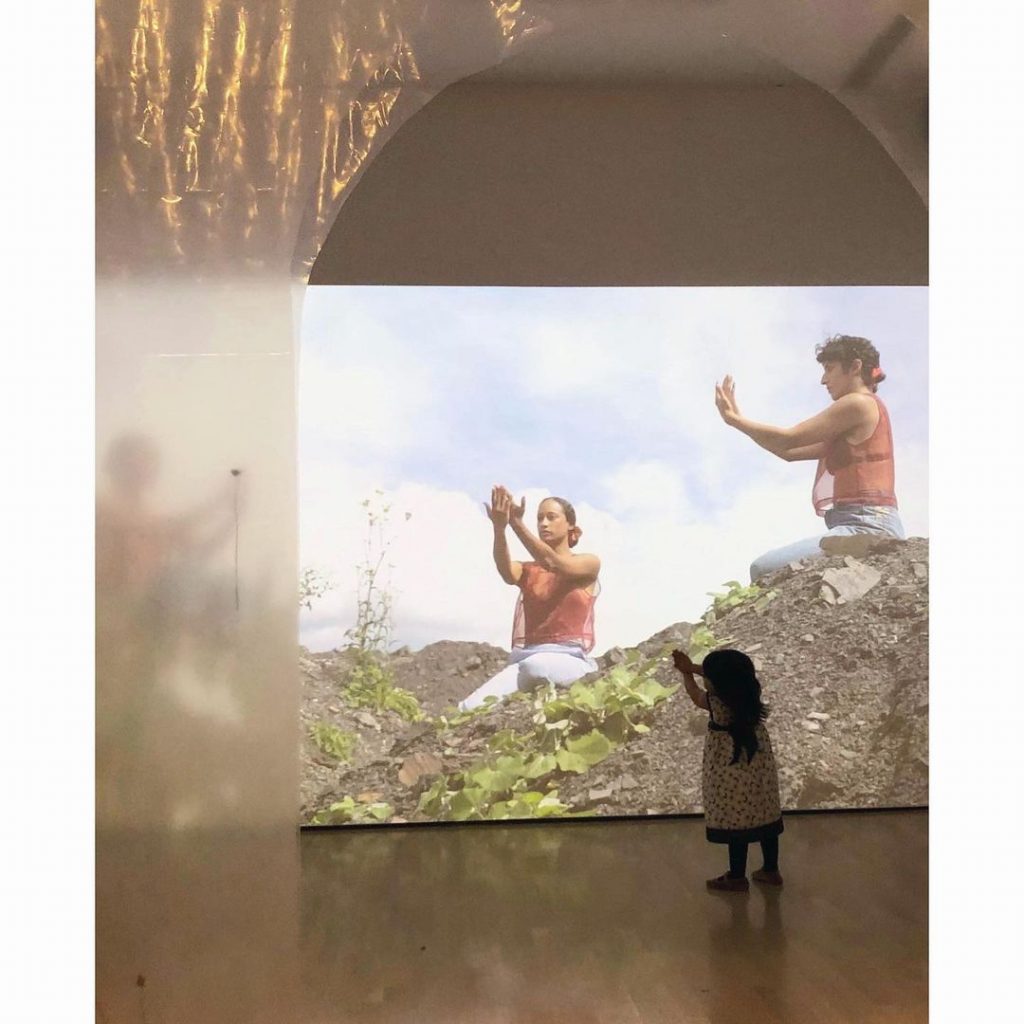 I love the work of Eve Tagny @eve.t_eve.t that was presented at the Musée d'art contempporain @macmontreal exhibit "La machine qui enseignait des airs aux oiseaux." I had the privilege of meeting her while working at Centre Phi @direphi. She showed me the reality of being an artist, taking writing and mediation contracts to fund her practice. Eve is half Canadian, half Cameroonian. After a traumatic loss in 2014, her practice became her coping mechanism and her journey toward betterment. She works using lens-based work, installations, and performance and is interested in gardens, rituals and kinship. Her work is very about mourning and grieving for me as ritual and processes of acceptance. She often collaborates with other BIPOC artists to make rituals. In this exhibit, her large plastic milky screen echoes the plastic environment of my work. Although it includes natural materials (clay, rock and living plants), her environment is not green, it is warm and earthy, a spring in a desert, bringing a sense of renewal.
Florence Yee @florence.cg.yee are a visual artist based in Tkaronto/Toronto and Tiohtià:ke/Montreal. Their practice uses text-based art, sculpture, and textile installation through the intimacy of doubt. Their labour-intensive creation is a method of 'working' through the restrictive belonging we may seek from labour, language, and duty. As "hard work" is a main measurement from which racialized and migrant bodies are valued, my practice uses the contradictions of in/visibility and recognition to explore how we may queer diasporic memory. Yee's research into the socio-political and personal history of Cantonese displacement has brought their work to what Desmond Wong calls 'the intersection of filiality and arrival'.
"Been playing with the idea of a "proof" as something that cannot be owned yet because it is unfinished or unclaimed; as well as proof in terms of evidence."
– Florence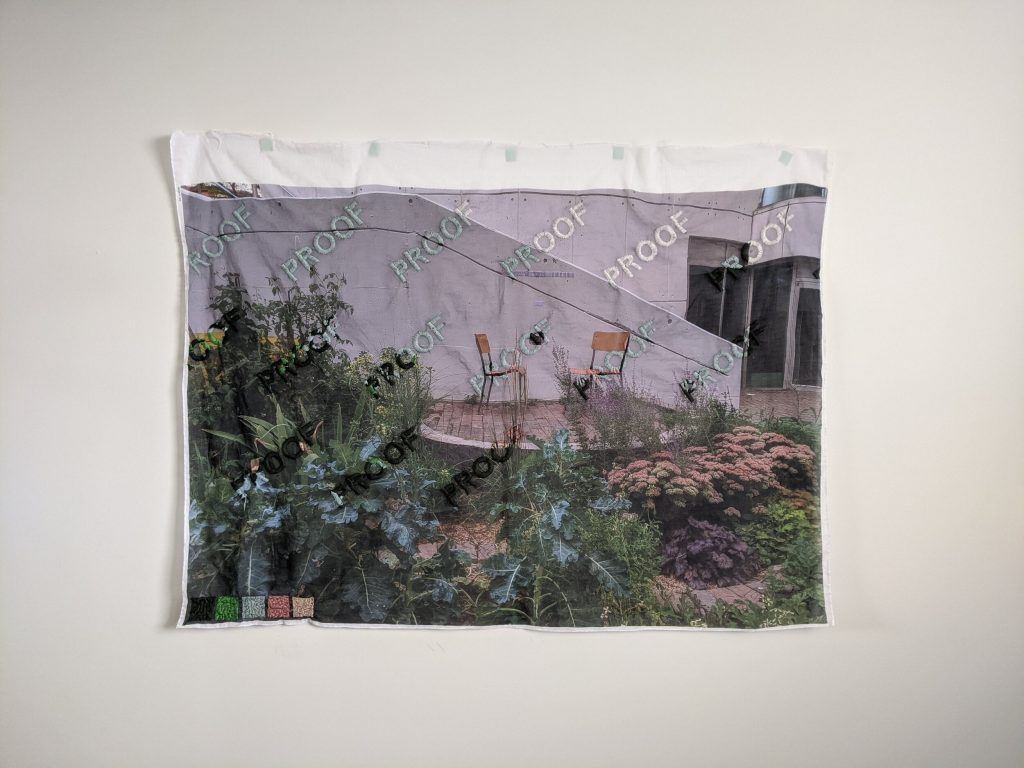 Day 4 : June 3, 2021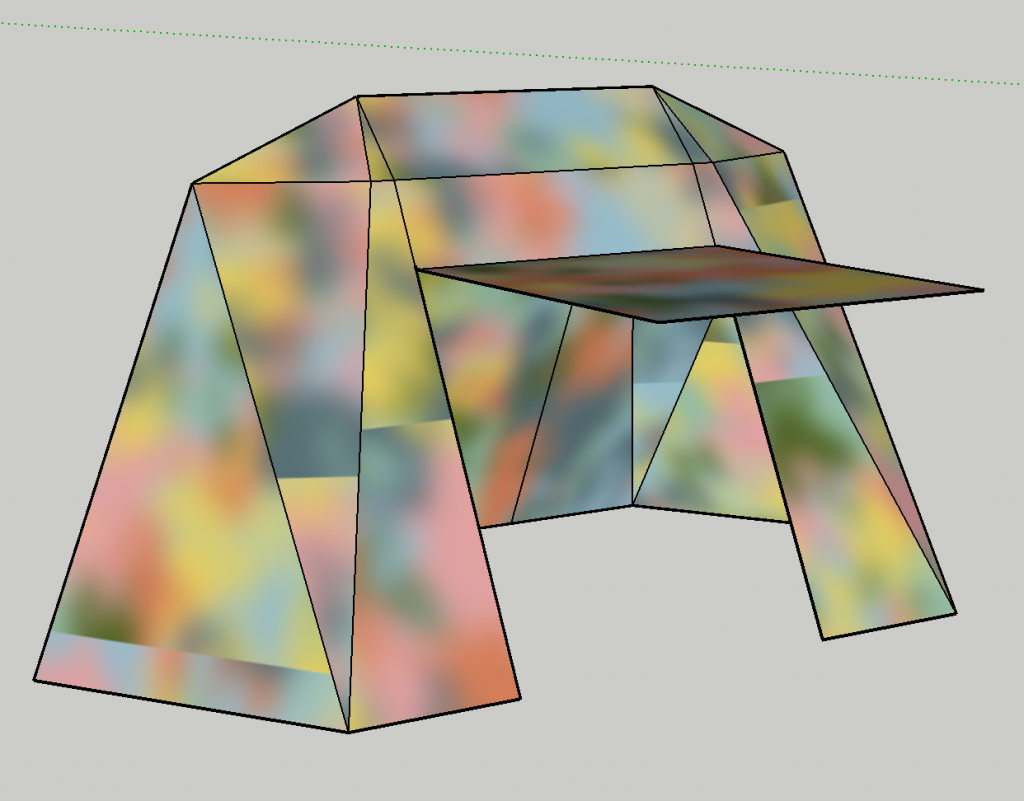 Process of making the tent ⛺️
Step 1. Making the tent on Sketchup
Step 2. Exporting it and printing it as patterns
Step 3. Cutting and sewing mania (with some procrastination see stories)
Step 4. Spray painting it with a romanticized colour palette
I use my practice as a way of coping with and understanding adversity and trauma; to celebrate those abilities before a broader audience; and, provide an experience to help viewers gain an understanding of their own needs and abilities to address them creatively.
I built an immersive, tactile installation that would act as comfort(ing) space, as a tool of healing and sensory recalibration. I am utilizing materials, such as soft fibres, that are known to elicit a soothing reaction (Albers).
Albers, Annie. "The Pliable Plane; Textiles in Architecture". Perspecta, Vol. 4,1957. pp. 36-41.
I've been singing a lot lately.
Not any type of singing more precisely an operatic one, one that demands control and endurance. It is an international vibrating sound, and it is an emotional sound. It feels like a cat purr, as is always assumed cat purrs when they're content but they actually control their purr which can serve to improve and stimulate healing when injured.
I feel injured. I am injured and still working on my healing progress. These singing improvisations are like screaming in a pillow, but they're controlled and tempered elongating the blissful release of emotion. After almost every singing experimentation, almost every singing improvisation session finishes in a climactic pouring of tears. It is my cathartic therapy.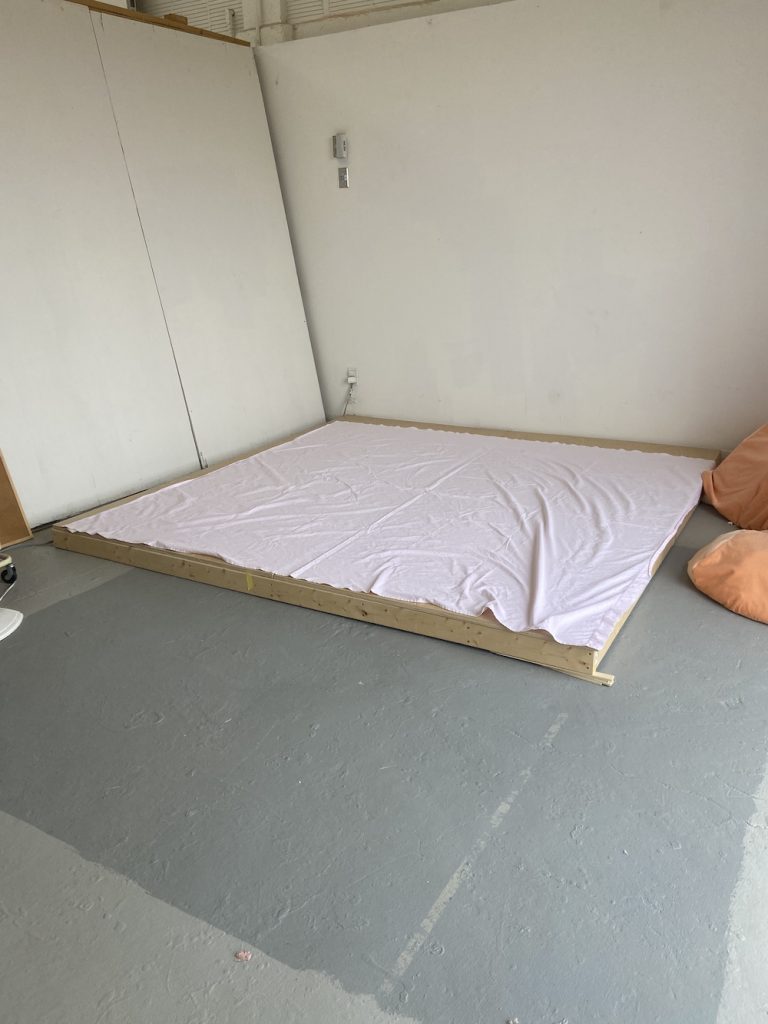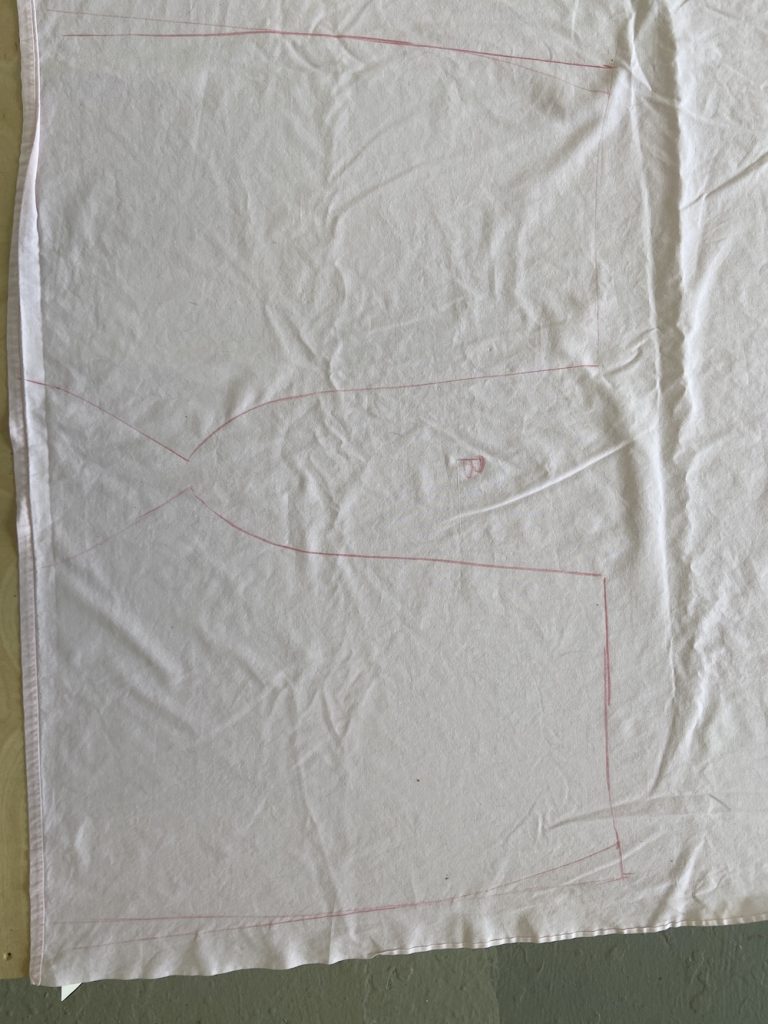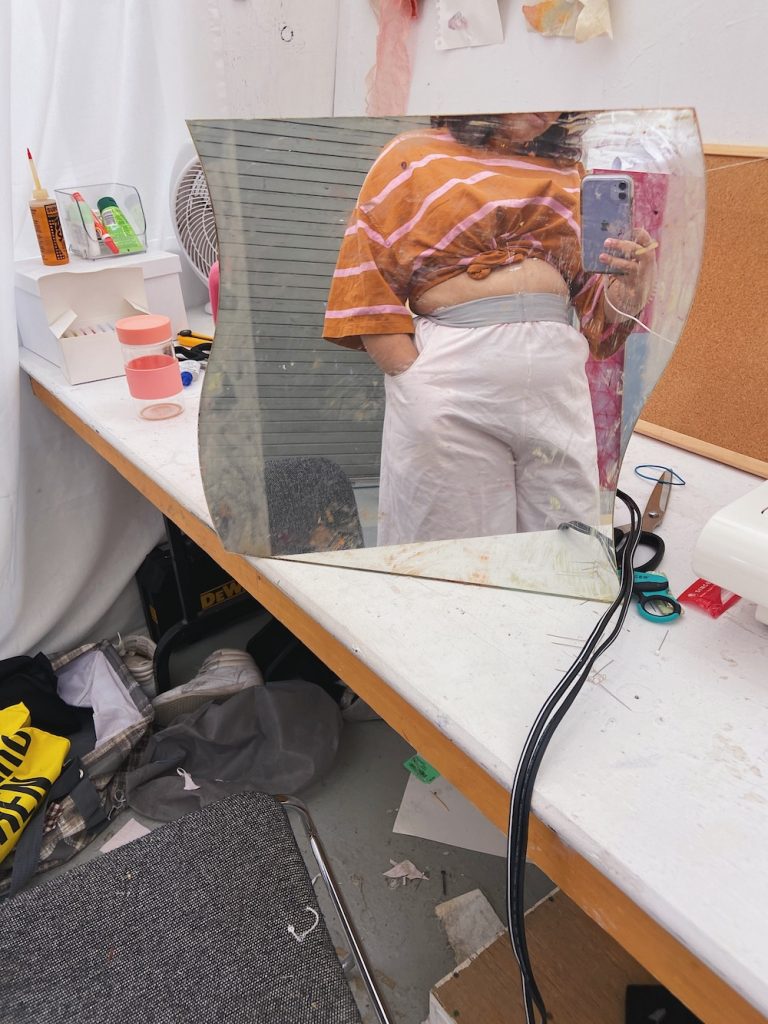 I've been finding it hard sometimes to make art, especially when I'm working with hindered capacities and recovering from mental illness. The hardest thing is to be critically present. I keep myself aware of what is happening politically worldwide, but I haven't synthesized it yet. To set a foundation to nurture and encourage myself to create critically is to practise my artistic muscle. During the last sunny weekend in Guelph, I've decided to learn how to make a pants pattern looking at online tutorials. I've made some everyday summer shorts through this technical workout. Before the lockdown, I bought a king-size sheet bed in a second-hand store and I'm trying to make as many garments as possible out of this single piece of fabric. I have achieved the desired colour with fabric dye. Maintaining this technical learning keeps me awake and aware. It's like a muscular memory exercise and progressive introduction into a proactive research practice.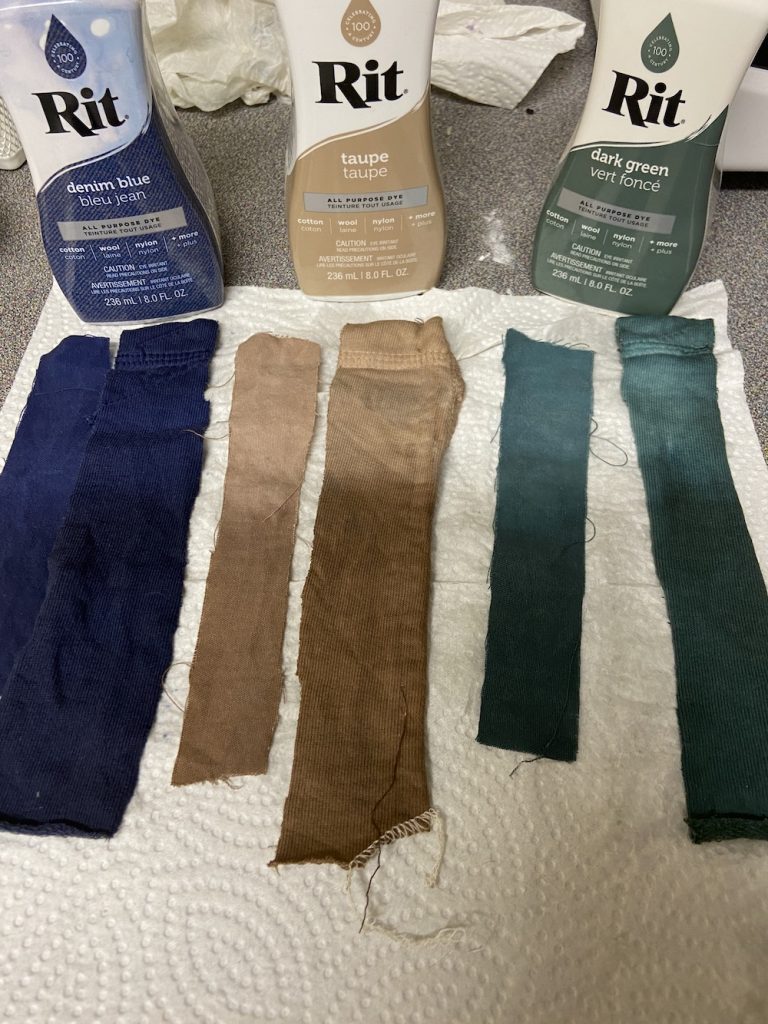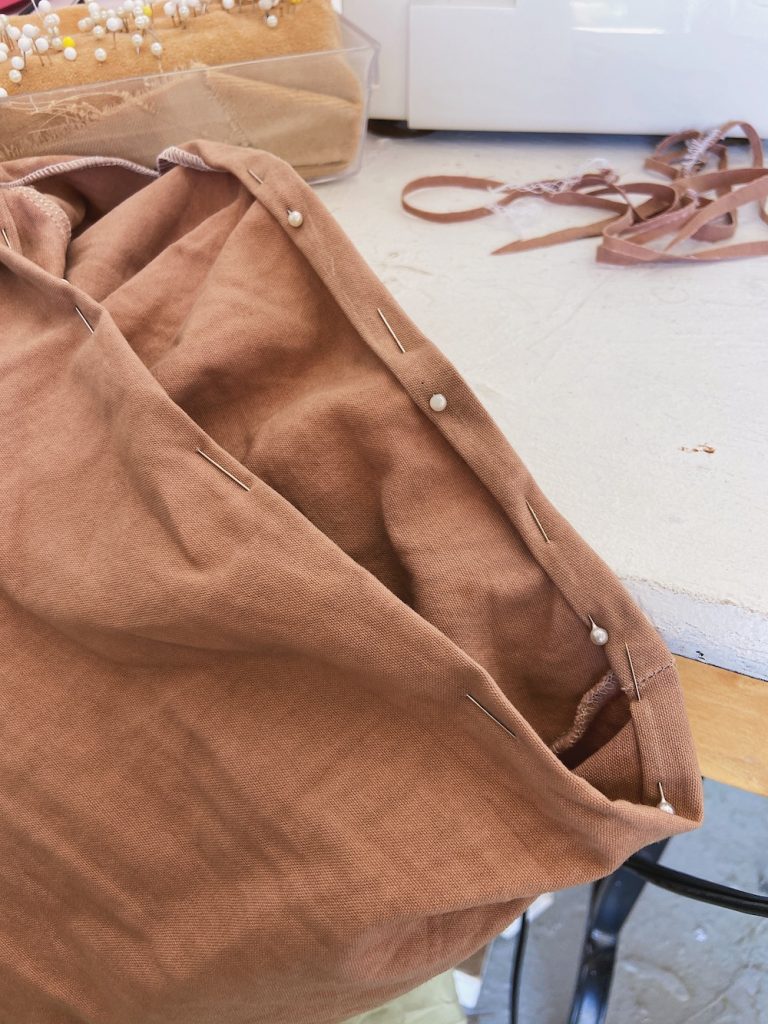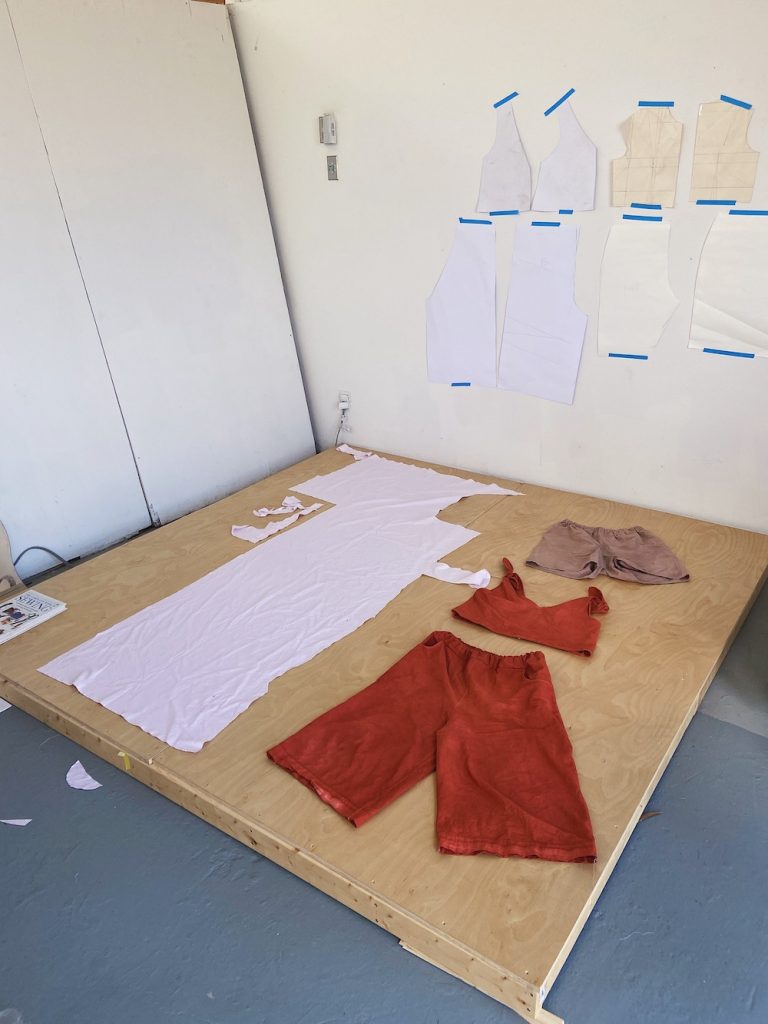 Day 5 : June 4, 2021
A project will take me a lot of physical and mental capacity. It is a full-time investment. Because there are no office hours, I'm constantly problem solving and researching and rethinking my work. Therefore, I need a month or months to recuperate after. I feel like this is a part that viewers don't get to see. Most people only see the final product or the quantity in a series of work without seeing the burn out and the needed rest.
These are all the garments I've managed to make with this single piece of fabric. There's something comforting about this. It's comforting in the way that it doesn't push me, it's a release of the stress of having to perform.
This was such a lovely week, thank you L'Imagier for the opportunity (seriously Amélie and Leonore-Namkha, you guys are saints 💕💕).
Here's a treat for all of you that made it this far. When I was 5 years old, I wanted to be a noise maker. It didn't work out. It's ok, I've grieved that loss, and got now to be a maker of impossible spaces.
Which is kind of ironic as I am finally 24 years later dipping my toes in this audio technical field for my next research project on making an operatic and compassionate sonic space.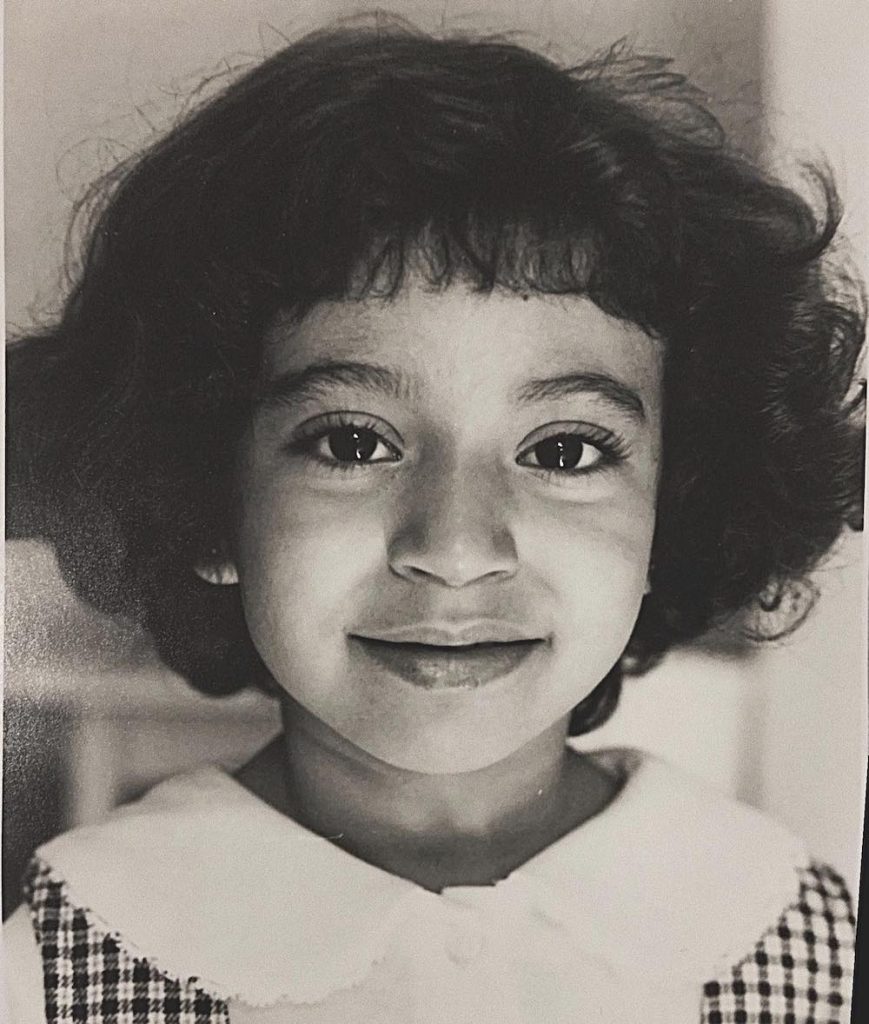 Many of you followed us this week and we feel blessed by your support.
We had the pleasure this week to welcome the emerging artist @RihabEssayh for our third Instagram "takeover". We invite you to watch her interview with Leonore-Namkha, director of L'Imagier, where they returned to the subject of the materiality in her auto-ethnographic process and our responsibility to create meaningfully and mindfully.
This discussion is offered in English, the language chosen by the artist, and subtitled in French.
Visit Rihab's website : https://www.rihabessayh.com/
Discover the other Instagram Takeovers.