Jardin de la vie (Garden of Life) — Juliette Gagnon-Lachapelle
July 12, 2021 — September 30, 2021
Starts at 12:00am
About the work
The woman in the centre represents the birth, the root of all things, the storyteller, the woman's belly who holds life and nurtures our dreams. Evolving around her, spirals her family, her ancestors, the connections she's made with others, the religion in which she was born and the beliefs she created based on her own life experiences. These are the things that made her who she is now.
Just like the trees or the flowers, we carry different layers which were born at different times in life and in co-creation with elements that surround us. We often talk about the concept of creation of all things, but nothing is born alone.
We may think that the strongest trees are the ones whose roots are the deepest, when in fact it is the trees with roots on the surface, connecting it to a network of trees that makes it so solid. When I look at the river, I feel the blood that runs in my veins. When my feet touch the ground, I am reminded of the ecosystem that lives underneath it. When I feel the wind on my face, I am aware of my breath and the movement that it creates. When I am hypnotized by the fire, I bow to the sacred in all things and beings.
Our inner world is in constant communication with our physical world. One cannot live without the other.
Everything is connected in our lives, just like we are connected with each other. There are no breaking points.
This work was created following the artist's Instagram Residency held from March 29 to April 2, 2021. Showcased on the outside windows of L'Imagier, this ephemeral work is exposed to the damage of time and natural elements, making it deliberately fragile.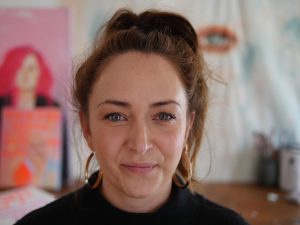 Artist's biography
Juliette is very curious. She observes both the effect of the outside world on herself and the nature and richness of human relationships. She has always analyzed the human body, especially the female body; and how it expresses what words do not or cannot say.
In her practice, Juliette is interested in what bodies, faces and eyes have to offer to those who know how to observe, focusing on the unspeakable, our emotions and traces of our experiences. The question of "sight" is at the center of her artistic approach; the look of the other (painted or drawn) suggests a freedom of interpretation, made of unspoken words on the part of the observer who according to his experience will see what only he can see.
To (re)discover Juliette's Instagram Takeover, click here.
To discover her recent works, click here.
Juliette Gagnon Lachapelle, Jardin de la vie (Garden of Life), 2021, vinyle