For all to see: reflections — Simon Guibord and Daniel Leblanc
June 6, 2022 — June 8, 2025
Starts at 12:00am
About this work
This new graphic work showcased on the windows of L'Imagier is inspired by a series of reflections engaged by our team, in order to rethink the identity of the museum, what it represents, our imprint and our power of action within our local community; but also towards the wider community that we have created for ourselves through the voices of digital. It is in a spirit of collaboration and thanks to conversations between the team and graphic designers Simon Guibord and Daniel Leblanc that this composition printed on vinyl was created for our facade, for all to see!
It is by using aerial views of L'Imagier and its neighborhood, by observing the urban fabric and enthused by the architectural materials of the building that the series of patterns that cover our windows appeared, almost like a blueprint. These textured cyan blue drawings, reminiscent of the monochrome photographic process of cyanotypes, are a mixture of organic forms and geometric lines. This graphic work captures a moment, thoughts, and reflects the posture our current team has chosen regarding our impact and integration into the natural place of which we are a part. 
Like the nature that welcomes us, on the unceded, unconquered land of the Anishinaabe Nation, L'Imagier represents an ecosystem, a catalyst of creative energies that invokes a reflection on the artistic, societal and environmental issues of the future.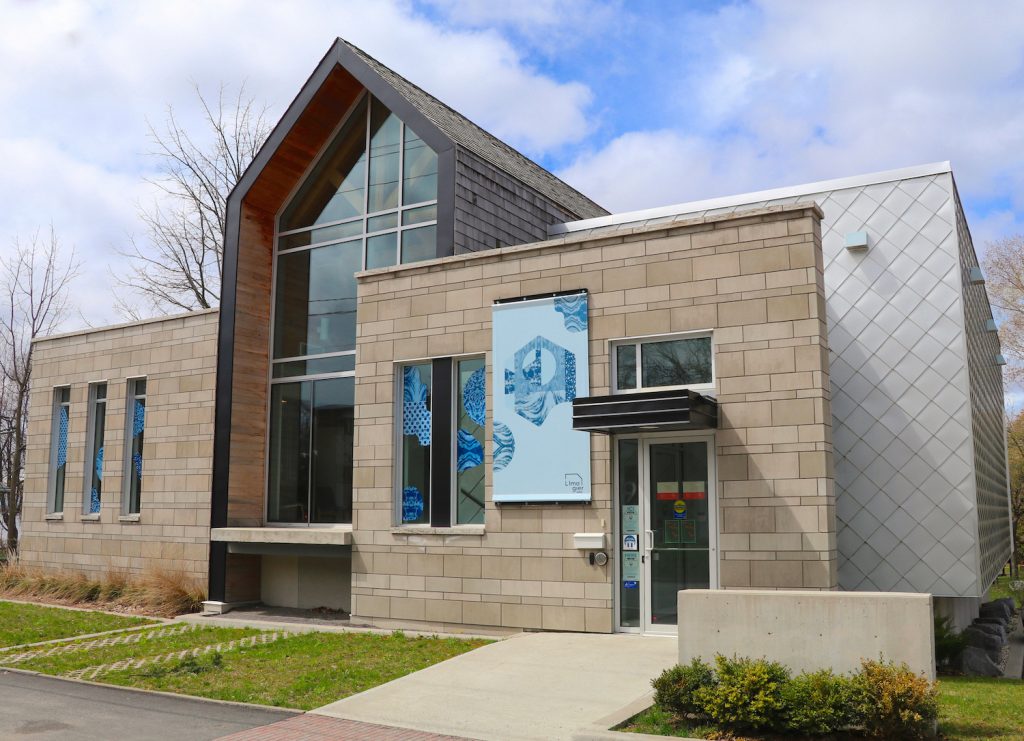 Simon Guibord and Daniel Leblanc
For all to see: reflections, April 2022
Vinyl on glass