CULTIVÉ ICI | HOMEGROWN 2023
September 8, 2023 — September 16, 2023
Starts at 12:00am
THE FESTIVAL FOR THE UP-AND-COMING
Programming 2023
Access the festival press release
Friday, September 8 – Saturday Septembre 9
Friday Septembre 15 – Saturday Septembre 16
Over two weekends, Fridays and Saturdays September 8-9 and September 15-16, enjoy free concerts at Parc de L'Imaginaire featuring emerging musicians from Gatineau and Ottawa.
Produced by L'Imagier in collaboration with Quest, Cultivé Ici / Homegrown features a selection of eight up-and-coming musicians. Get ready for an unforgettable experience as we bring together artists from Gatineau and Ottawa to showcase the vibrant and diverse local music communities. This festival aims to build bridges and foster collaboration between these two incredible cities.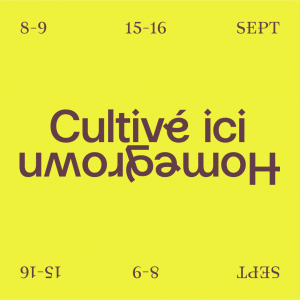 Cultivé Ici/Homegrown has become an iconic event, celebrating the richness and diversity of the local music scene. This year, we're taking it a step further by once again bringing together musicians, fans and communities from across the region. Through the power of music, we're strengthening community ties, nurturing creativity and celebrating our region's unique cultural fabric. By providing a platform for emerging and established artists, Cultivé Ici/Homegrown music festival contributes to the growth and development of the regional music scene.
September 8-9, 2023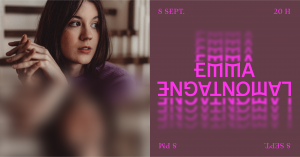 Friday, September 8 at 8 pm
EMMA LAMONTAGNE
Kingston, Ontario-born singer, songwriter, guitarist and producer, landed a single deal on her first performance in 2016, winning Ottawa Bluesfest's She's The One contest and recording I Don't Sleep with songwriter and producer Robyn Dell'Unto.
The then teenager went on to achieve nearly half a million streams for the song. Barely out of high school, she released two more singles, Love Games and The Art of Reality, as well as her first full-length album in 2019, Uncomfortable Eye Contact. Now, with a sound engineering degree in her pocket and a new home studio, Emma is back with a sound she loves: lyric-driven folk-pop. "I wanted it to be very intimate and essentially match the way I perform live, with guitar and vocals," she explains. You see, while dealing with life's challenges, Emma's in-between-song banter is downright hilarious.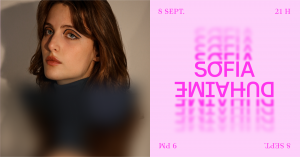 Friday, September 8 at 9 pm
SOFIA DUHAIME
Singer-songwriter from the Outaouais region. The young artist has performed at events such as Star Académie, FMG and Ma Première Place des Arts. She has opened for artists such as Tallies, Serena Ryder and Diane Tell. Her rich voice and carefully crafted lyrics create an enchanting atmosphere that blends folk, rock and French chanson. After her first single Miraculeux, released in March 2022, Sofia now offers a bilingual EP entitled L'enfant. This project was created in collaboration with her musicians and friends Nicolas Charette-Côté and Andrew Schmidt.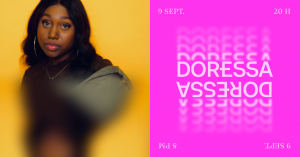 Saturday, September 9 at 8 pm
DORESSA
Singer-songwriter and producer from Ottawa, Ontario. She is the product of a performing artist, her father having attended countless show rehearsals and festival performances. One of her most cherished moments was when her father caught her effortlessly playing Beethoven's Für Elise, which she had taught herself. From the age of 11, her father became her piano teacher, and his lessons covered hits by Stevie Wonder, Lionel Richie, Simply Red and other essential songs that defined the 80s. DORESSA has joined other emerging artists, contributing to their songs as a backing vocalist and/or songwriter. Her latest co-write is Jessie Simmons' song For You, which has been listened to over 20,000 times on various streaming services. She has been a member of hip-hop, R&B and neo-soul fusion groups, recording and performing original material with a diverse and multicultural collective of musicians. Influenced by artists such as Jazmine Sullivan, Amerie, Brandy, India Arie and MusiqSoulchild, DORESSA expresses herself as a soulful singer, whose range can effortlessly shift from soft, intimate tones to belts full of vocals.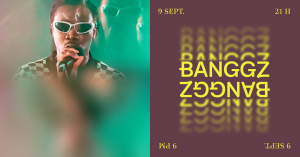 Saturday, September 9 at 9 pm
BANGGZ
Ottawa-based Nigerian rapper and music producer who uses his talents and experiences to create music that resonates with listeners. With a strong attachment to hip-hop, Banggz draws inspiration from the genres and styles of his native country, enabling him to deliver a diverse and understandable sound. A natural storyteller, Banggz has the ability to depict scenes through his lyrics, conveying emotions and experiences with which his listeners can identify. Whether exploring themes of camaraderie and celebration on a song called What a day, or leaving a message for his future self on Telephone, Banggz's music is both sonically pleasing and lyrically useful. His latest album, ttyl, is a 9-track project that deals with anxiety and the dynamic nature of life, showing that he's not afraid to tackle important and relevant themes in his music. With a unique perspective that reflects his cultural origins and current home in Ottawa, Banggz's music is able to attract listeners who can identify with various elements of his music. In addition to his music, Banggz has been recognized on various platforms such as CBC Canada, Ottawa Citizen, That Eric Alper, Tinnitist, Native Magazine and Pulse Nigeria. He has also gained experience playing shows such as Pique Spring '23, Cranium Festival, City Sounds organized by the Ottawa Music Industry Coalition, Country Club Pool Boy at Club SAW and SoFar Sounds. He has also opened for artists such as WizKid, Pierre Kwenders, Asuq and others.
---
September 15-16, 2023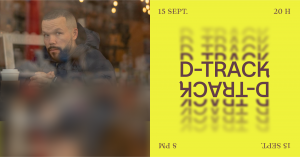 Friday, September 15 at 8 pm
D-TRACK
David Dufour, aka D-Track, has nearly a dozen albums/EPs and 2 collections of lyrics. He won the Coup de Coeur émergent Radio-Canada award for his performance at the Festival de l'Outaouais émergent in 2013. The same year sees the release of Abris-tempo, his first album under record contract with Coyote Records. David Dufour is one of those artists who takes part in slam scenes. His performances earned him the title of Quebec slam champion in 2013 and 4th place at the World Cup in Paris in 2014. The artist has also been lucky enough to take part in the Francouvertes, the Festival de la chanson de Granby and the cuvée des chansonneurs du Festival en chanson de Petite-Vallée. In 2015, her first book, Détroit, was published by Neige-Galerie, featuring her texts and photographs taken during a trip to the U.S. Motor City. In 2016, D-Track is nominated at the ADISQ gala for "hip hop album of the year" for his opus Message texte à Nelligan. In 2019 his album Dieu est un Yankee is nominated at the GAMIQ for rap album of the year. Quebec audiences will also have the chance to see him in action on Télé-Québec's La fin des faibles in winter 2021. November 2021 will see the release of Hull, his most recent album featuring some remarkable collaborations, including one with legendary French rapper Akhénaton, American rapper Che Noir and Robert Nelson of the group Alaclair Ensemble. In 2023, his latest album Territoiredelours will be released, featuring a number of local and international collaborations.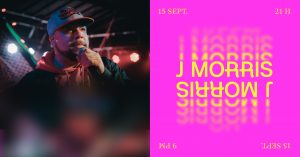 Friday, September 15 at 9 pm
J MORRIS
aka Ya Favourite Lightskin, has enough energy to power a fleet of hybrid cars, enough soul to lift the roof off a church, and enough music in his blood to infect the average man. Born in Canada's capital city to a hard-working mother and a well-known reggae singer father, Ras Lee, it's no wonder that music runs in J Morris's veins. In addition to his own musical activities, in 2004 he co-produced Ottawa's first hip-hop DVD series, Hold it Down, as well as Cap City in 2009. As if that weren't enough, he has also hosted The WordlifeShow on CKCU 93.1 FM, The B.R.L Show on CHUO 89.1 FM, where he received an award for local talent development in 2009, and Bring Ya Eh Game on CIUT89.5 FM. J Morris is also the founder of The Annual Hip Hop Food Drive, the host of Bar Code, an online series where artists come to showcase their talents, and he is also musical director and co-founder of Cranium Arts Project. Like every verse he writes and every chorus he perfects, everything he does fits together perfectly. J Morris will certainly continue to cultivate his gift for taking a rhythm and putting just the right touch to it, and for reducing a song to its purest form without breaking the bank, while giving others a platform to stand on.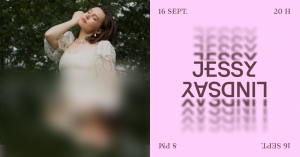 Saturday, September 16 at 8 pm
JESSY LINDSAY
Singer/songwriter Jessy Lindsay explores an indie-pop style intertwined with jazz to create liberating music. Using catchy melodies coupled with honest lyrics, the young musician shares her truth. Her French EP "J'explose" (October 2022) highlights her perspective as a young woman by exploring themes of self-confidence and reclaiming one's self in a patriarchal society.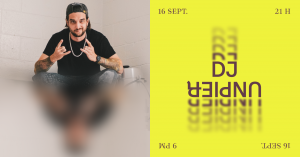 Saturday, September 16 at 9 pm
DJ UNPIER
With his boundless energy and contagious intensity on stage, DJ UNPIER is an innovative artist involved in every sphere of his musical production. Producer, entrepreneur and artistic director, DJ UNPIER is an innovative artist involved in every sphere of his musical production. His mission is to get the crowd dancing and revolutionize French electronic music, shaping it with a sound all his own. As one of the new generation of beatmakers and producers between Pop and Bass House, DJ UNPIER is creating a new musical genre: Keb House. He closed the 40th Just for Laughs Festival after François Bellefeuille on the main stage of the Place des Festivals. He was also artistic director and programmer of the Festival Franco-Ontarien in Ottawa, where in 2022, he played for 3 hours during which 24 of his collaborators joined him on stage to perform their collaborations. With a dual Francophone identity: a sense of belonging to Franco-Ontarian culture and pride in his Quebec origins, DJ UNPIER has made a name for himself by collaborating with a wide range of artists on danceable electronic music styles. Nominated for two consecutive years at the Gala de l'ADISQ in the Electronic Album of the Year category (Gawteries 2021, Dans la danse 2022), DJ UNPIER continues his ascent, making crowds dance wherever he goes.