Dialogue(s) — with Stanley Wany
June 29, 2023
Starts at 6:30pm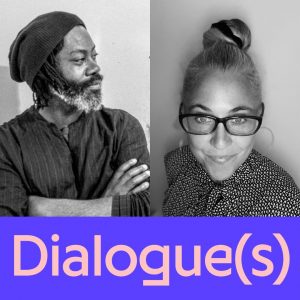 Dialogue(s) with artiste Stanley Wany and writer/Digital designer Leah Snyder
Don't miss their conversation on Thursday, June 29th, 2023
At 6:30 pm at L'Imagier.

Dialogue(s) is a captivating conversation program that brings together artists and cultural workers from diverse backgrounds to engage in meaningful discussions.
Twice a year, a work from the collection is rotated through our spaces. Each rotation is an opportunity for a conversation between the artist and a cultural figure. This initiative of the Centre d'Exposition L'Imagier and the Canada Council Art Bank contributes to the promotion of the Art Bank collection and its access to the public. Each conversation is an opportunity for thought-provoking exchanges of ideas. Artists, curators and cultural influencers come together to explore important topics related to art, culture, and society.
Through the series Dialogue(s), we aim to support a deeper understanding of different perspectives, challenge existing norms, and inspire new ways of thinking. The program provides a unique opportunity to delve into the creative process, artistic inspiration, and the social impact of art in today's society.



About the artwork on display



This work is presented at L'Imagier from June 20 to November 19, 2023.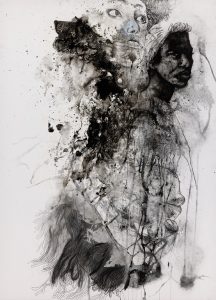 Stanley Wany (1970)
Montréal, Quebec
Ancestry, 2019‑2020
Acrylic, charcoal, ink, graphite pencil
ABBA 23/4-0011
Collection of the Canada Council Art Bank
Stanley Wany drew his inspiration for this artwork from Gustav Klimt's The Three Ages of Woman (1905). Instead of focusing on age and beauty, Ancestry speaks of intergenerational trauma and representations of Black women in the past century. In the perceived beauty of a Black woman can be read an entire history of debasement, struggle and resistance. The superposition of figurative and abstract elements in this work questions the notion of struggle as monolithic. Can we truly pinpoint any event that defines our lives or who we are?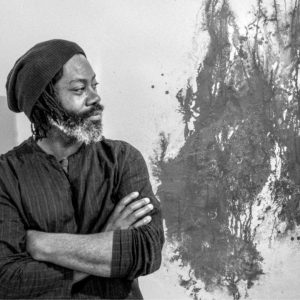 Stanley Wany lives and works in Montreal, where he is pursuing a Masters in Fine and Media Arts at UQAM. Wany also holds a Baccalaureate in arts and design from the Université du Québec en Outaouais. His practice, which explores identity and cultural myths, includes drawing, painting, installation and experimental graphic novels. His works have been presented and acquired in Canada, Australia, the United-States, Finland, France and Portugal. Helem, his latest graphic novel published fall 2021 with Conundrum Press, is the culmination of seven years of research and experimentation. His works on paper include large-scale drawings created with India Ink and consist of abstract and figurative representations, at times confronted with sculptural elements as part of installations. Since participating in an artist residency in Finland in 2018, he looks to expand his practice in visual arts to deepen his reflections on popular culture, myths and the unconscious in relation to the experience of afro-descendant persons in Western society. Stanley Wany's graphic style is inspired by renowned Italian comic book author Sergio Toppi, and artists Gustav Klimt and Gustave Doré. He combines figurative drawings with surrealist collages featuring imagery drawn from symbolist and mythological sources. In 2016, his first graphic novel, Agalma, received nominations for the Doug Wright Award (Toronto Comics andArts Festival) for best alternative comic, and for a Prix Expozine (Expozine, independent editors' festival in Montreal). The same year, he was invited to join the Quebecois delegation at the Festival de bande dessinée de Colomiers, in France.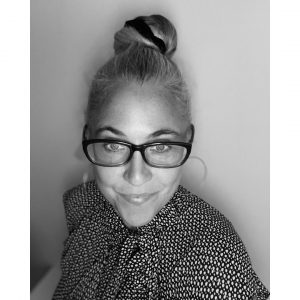 Leah Snyder is a writer and digital designer (The L. Project). With over two decades of interfacing with screens, Leah has a unique vantage point to observe the way communication is changing and insight as to what these changes represent particularly around how the arts can use digital technology for cultural transformation. Her research focus looks at how we construct – or deconstruct – national narratives in a digital era as well as how we develop communities around shared values in cyberspace. Leah's design focus has centred around the production of robust digital archives, mainly for contemporary Indigenous artists. As a writer, she has contributed to multiple Canadian art and architecture publications including Border Crossings, Canadian Architect Magazine, C Magazine, and the National Gallery of Canada as well as catalogues for clients such as Heffel Gallery. Curatorially, she is interested in how new technologies offer an opportunity to virtually stand in another's shoes and see the world through another's eyes. At its foundation, her work has been the construction of digital architectures that provide alternative engagement and educational spaces to experience a different story.
The Canada Council Art Bank makes contemporary art available to a wide public across the country through art rental, exhibitions and outreach activities. With more than 17,000 artworks by over 3,000 artists, the Art Bank is home to the largest collection of contemporary Canadian art in the world. It houses paintings, sculptures, drawings, photographs and prints by emerging and established artists, including a significant number of artworks by Indigenous artists. The entire collection can now be explored on their website.