Let me see | Creative workshops
Take advantage of a series of creative workshops to sharpen your drawing skills. As you take your own work home, leave with your mind steaming with new ideas! Join local artist Emily Rose Michaud, in bilingual sessions, to explore the art of looking and learn some of the basics of Drawing 101; develop your observational skills and discover various creative expression techniques. Each workshop in the series offers a unique approach and drawing techniques specific to the theme of that day. We invite you to participate in all the workshops for a rich and complete experience. Come along with friends as this series is the perfect opportunity to socialize for an evening.
Duration : 2 hours – 18h30 à 20h30
Capacity: 15 people/workshop
Price: $15 (+ taxes)
Materials: included
Programming
Friday, September 30, 2022 | Drawing to See : understand the differences between perception and observation, the role of the brain in seeing and understanding information.
Thursday, October 13 2022 | Drawing as Poetry : drawing from texts of poetry and other literary collections.
Thursday, November 3, 2022 | Drawing out our Inner Child : how attached are we to the perfection of what we see and draw? Relaxing to be more present with your inner child.
Thursday, December 1, 2023 | Drawing Lines, Finding Patterns : discover a variety of possibilities for personal expression, from realistic to conceptual marks and textures, to discover your personal style and unlock your creativity.
Thursday, January 26, 2023 | Draw it with Your Eyes Closed : unlearn perfection through a playful exercise that will invite you to anchor yourself in the present moment.
Thursday, February 2, 2023 | Still Life, Staying Alive : this workshop uses the classic techniques of observation drawing with unusual objects.
Thursday, March 2, 2023 | Drawing with Light : learn to draw by deletion, i.e. to proceed by adding light rather than shadows!
Artist Bio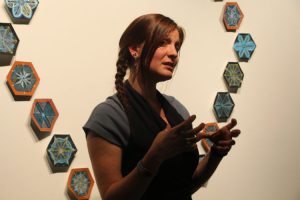 Emily Rose Michaud is an interdisciplinary artist and educator working at the crossroads of community organizing, ecology and civic participation. Her work encompasses land art, installation, drawing, writing and performance/intervention. Since 2004, Emily has been offering art workshops independently, offering workshops in and out of institutions. In 2019, she became a member of Multicultural Arts for School & Communities (MASC), the Artists Inspire program of the English Language Arts Network (ELAN). She has worked with youth, teens, adults, and seniors in all media for recreation, education, and portfolio development. Emily is also a certified teacher with the Ontario College of Teachers (OCT). She is fluent in English and French, and works in a variety of settings on both sides of the river throughout the National Capital Region.
Emily's workshops are designed to meet the specific needs of groups, their interests, skills and talents. Media used include painting, drawing, mixed media, land art and projects for public spaces.