Juliette Gagnon-Lachapelle's Instagram Takeover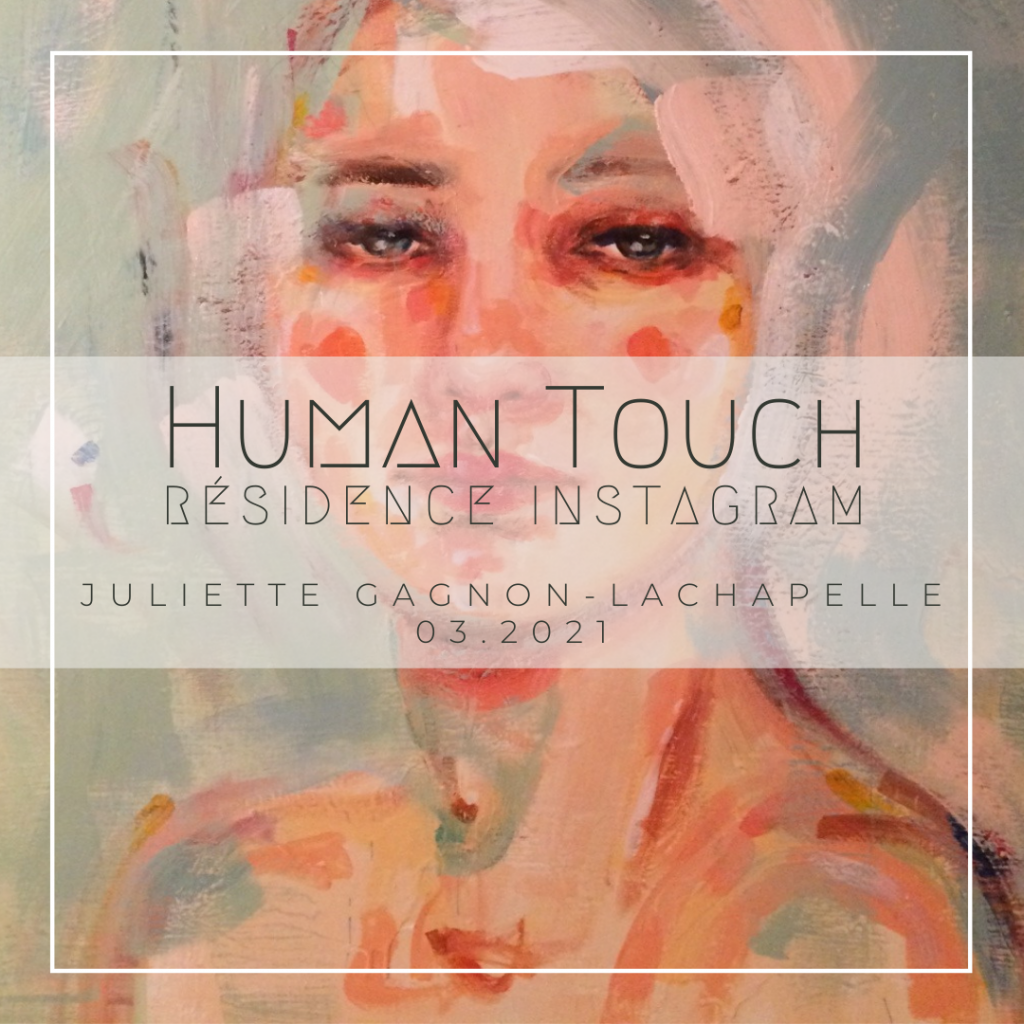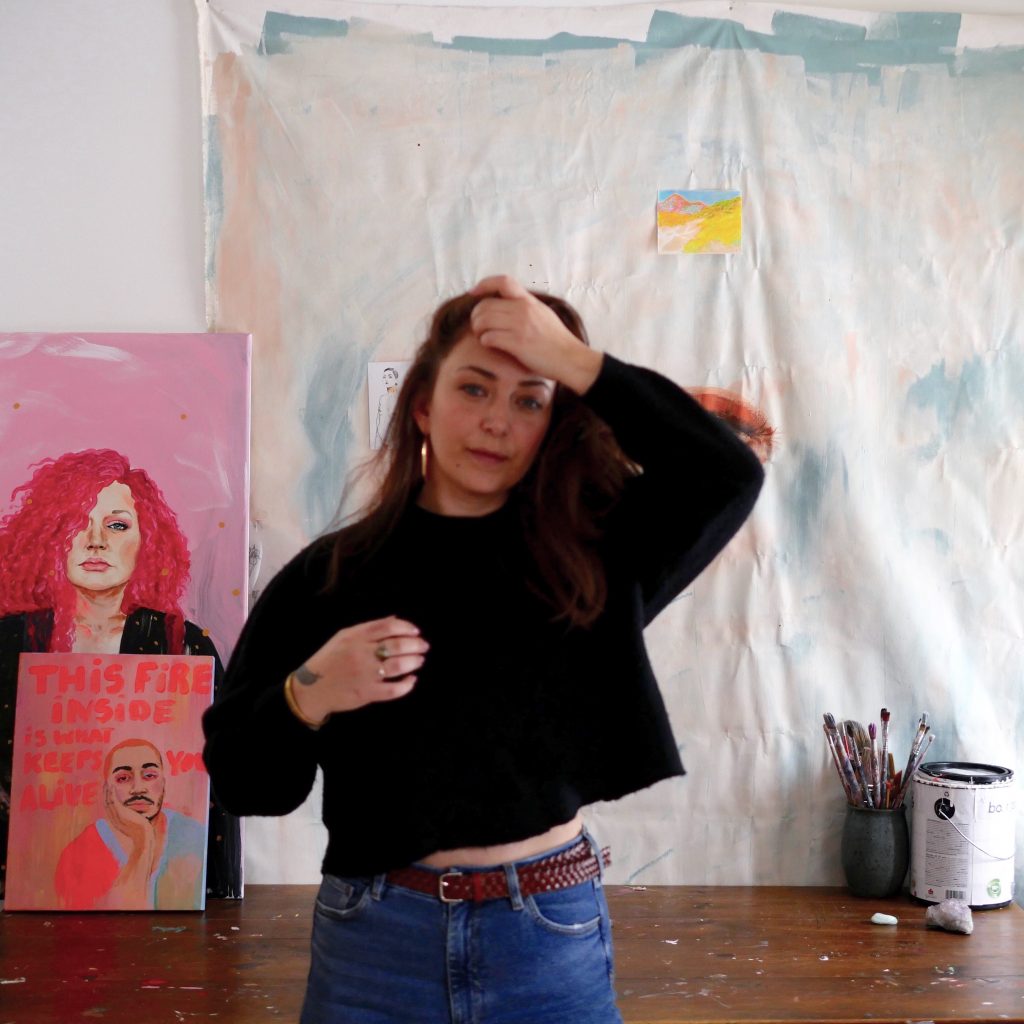 Many of you have been following our Instagram residency project "Human Touch", where emerging artists are invited to punctuate our feed and stories with their own artistic production and content that inspires their creativity.
For our second takeover, we invite you to discover the practice of Franco-Ontarian artist Juliette Gagnon-Lachapelle; her inner world and that of her characters. We know you're curious, so stay tuned as her residency starts tomorrow!
Stay tuned
Follow Juliette's Takeover on Instagram: https://www.instagram.com/l.imagier/
Day 1 : March 29, 2021
Juliette is very curious. She observes both the effect of the outside world on herself and the nature and richness of human relationships. She has always analyzed the human body, especially the female body; and how it expresses what words do not or cannot say.
In her practice, Juliette is interested in what bodies, faces and eyes have to offer to those who know how to observe, focusing on the unspeakable, our emotions and traces of our experiences. The question of "sight" is at the center of her artistic approach; the look of the other (painted or drawn) suggests a freedom of interpretation, made of unspoken on the part of the observer who according to his experience will see what only he can see.
" Looking back at my illustrations from my twenties, I notice a real anger and misunderstanding towards human relationships. My drawings became an impatient spit of words that I could not articulate.
Two years ago, after a year of reflection and a transition, I started painting again in large format. It started with a need to create while standing up and moving; to no longer be curled up at the drawing table. I needed to open up to the outside world.
Unknowingly, I was also beginning to learn the value of patience and commitment. A year ago, I started receiving commission requests for portraits and the world opened up to me. The people I paint allow me to find answers to questions that have haunted me for a long time. Creating portraits is a challenge that I learn to enjoy the process by letting go. Each portrait is a three-way conversation between me, the subject and the universe."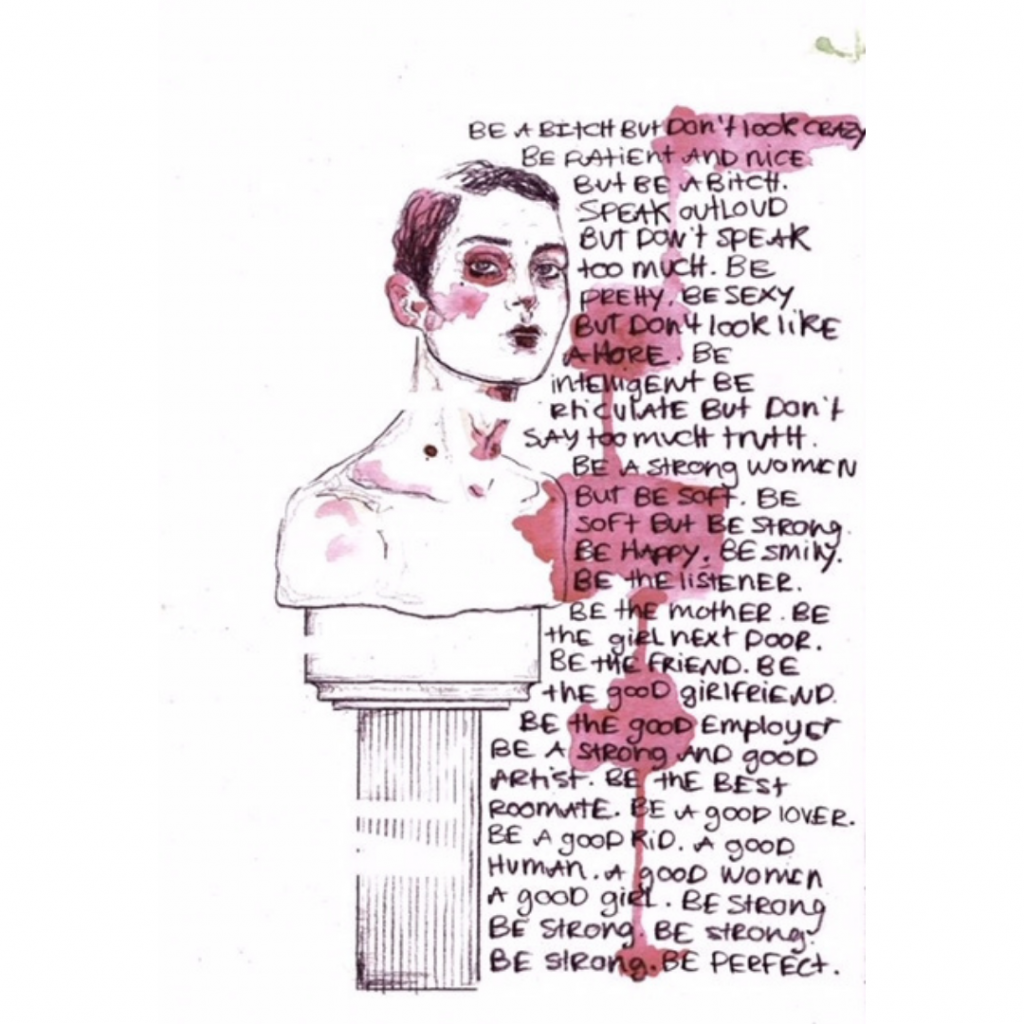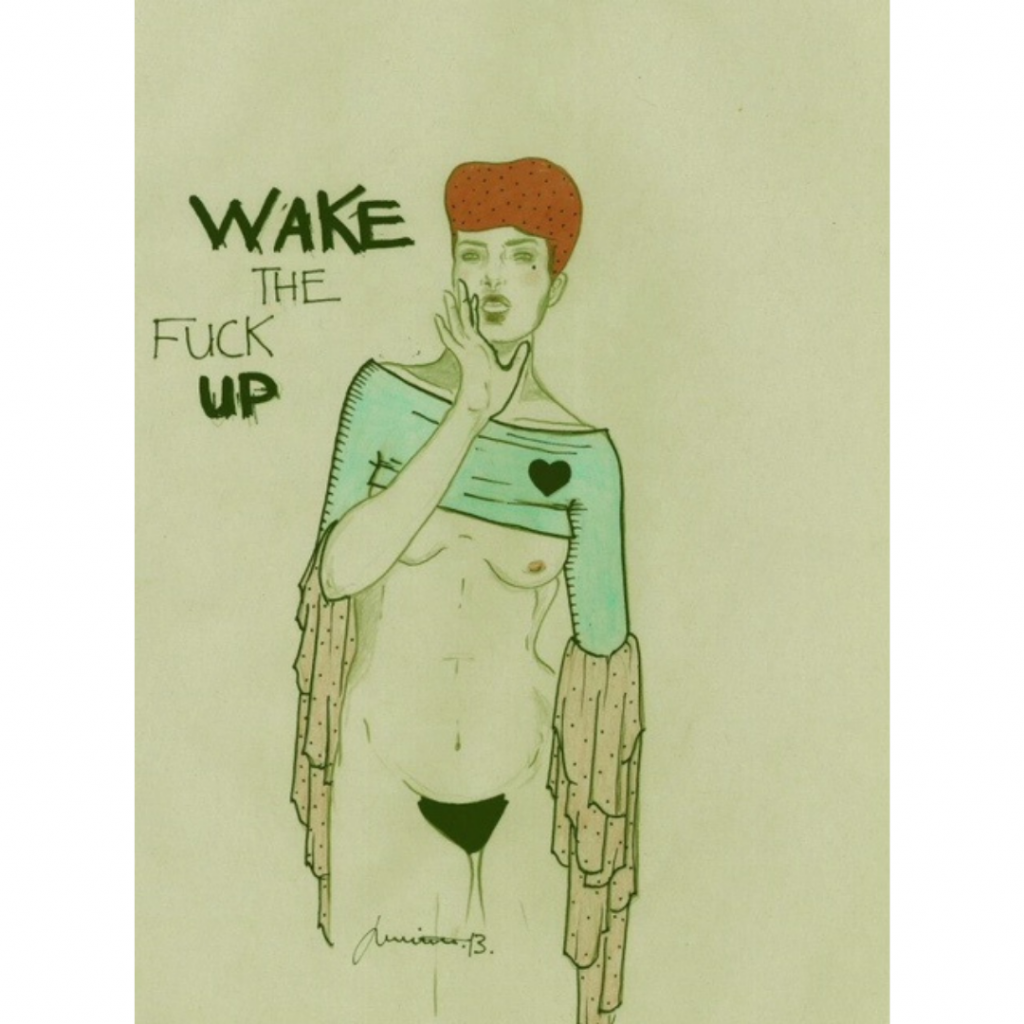 "When I draw someone, I see the colour of their skin and their eyes; I see the texture and length of their hair, I see their scars, freckles, moles, the traces of a smile or sometimes bitterness. When I look at someone, I feel their pain and trauma; I feel their hope, their confidence, their warmth and their insecurity. I look at someone's wrinkles, skin lines and facial features and I always feel, with no exception, a child hidden in the skin of an adult who only wants to be seen, understood and loved."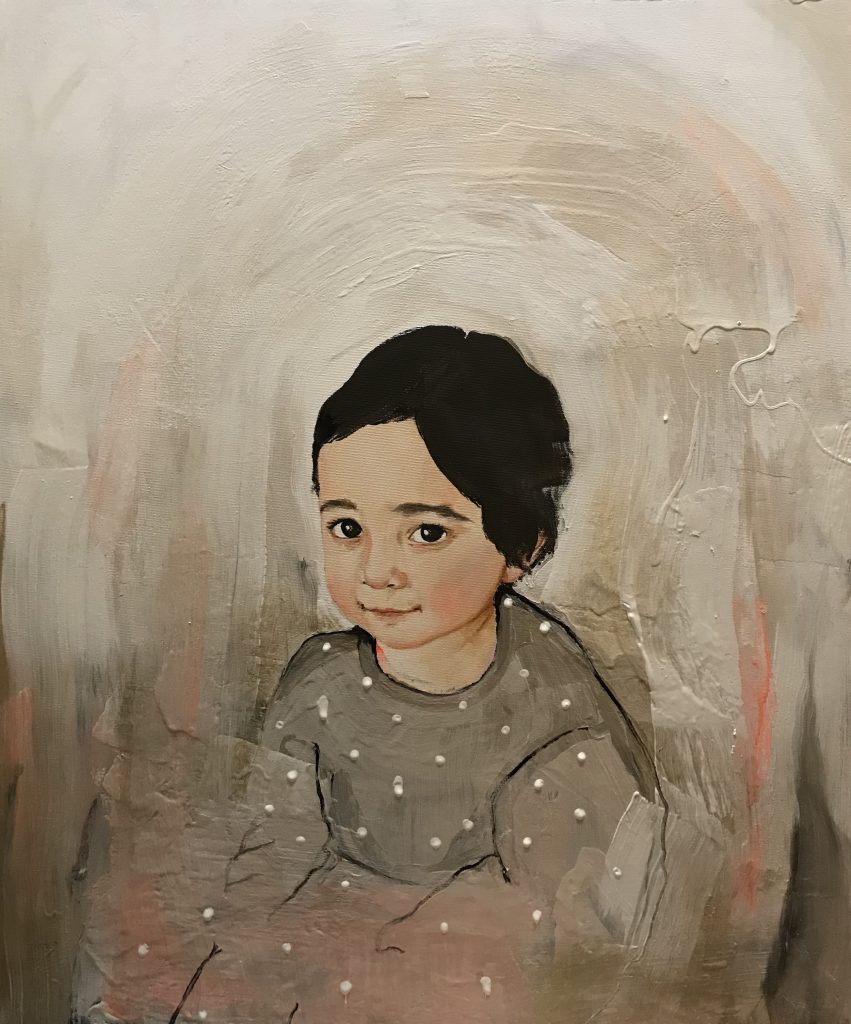 Day 2 : March 30, 2021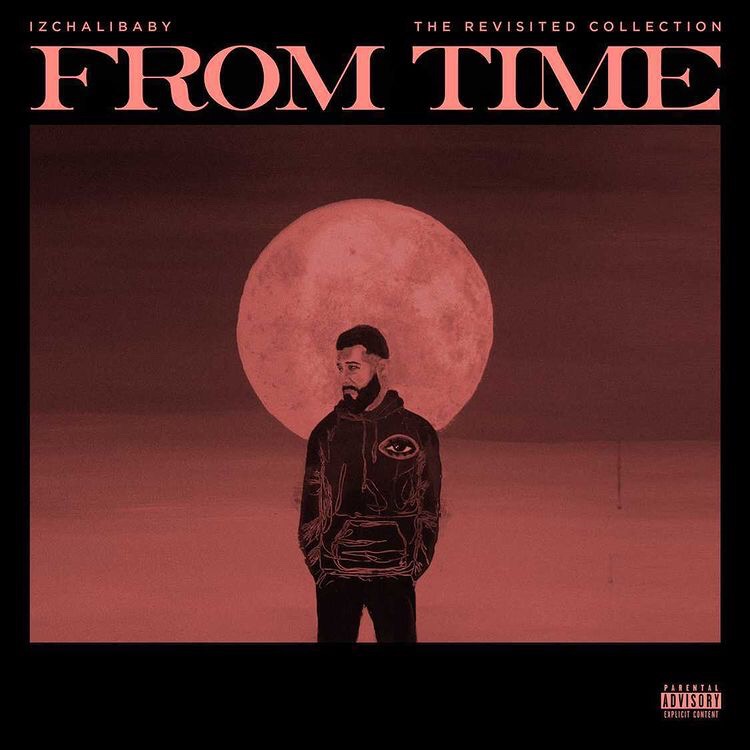 "Music is excessively important to my creative universe. I especially love early 70s psychedelic rock and most of my paintings were created while listening to Van Morrison's "TB Sheets" or Shuggie Otis's "Sweet Thang." Music is like my drug for painting. I really feel like I'm on something strong and I like to imagine that in another life I was probably at Woodstock. Album covers are also one of my favourite artworks. I see it as its own world and I can spend hours looking for it on the internet. I've already created a few for friends, the most recent being "From Time" for Izchalybaby which you can see here. Doing an album cover is a complete immersion into another artist's world and it's an experience I love. I hope to have the opportunity to do more and more."
"I could not talk about my creative process without mentioning my notebooks. Writing remains for me the most liberating action that punctuates my daily life. The drawings that accompany my words are often the beginning of an idea. To get started, I often draw houses, plants or things that don't exist. I consider that my personal outlet. I love scribbled pages that tell us a story and the scattered pieces of paper on the floor.
Having moved home so often, my notebooks are also a chronological marker of places I visited or lived in. I take them out at least once a year to read a few pages at random. I remember what emotions I was feeling at the time and also to see what wishes have come true. My notebooks are an intimate and a sacred place. It's probably the closest thing to a materialization of my inner world."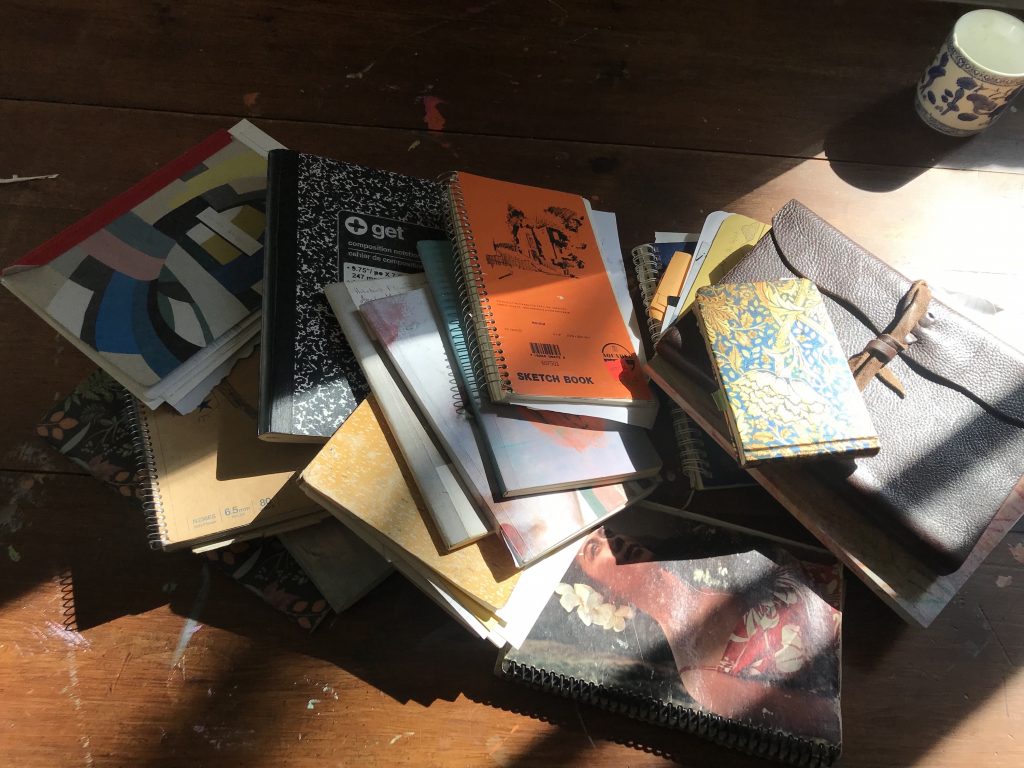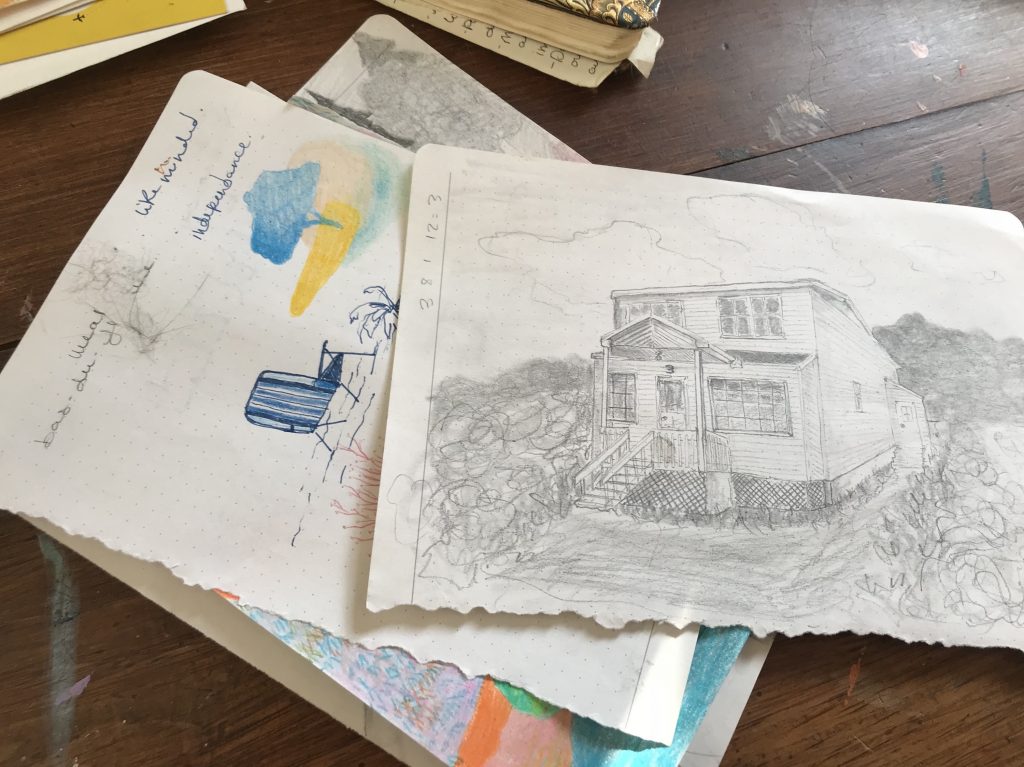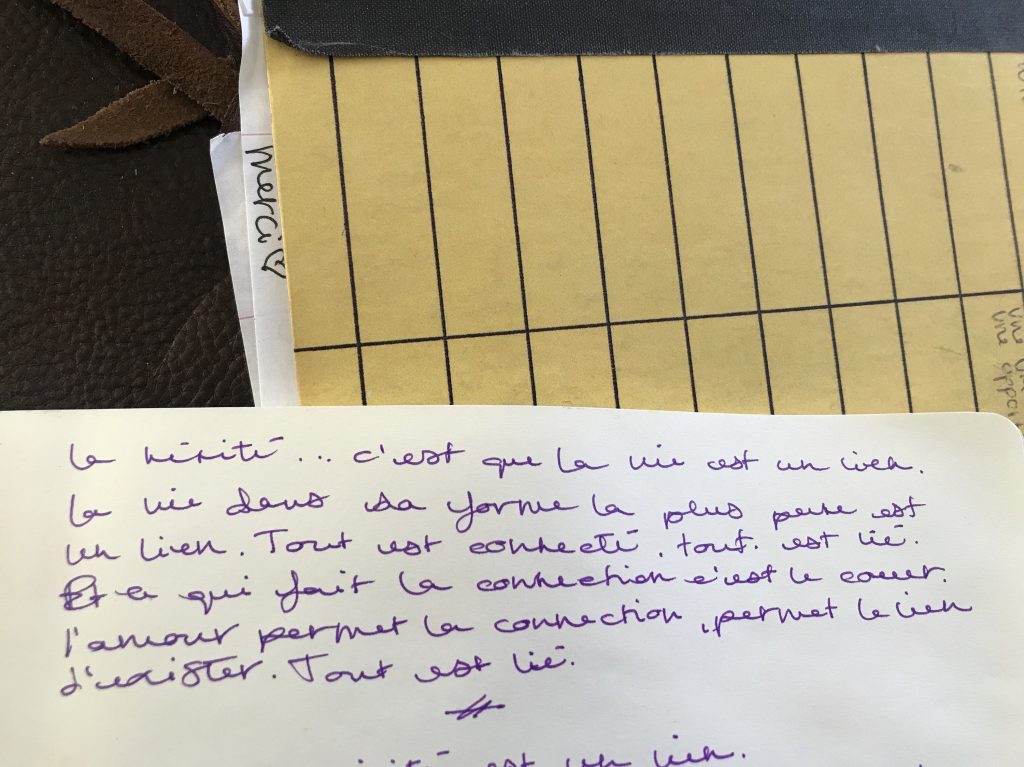 "One thing that only those I have lived with me know about me is that I have an almost obsessive fascination with postcards (and any image printed on a postcard format). I am drawn to this format. I wish I could print every image in the world in 5×7. My favourite part of moving is when I pull out my old (and not so old) cards and decide which ones inspire me the most and will accompany me for a little longer. I always have 2 or 3 postcards close to me when I create. Every time I draw, paint or take a picture, I imagine it as a 5×7."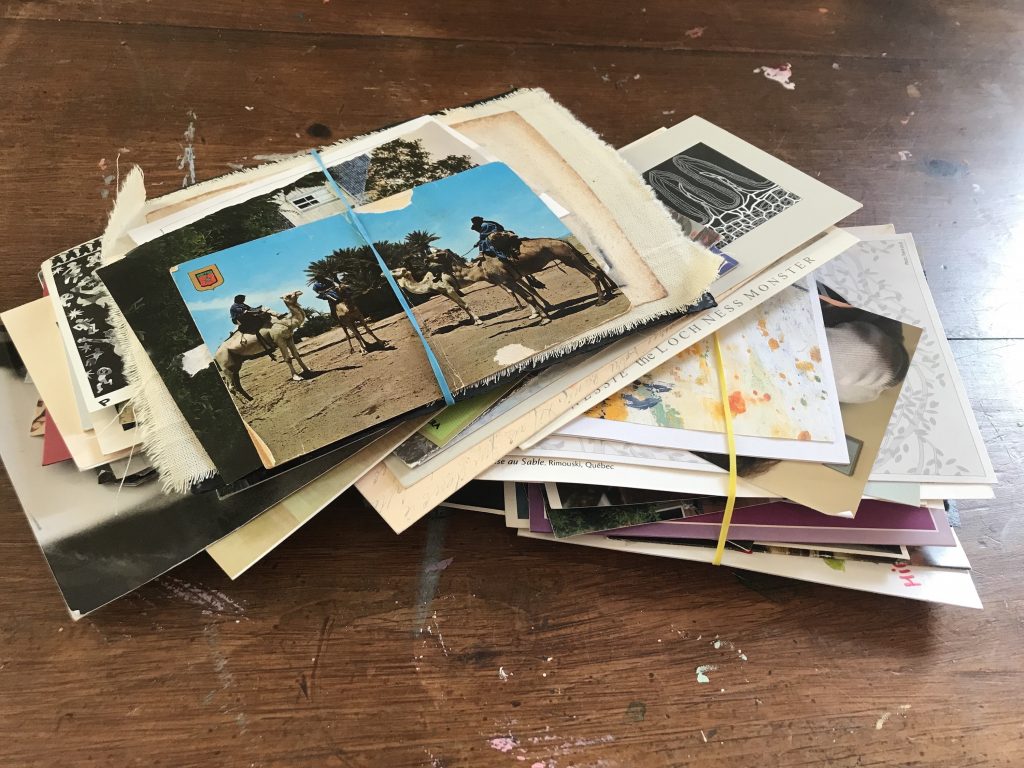 Day 3 : March 31, 2021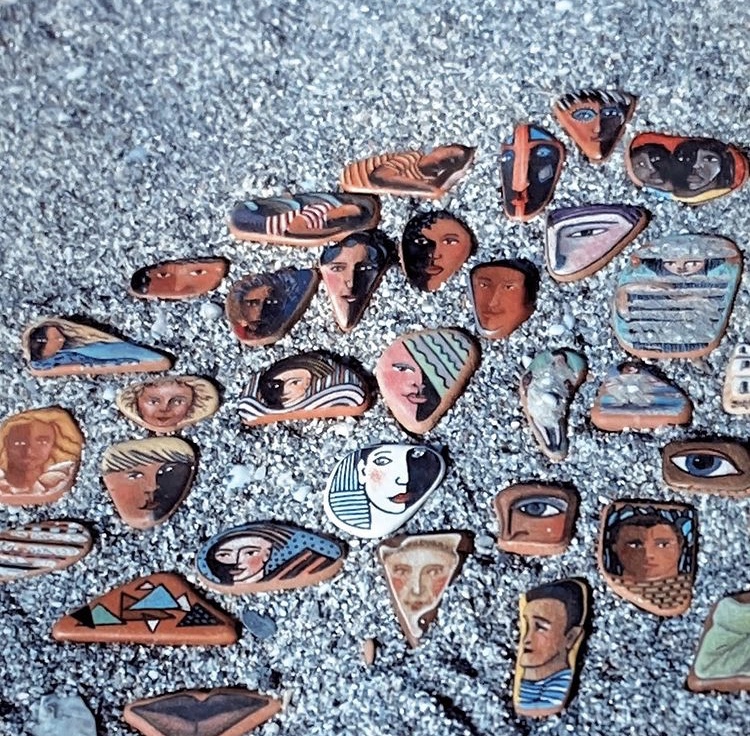 "One of my inspirations is @fernandeforest a visual artist whose body of work is a direct link between the organic world and human nature. I was lucky enough to spend most of my childhood with her as she is a great friend of my mother. She has been an inspiration on many levels. It is her freedom to create that has always impressed me. I remember her salt glass mural of the sea and the countless walks we took as a family, during which we spent our time picking out rocks on the riverbank and inventing a personality for them. Visiting Fernande is like entering a universe. Her person as a whole makes her "art": her Gaspesian accent, her unexpected dance moves, and all the times we find her lost in her thoughts, installing mirrors or garlands in her garden. She remains to this day the person with whom I enjoy discussing the most the links between nature, human beings and life in general. She represents the spirit of curiosity."
NITI MARCELLE MUETH
"I discovered @nitimueth recently and I immediately fell in love with her world. In her drawings she goes straight to the point and illustrates the realities of our society with great vulnerability. Her work is not limited to illustration as she also creates sweaters and bags, one of which I carry with me every day. I love her frankness which shows a great sensitivity… just like her I think.
Each of her designs carries a message that speaks to me in a very subtle way. Her art inspires me to be in tune with my own vulnerability. To me, she is a daily reminder that we shape our art as we build our lives; that embracing who we deeply are makes life so much sweeter and more interesting."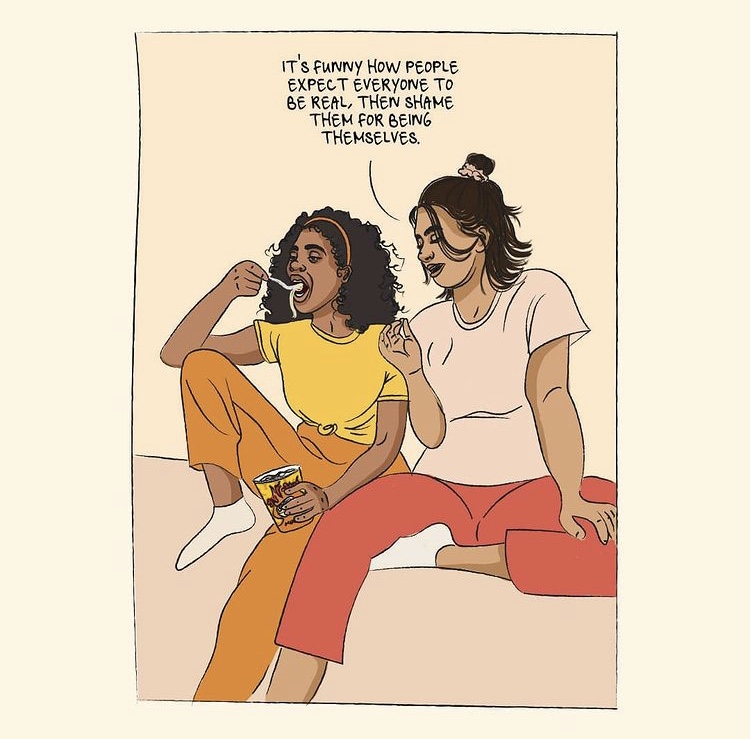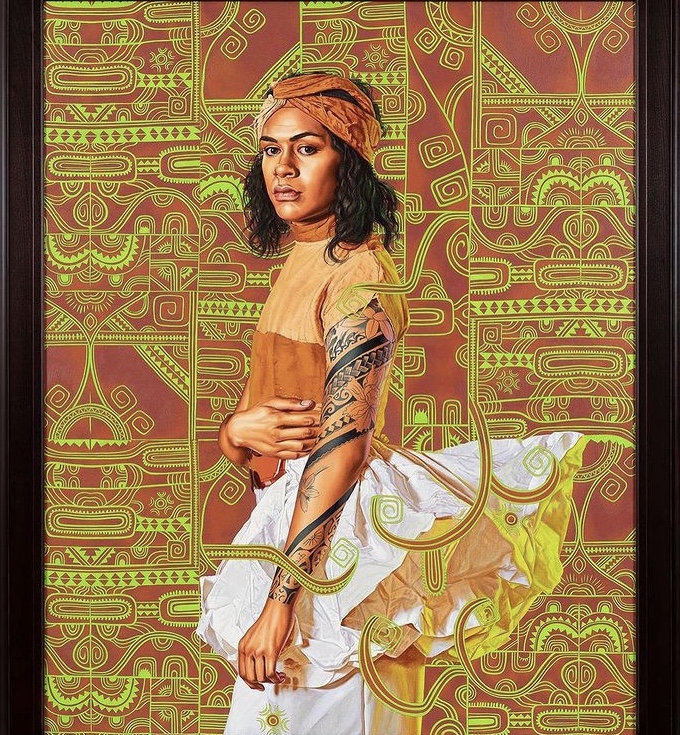 KEHINDE WILEY
"@kehindewiley is my most recent artistic discovery. His level of portrait technique blows me away! He forces me to work harder to understand and push the boundaries of portraiture. The explosive colours of his paintings and the details of what reminds me of wallpaper are so visually satisfying. His creations push me to be more attentive to the dialogue that exists between the painted person's world and mine. How do I transpose someone's soul onto a canvas without losing my own point of view?"
Day 4 : April 1, 2021
"One year ago, I was working on the launch of my boutique @pourjule full-time. My great friend Marilyne and I decided to move in together during the time of the lockdown. @marilyneauclair paints abstract and psychedelic canvases, mostly influenced by her work as an astrologer. The notion of time is completely different for an entrepreneur or an artist and not everyone can accept its sacrifices and benefits. Living together has allowed us to rethink the question of work and leisure, all this accentuated by the presence of her daughter Malena. There is nothing freer than a child's imagination; something our society seems to forget too often.
Living with them confirmed me that the life I want exists, since we create it together, conventional or not; as Malena says: "We are the family of the heart." Those eight months continue to influence my work as an artist, and in sync with the life I desire; a life I shape with heart and sweat on a daily basis."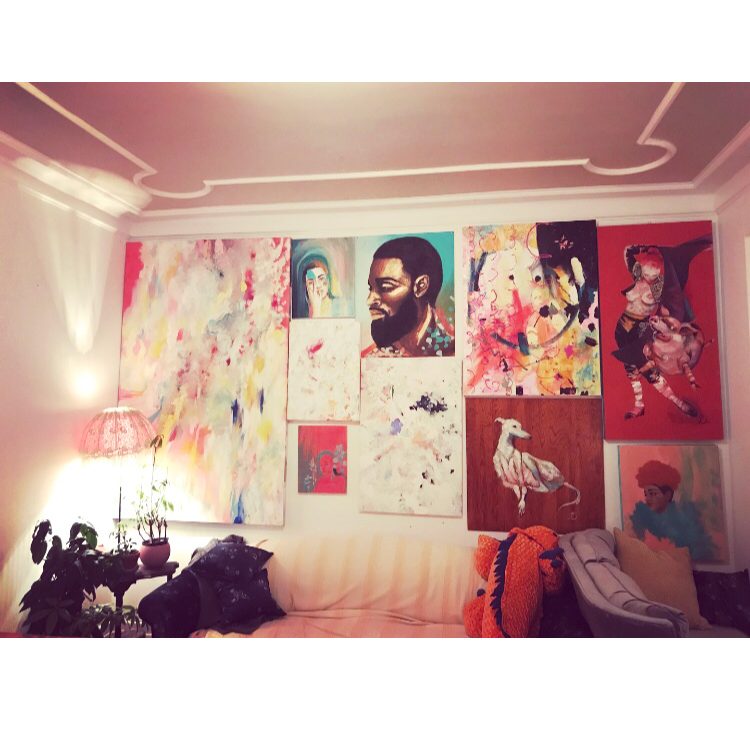 "I really like @zarahxbarberpoet's ideas and poetry. Here is an excerpt from one of her texts that illustrates exactly what this portraiture project means to me: "Imagine a world filled with beings who love themselves, truly, in such a way that they only intend to extend love onto others. Imagine if we saw each other as our family, despite where we come from, despite where we have been. Call me naïve, but I live for that reality. And I promise to live that truth for as long as I am privileged to be here."
— Words by Zarah Maria Willow, March 23, 2021.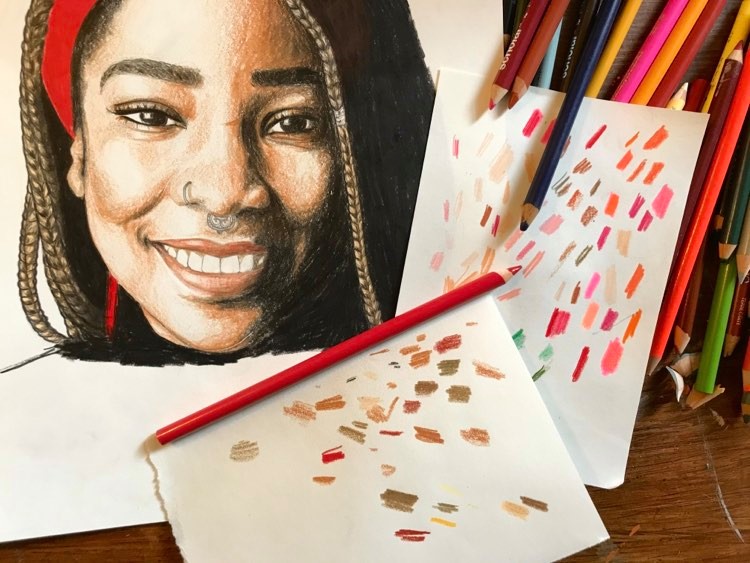 "I hold my intuition sacred, both in my art practice and in life. This canvas, for example, in front of which I create every day, and which is also my "logo," acts as a daily reminder to always trust my guts. Behind most of my paintings are one or two other works that I was not happy with; like this one which was the sketch of a portrait. On a difficult night, when I was doubting my talent, I literally emptied two large pots of paint onto the canvas, knowing deep down that I was not going to paint a portrait. I meditated, I cried, I danced in front of this canvas until I had the sudden urge to paint just one eye. I had never done that before. I treasure it as one of my most beautiful moments of intuitive creation and surrender. "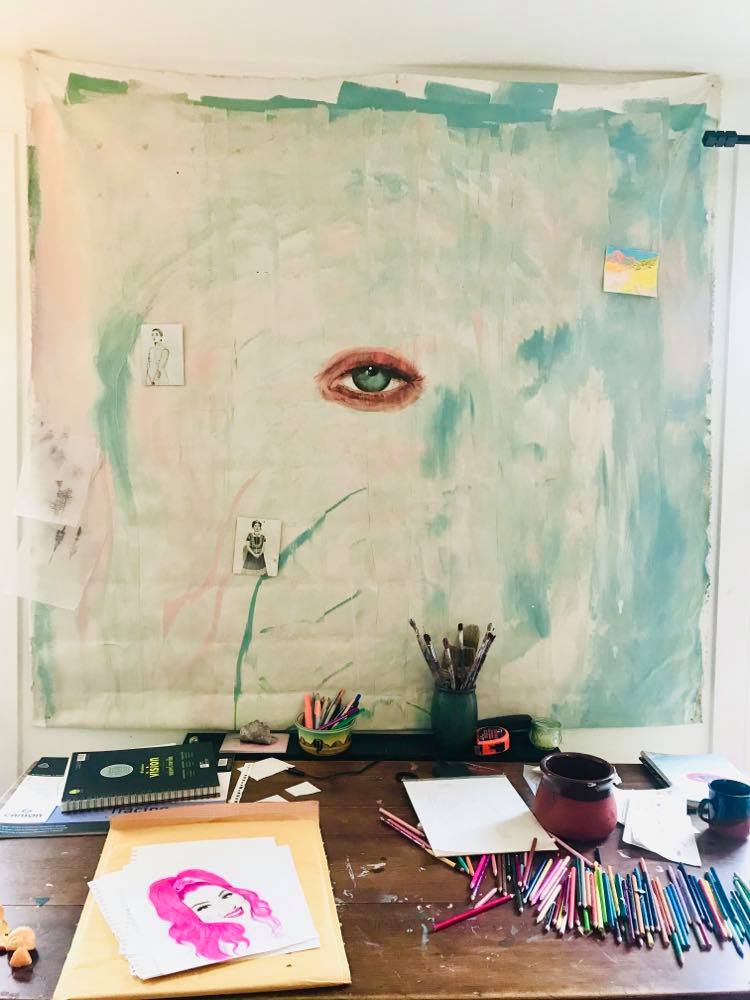 Day 5 : April 2, 2021
"I won't lie when I say that this week was a great challenge for me! Despite my strength in portraiture, I wanted to experiment with the coloured pencil technique this time. My hand and my eyes found their bearings eventually. After about ten portraits created through the residency, I realized that I was not at all a perfectionist in terms of technique. My obsession is to find the fine and subtle lines that bring out the essence of the person. I think that's what appeals to me the most about creating portraiture; almost like a puzzle to be solved. "
"The circle has always been a symbol present in all cultures. It represents life on a microscopic (atom) and macroscopic scale (planets). The cycle of the moon, the cycle of menstruation, the cycles of the natural world. The circularity symbolizes balance, the flow of energy, unions, a fair exchange between humans, where everyone can find their place.
Everything is linked, each breath you take is shared with someone else, each person carries an energy which they transmit to those who cross their path and vice versa. Every thought towards your own self has an impact on others just like every thought towards others has an impact on you. A circle is infinite, as is its meaning."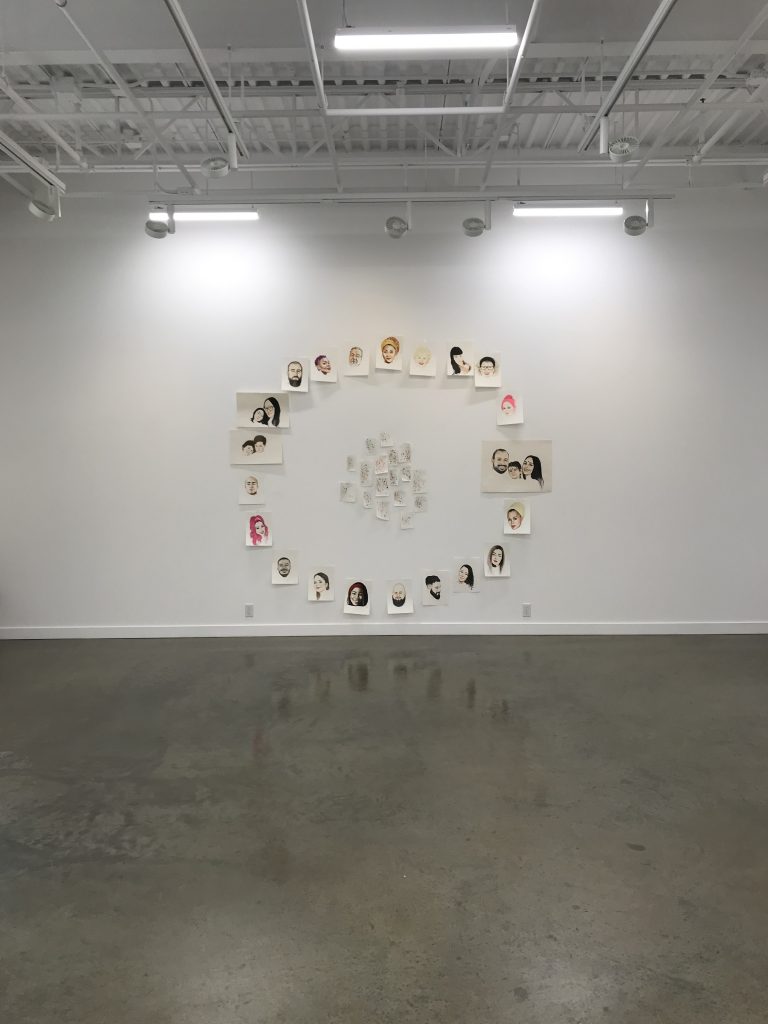 "When I was a child, I would often encounter people and be certain they came straight out of my drawings. Now, I believe in the existence of an invisible space where energies meet; like me and the people I portray.
During this residency, I met myself. I spent the week revisiting my life and sharing it openly. Those who know me also know that I am rather reserved by nature. I had to trust the team, and trust myself as well. Eventually, I accepted all the attention and let myself go. My greatest revelation was within, not in the drawing technique. To say that it was extremely nourishing AND demanding is an understatement. I sincerely want to thank Namkha and Amélie for accompanying me in their great generosity throughout this creative process during the residency. "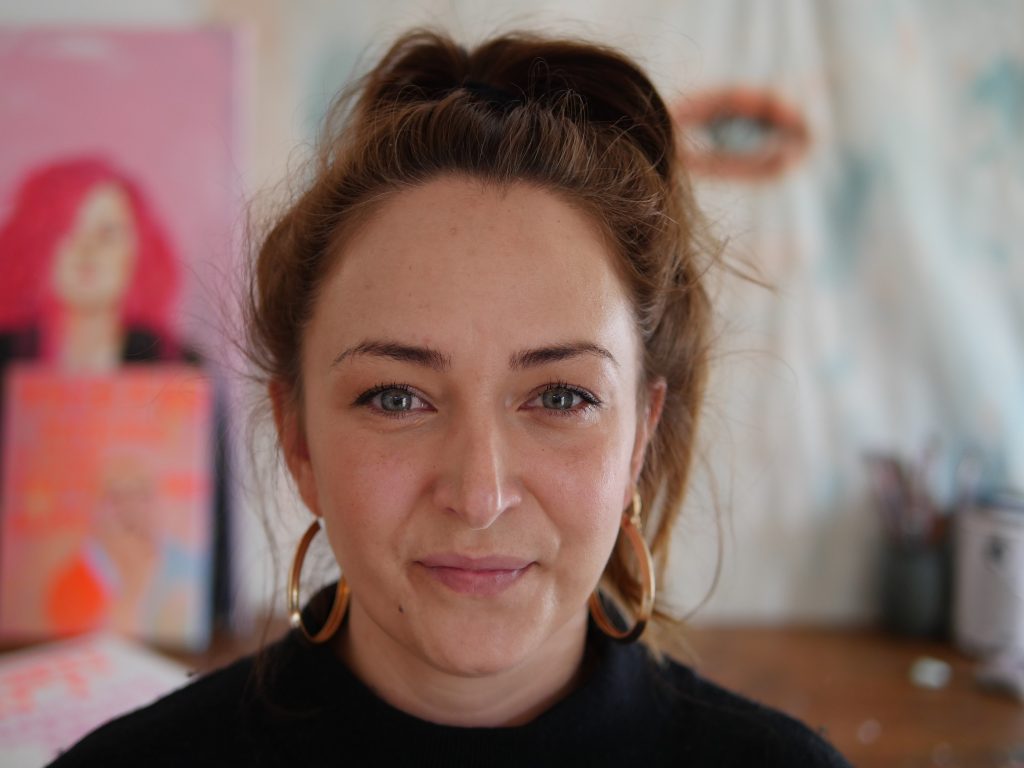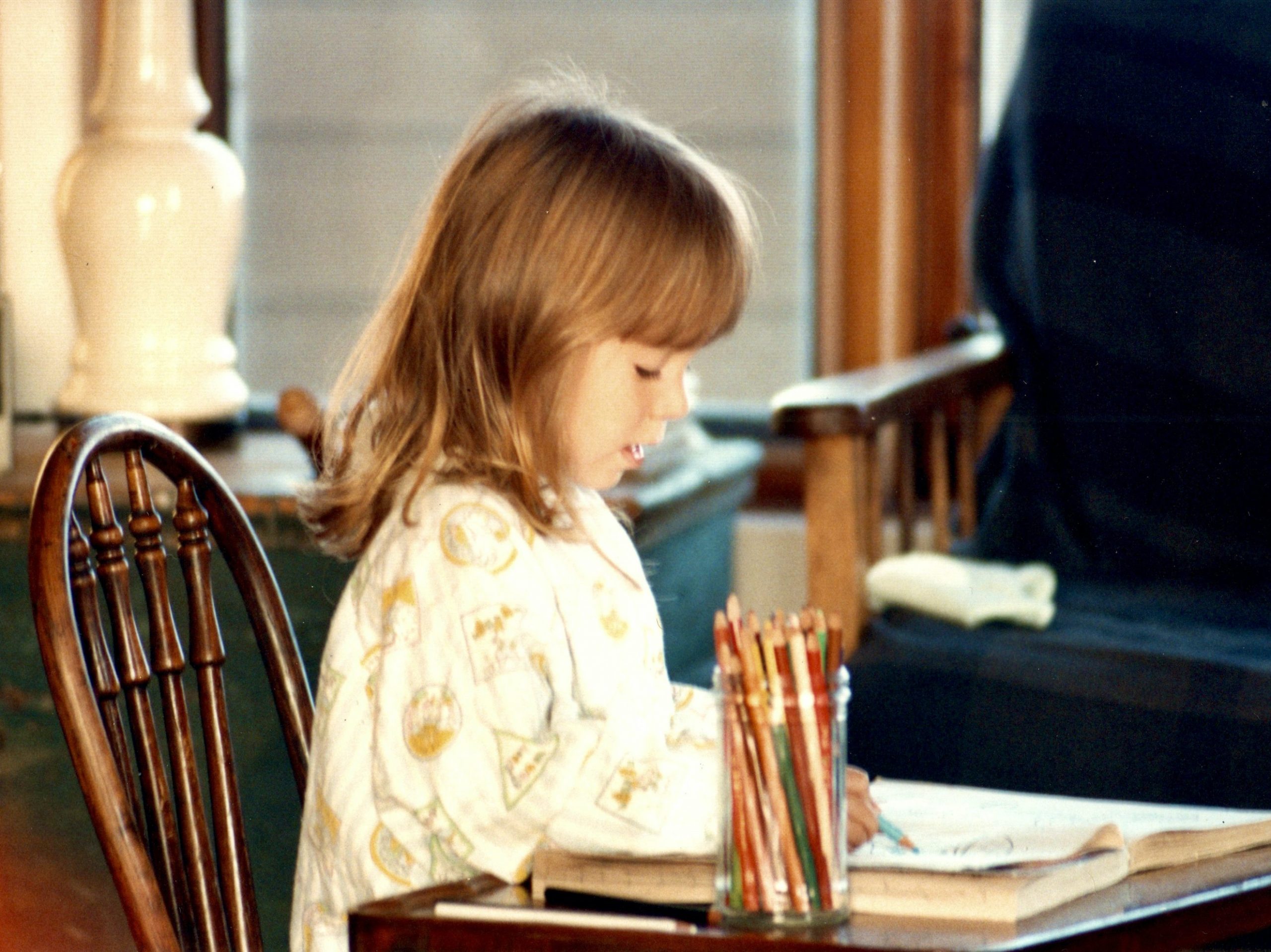 "Garden of Life," vinyl, 2021.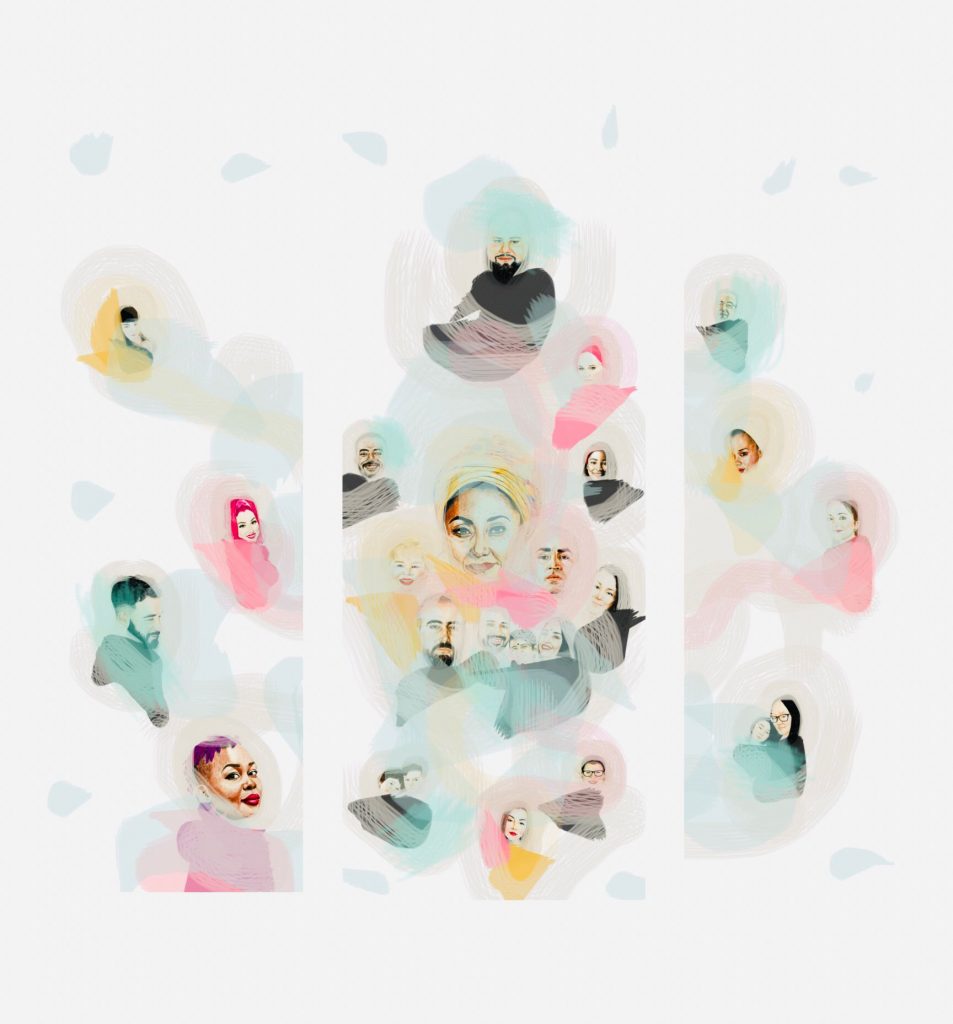 About the work
The woman in the centre represents the birth, the root of all things, the storyteller, the woman's belly who holds life and nurtures our dreams. Evolving around her, spirals her family, her ancestors, the connections she's made with others, the religion in which she was born and the beliefs she created based on her own life experiences. These are the things that made her who she is now.
Just like the trees or the flowers, we carry different layers which were born at different times in life and in co-creation with elements that surround us. We often talk about the concept of creation of all things, but nothing is born alone.
We may think that the strongest trees are the ones whose roots are the deepest, when in fact it is the trees with roots on the surface, connecting it to a network of trees that makes it so solid. When I look at the river, I feel the blood that runs in my veins. When my feet touch the ground, I am reminded of the ecosystem that lives underneath it. When I feel the wind on my face, I am aware of my breath and the movement that it creates. When I am hypnotized by the fire, I bow to the sacred in all things and beings.
Our inner world is in constant communication with our physical world. One cannot live without the other.
Everything is connected in our lives, just like we are connected with each other. There are no breaking points.
Installation of the work
Juliette Gagnon-Lachapelle's interview
Torrential rain and the natural elements eventually got the best of Juliette Gagnon-Lachapelle's ephemeral work. Today, we removed the remaining fragments of the "Garden of Life".
We had the pleasure of hosting Juliette during our second Instagram residency last March. We invite you to watch an interview between the artist and Leonore-Namkha, director of L'Imagier.
This discussion is offered in French, the language chosen by the artist, and subtitled in English.
Discover the other Instagram Takeovers.