Guided tour led by the curator
This weekend, follow curator Anna Kerekes on a guided tour of the exhibition 𝑼𝒏𝒘𝒆𝒂𝒗𝒊𝒏𝒈, 𝑼𝒏𝒗𝒆𝒊𝒍𝒊𝒏𝒈: 𝑪𝒉𝒊𝒓𝒂𝒍 𝑳𝒂𝒏𝒅𝒔𝒄𝒂𝒑𝒆𝒔 𝒐𝒇 𝑬𝒙𝒊𝒍𝒆.
Saturday, Oct. 15, 2 pm – bilingual
Sunday, Oct. 16, 11 am – bilingual
Free admission
For more information on this exhibition.
Biography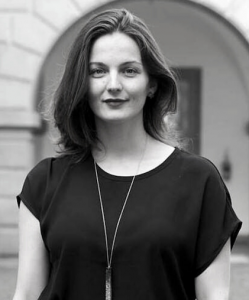 Curator, artist and researcher Anna Kerekes holds a PhD in art studies and practices from the Université du Québec à Montréal. She embraces research-creation as a modus operandi throughout her hybrid practices. Since 2018, at the invitation of Nicolas Bourriaud, she is a senior curator at MO.CO. Montpellier Contemporain where she develops exhibition projects, talks and publications. She also intervenes at MO.CO. Esba (Ecole Supérieure des Beaux-Arts) and teaches at the Ecole Supérieure des Beaux-Arts de Nîmes. Her collaboration with Jonas Mekas has transformed the way she combines notions of memory and everyday life through artistic practices. Her independent curatorial projects include Taking Care (Ars Electronica Festival, Linz, 2018) and Jonas Mekas. In the Praise of the Ordinary (Phi Center, Montreal, 2013).
The exhibition is made possible thanks to the support of Hexagram and the Fonds de recherche Société et culture du Québec. L'Imagier thanks the Conseil des arts et des lettres du Québec and the City of Gatineau for their financial support.