Florence Yee's Instagram Takeover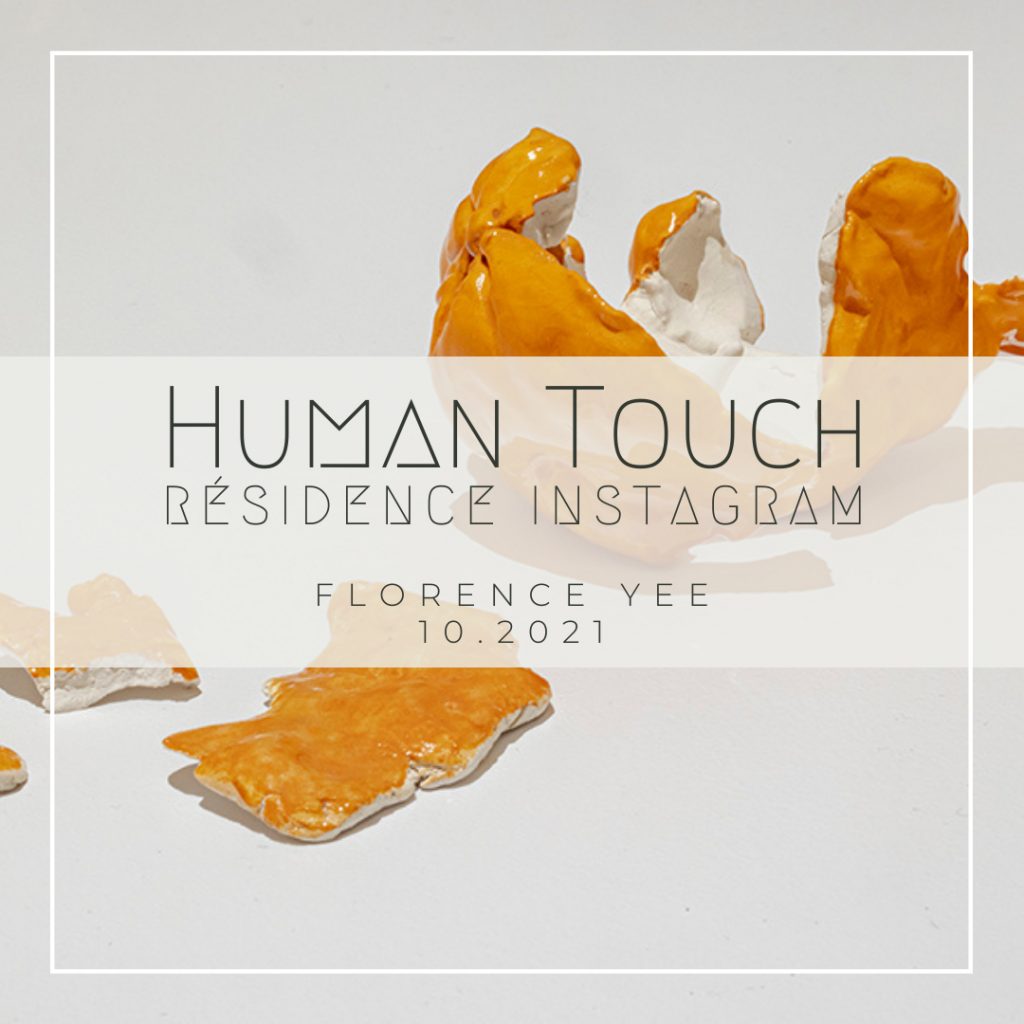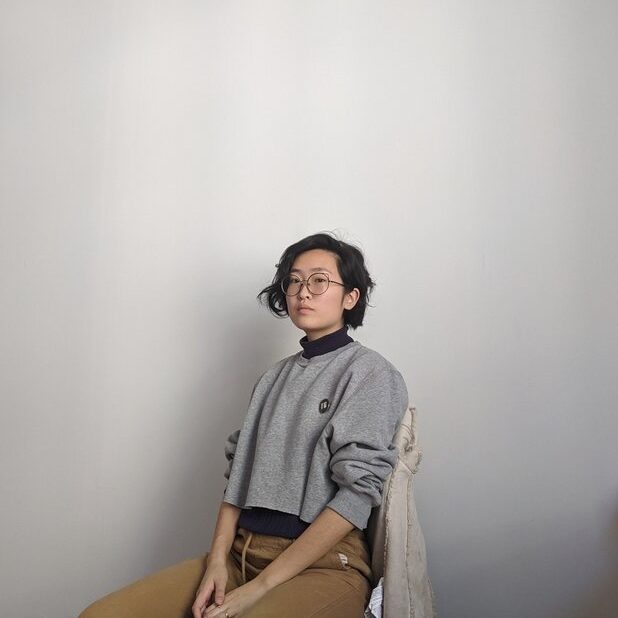 At the occasion of our fifth Instagram residency, we welcome on our plateform the work of Florence Yee a queer Cantonese visual artist based in Tkaronto / Toronto and Tiohtià:ke / Mooniyang / Montreal. Starting tomorrow, you can discover their most recent works, as well as the themes and reflections that guide their practice.
Stay tuned !
Follow @florence.cg.yee's Takeover on Instagram
Day 1 – Monday October 25, 2021
Florence Yee is a visual artist and recovering workaholic based in Tkaronto/Toronto and Tiohtià:ke/Montreal. Their practice uses text-based art, sculpture, and textile installation through the intimacy of doubt.
"Cynical of liberal multiculturalism, my work attempts to step around easy signifiers of legibility. It recognizes the danger of nostalgia as a site of utopic contemplation that unjustly flattens marginalized existences. It seeks to deromanticize queer, racialized experiences and destabilize linear narratives of intergenerational knowledge by showcasing failure, futility, repetition, and dead ends." – Florence Yee
"I have been collaborating with my dear friend and fellow artist, Arezu Salamzadeh, for the the past two years. '𝙋𝙡𝙚𝙖𝙨𝙚 𝙃𝙚𝙡𝙥 𝙔𝙤𝙪𝙧𝙨𝙚𝙡𝙛' is a collection of glazed ceramics that resemble tangerine peels. The offering of tangerines is reminiscent of the ways that our families often welcome guests in their homes and the simple food that is shared amongst friends on the side of the curb. As ceramic works, the inconspicuous leftovers of our shared gatherings become small monuments to those moments. During the pandemic, we mailed a small portion of clay with accompanying instructions to relatives and friends who we could not visit, for us to "share a tangerine" through the process of collective artmaking. As we received them back through the mail, they were fired in a kiln. Seeing as the material of clay bares all the traces of the maker's hands, this process of exchange retains an intimate connection of touch and care to carry on during a time of isolation." – Florence Yee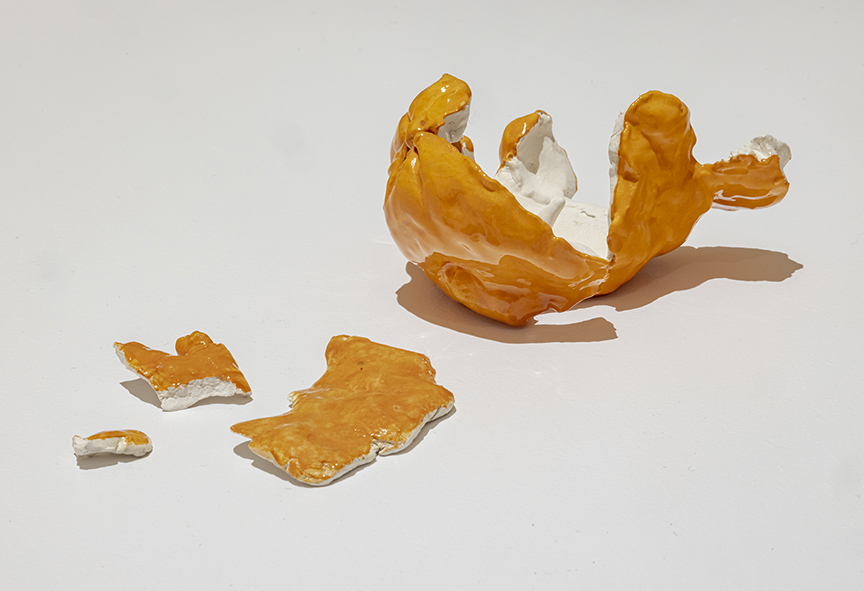 "The Chinatown Biennial is a project by Arezu Salamzadeh and Florence Yee. The large-scale, international events of biennials have their historical roots in the 19th and 20th centuries' World's Fairs, hosted by colonial empires that demonstrated the reach of their annexing powers and wealth. Similarly, they are now synonymous with art world establishment, status, and multinational sponsorship. By using the prized label of a "biennial," we want to question for whom we reserve such titles ? We will do so by drawing on a legacy of institutional critique that involves the creation of alternatives, both through playful mimicry and transformative reimaginings. The Chinatown Biennial is part actual biennial and part parody." – Florence Yee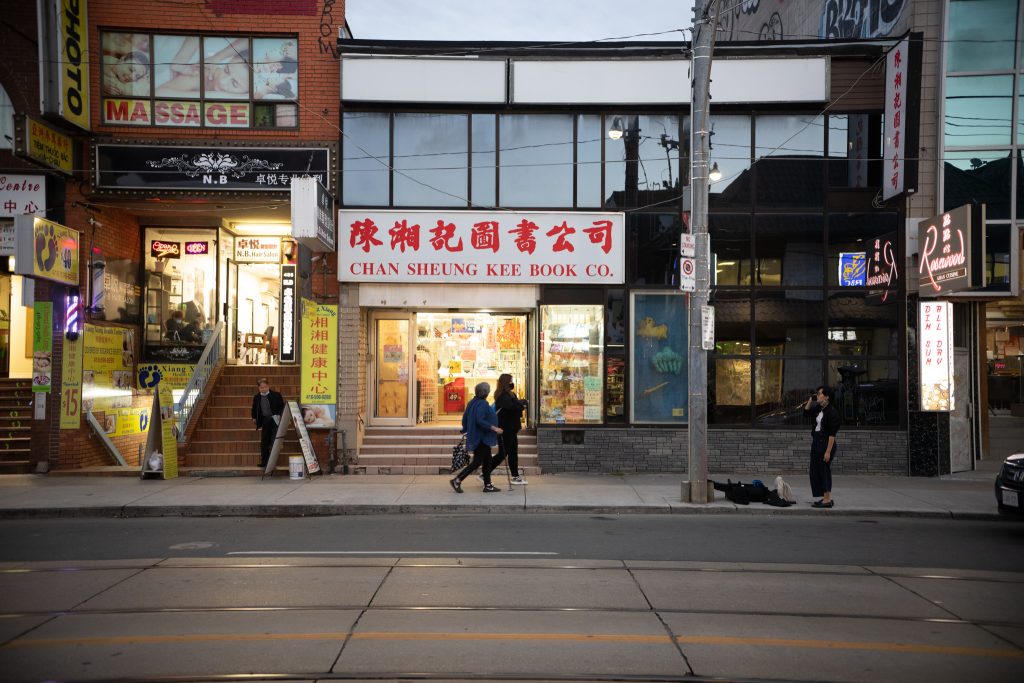 Day 2 – Tuesday October 26, 2021
"This 'interrupted reading' of Yoko Ono's 1964 "Grapefruit," is inspired by the format of her performative instructions with additions of my own. Difficult to parse between the two, Ono's original work is brought into a contemporary gaze with the anxieties of a queer/trans millennial. I've been taking playful looks into authority and (re)presentation in so-called canonical works of art history. This work was originally created for Sappyfest: Infinite Variety Show in partnership with Struts Gallery, in Sackville, NB." – Florence Yee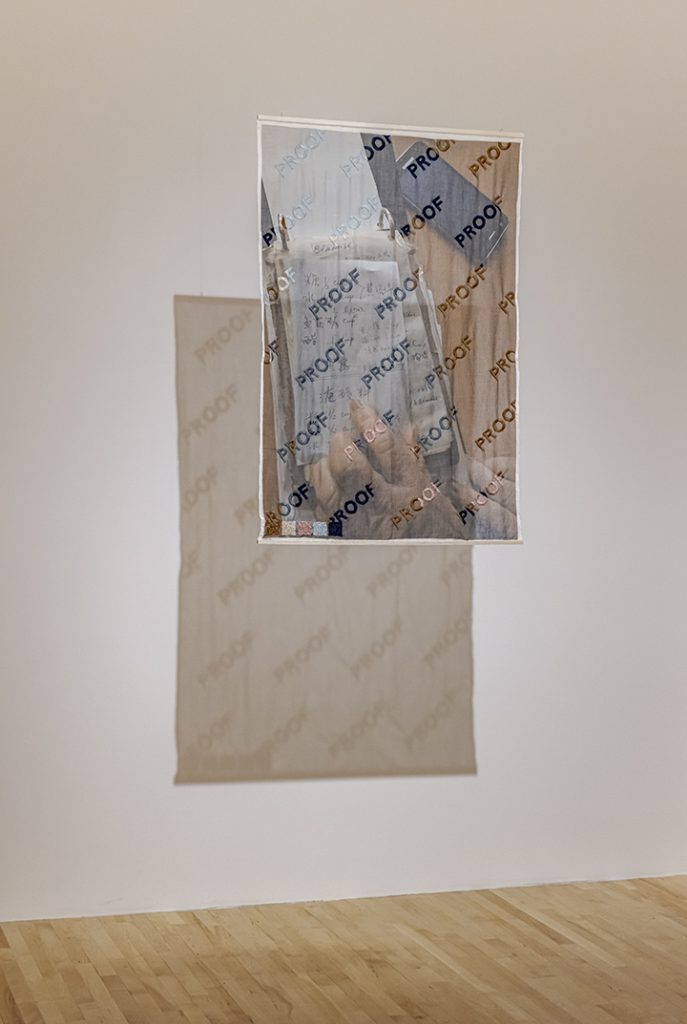 "We demand evidence of our communities, often for good reason: to imagine ourselves in a larger narrative; to understand our lineages and legacies; to affirm our belonging, conditional as it may be. And yet, even as queer and racialized people are gravitating towards archival practices—from which we were once excluded—the form of the archive itself still retains the structure of the problem: their inherently limiting boundaries of authority, (in)accessibility, ethnographic classification, and penchant towards legible representation. How do we hold space for the unrecorded, the unrecordable, and the yet-to-be-recorded? What if our desire for documentation might be damaging? The challenges of commemoration beckoned me to consider what queer theorist Jack Halberstam refers to as "new forms of memory that relate more to spectrality than to hard evidence, to lost genealogies than to inheritance, to erasure than to inscriptions." This piece is currently being exhibited with works by Ness Lee at the Varley Art Gallery in Markham: Elusive Desires, curated by Marissa Largo." – Florence Yee
Day 3 – Wednesday October 27, 2021
"I recently remembered an experience from my very first solo show to the public. The gallery left red dot stickers for buyers to purchase pieces. A stranger came up to me and stuck one on my chest. I've embroidered these little red dots to accompany a piece that I'm now finishing." – Florence Yee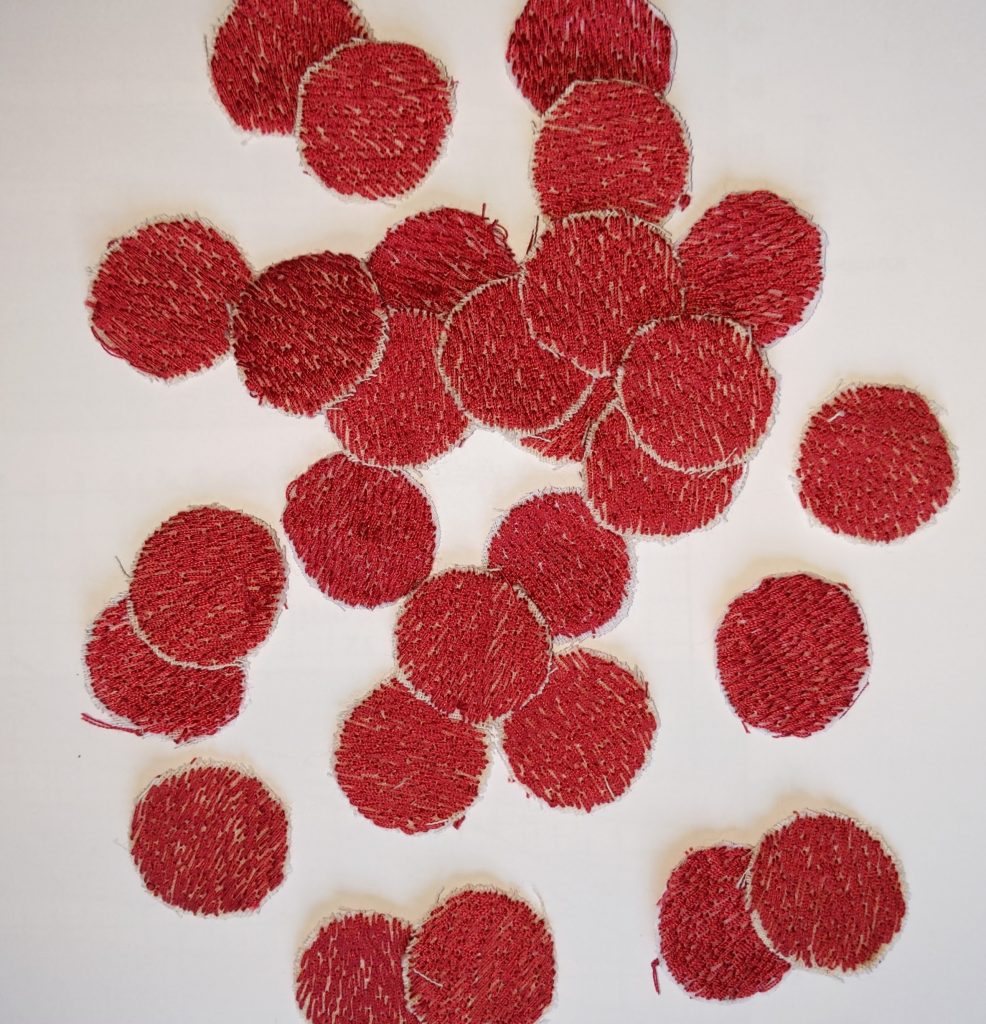 "In the last three years, I've been writing grants about my work much more than I've been thinking about my work. It has led me to focus on a more legible, simplified, and disembodied articulation of my practice. Often, I wonder what we lose when we describe ourselves. It parallels my skepticism of gender identifiers and selfhood. This is a childhood photo of myself in overalls dancing with another kid in a pink dress." – Florence Yee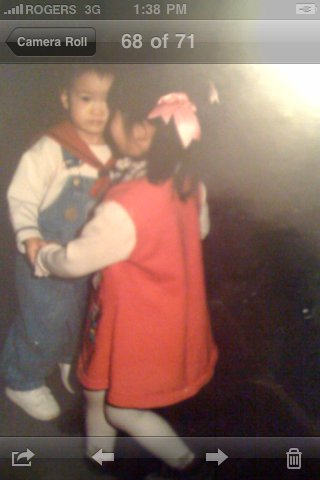 Day 4 – Thursday October 28, 2021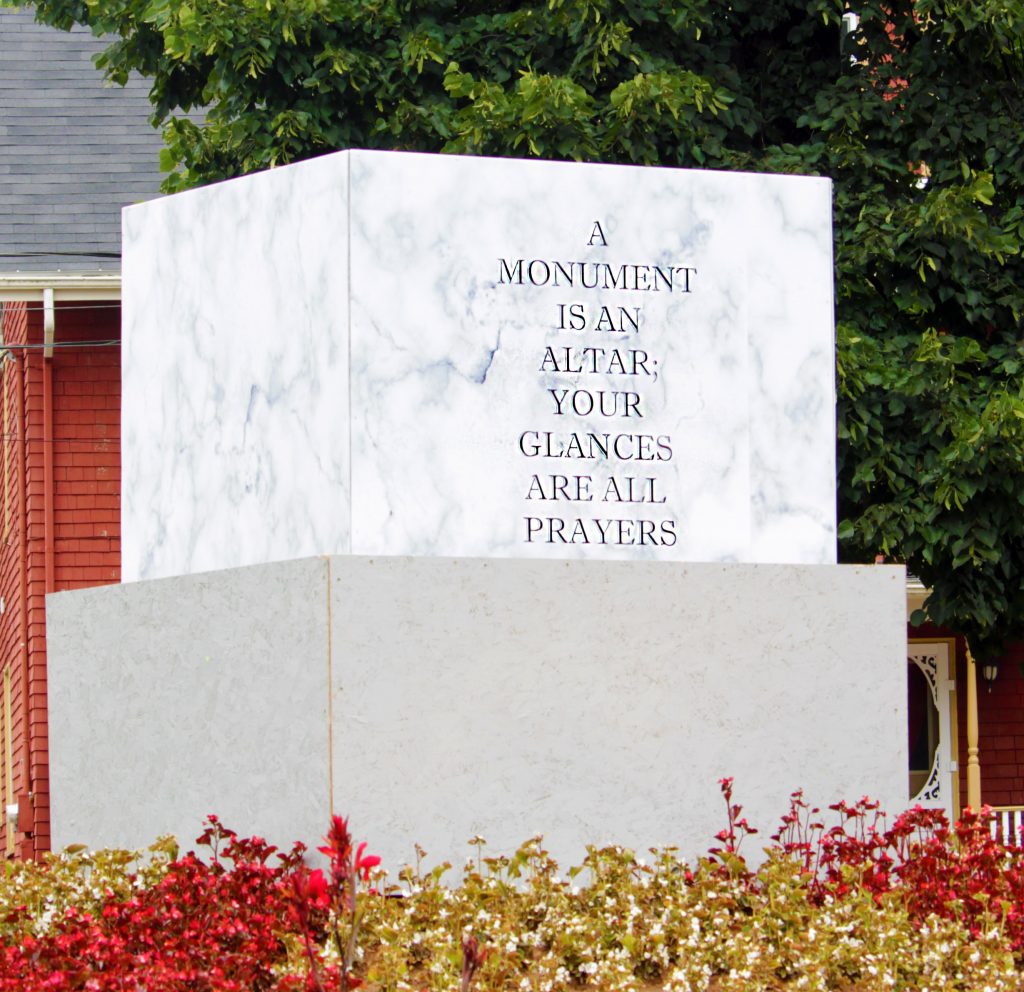 "In Toronto, the city declared 2021 as the 'year of public art.' It reminded me of the patriarchal and colonial modalities of art in the public realm, a space that is rife with hostility for those without resemblance to canonical history." – Florence Yee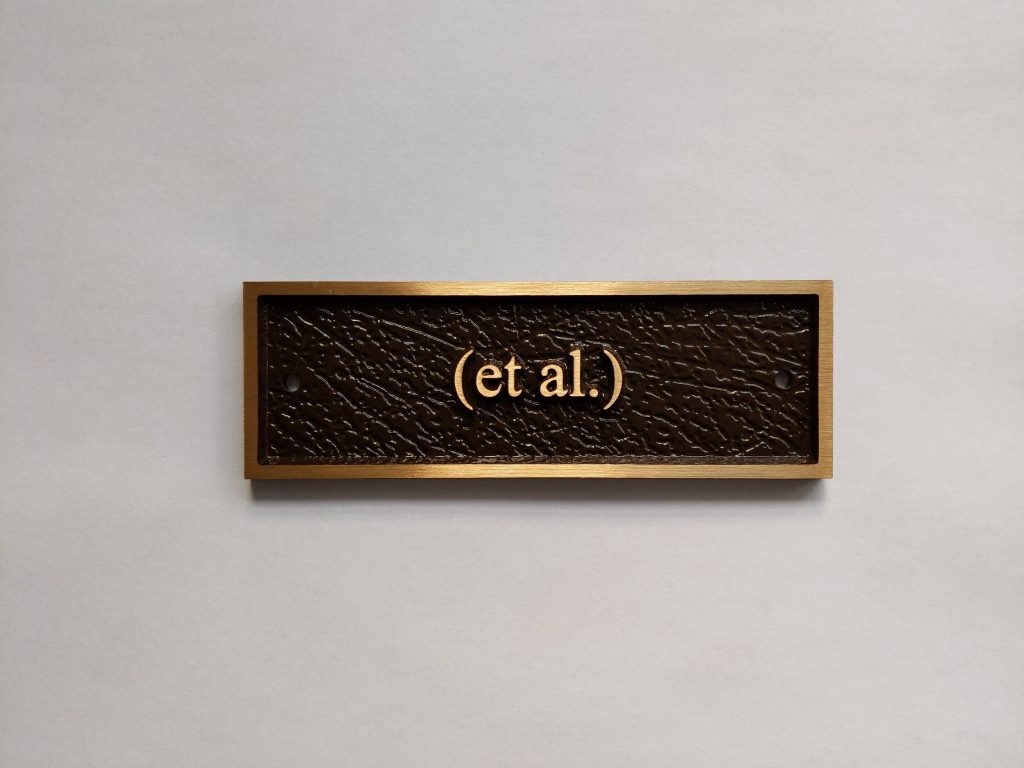 "I have always preferred sharing a studio instead of having one for myself. This magically unscheduled time together otherwise feels so difficult to come by. Earnest feedback keeps us accountable. Unfeathered gossip keeps us safer." – Florence Yee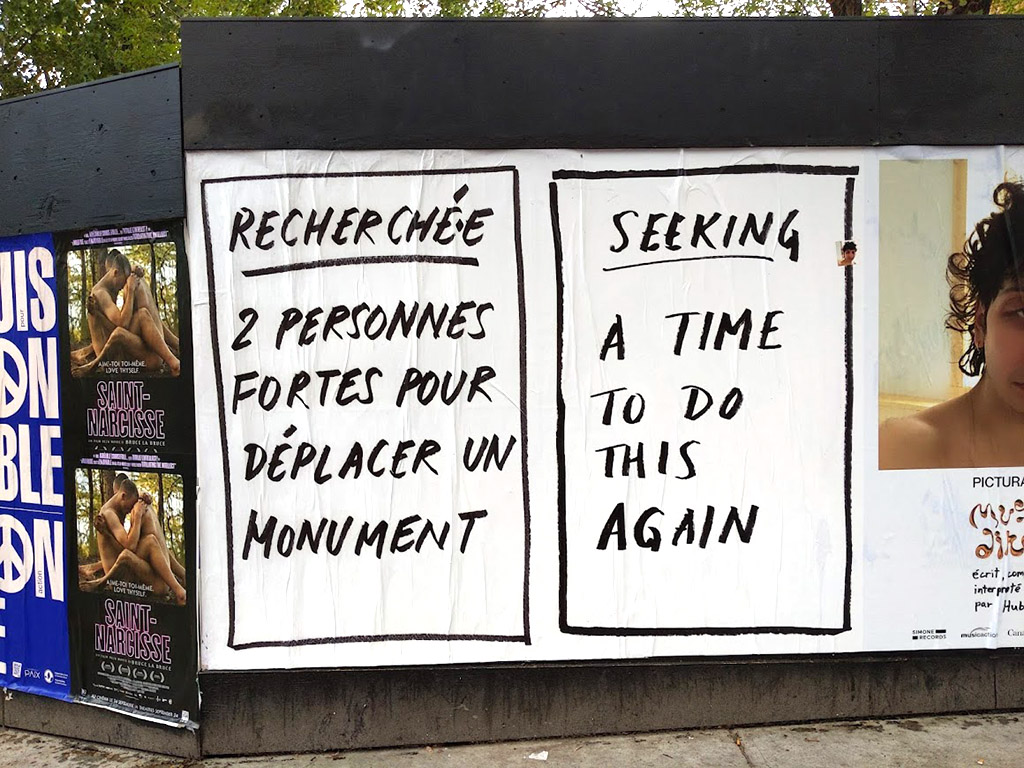 "One of the things I appreciate most within art work is mentorship. This intimate time of learning I had with Kiona Ligtvoet in the summer of 2020 saw us discussing community, loss, searches, and justice. They inspired this format of text-based artwork, born from a time of deep isolation and crumbs of warmth." – Florence Yee
Day 5 – Friday, October 29, 2021
"I am continually grateful for the conversations, frustrations, and elations that I've shared with Laura Grier during our MFA. Their embodied process and consideration of all beings guided some of my work in the last three years." – Florence Yee "Laura Grier is a Délı̨nę First Nations artist and printmaker, born in Somba ké (Yellowknife), and based out of Alberta. Through the use of traditional print mediums, they instrumentalize the power of the handmade to reflect political sociology, culture, environmentalism, and indigeneity. Responding to lived experiences of being an urban displaced Dene woman through Print, Laura's work is also inspired by the dynamism of Indigenous art practices and uses printmaking as a tool for resistance, refusal, and inherent Bets'ı̨nę́." – Laura Grier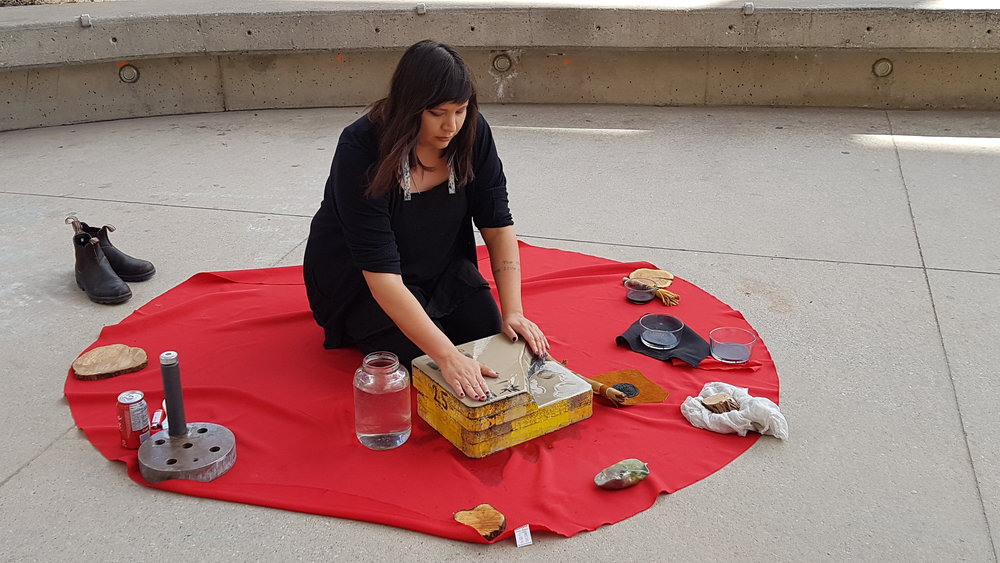 "For the last twelve months, I've taken part of Gendai's MA MBA (Mastering the Art of Misguided Business Administration), a workshop series that seeks to improve capacity-building skills amongst visual arts collectives with majority racialized membership, as we live, work, and learn on the territories of the Mississaugas of the Credit, the Anishinaabe, the Haudenosaunee, and the Wendat peoples. Addressing sector-wide challenges of precarity and isolation, this project creates a network for collectives to resource share, co-learn, collaborate, and improve workplace sustainability." – Florence Yee .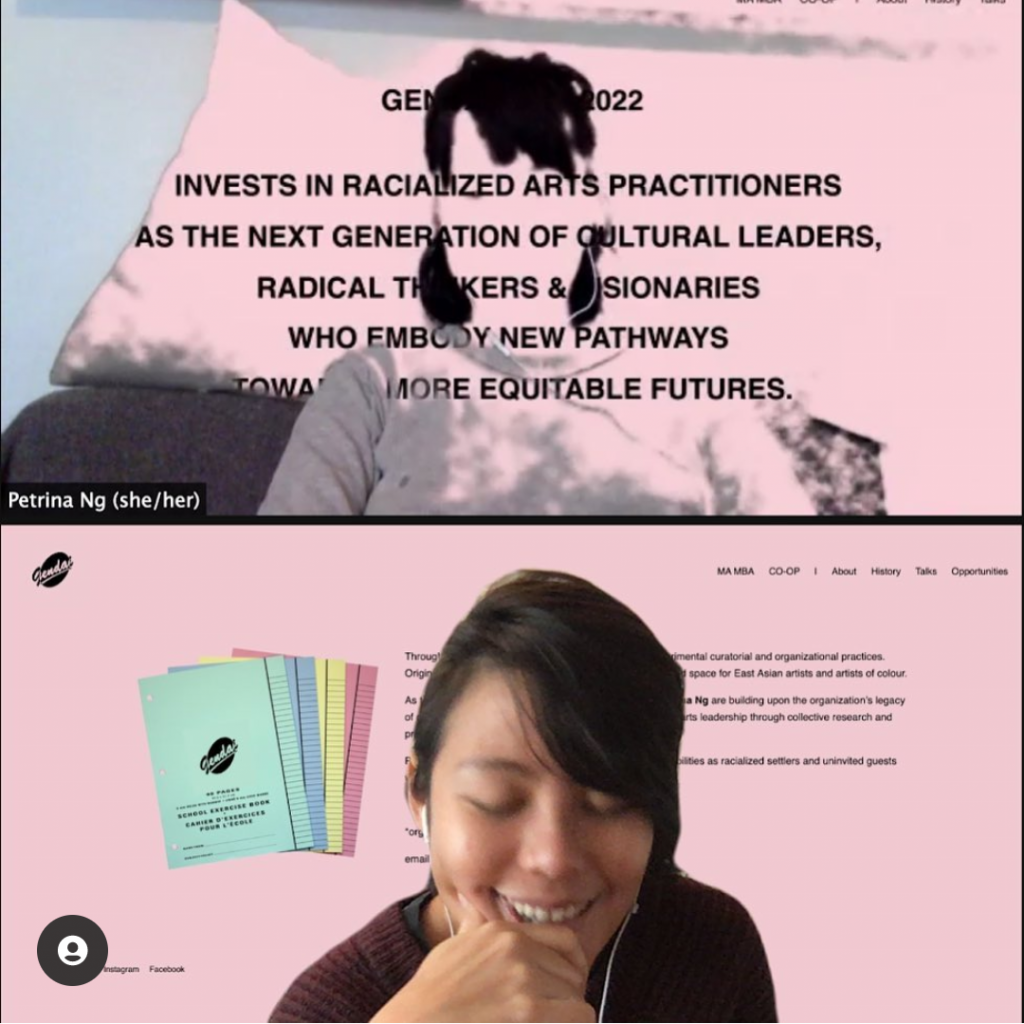 We had the pleasure this week to welcome the emerging artist Florence Yee for our fifth Instagram "takeover". We invite you to watch his interview with Leonore-Namkha, director of L'Imagier.
This discussion is offered in French, the language chosen by the artist, and subtitled in English.
For the curious, see the full interview on our YouTube channel (link in the bio).
To visit Florence's website or Instagram.
Discover the other Instagram Takeovers.