Exhibition "Caroline Monnet: Patterns of Belonging"
About the exhibition
Artist : Caroline Monnet
Curator : Amin Alsaden
This exhibition brings Caroline Monnet's artistic practice back to her hometown of Aylmer. The works honour the significance of this site, located on the Ottawa River's watershed, the traditional territory of the Algonquin people. Even though Indigenous communities have inhabited this terrain for thousands of years, there are barely any discernable traces of their contributions today in the urban environment, due to the ways in which the landscape was changed by settler colonialism, often beyond recognition. Monnet challenges that erasure. She has been studying Anishinaabe geometric motifs passed down through generations of matriarchs in her family, but of which she was dispossessed through forced assimilation. Historically, these designs not only identified different families, but they are also believed to contain concealed messages from the spirit world. Using digital technologies to create new designs inspired by inherited patterns, Monnet reintroduces a sense of pride in place, especially in bland urban environments, and affirms Indigenous presence and belonging.
The exhibition features Shapeshifter (2019), a video projected on L'Imagier's western façade, visible after sunset from the Parc de L'Imaginaire. Informed by the spiritual practice of shapeshifting, where humans might transform into other beings in order to perform deeds that protect and care for their communities, this work is also a commentary about how our perceptions and experiences of the world constantly shift and evolve. Patterns appear, multiply, and merge, giving way to different patterns, sometimes through smooth transitions, and more abruptly and unexpectedly in others. These movements form their own cyclical temporal pattern, layered on top of the optical tessellation, to suggest how human beings and their non-human kin are the sum of everything that happened in the past, and will constitute an integral part of what takes place in the future—that everything is connected, fluid, and constantly changing.
A sculptural work, Piwanego / Noogom (Autrefois / Maintenant) (2021), is also presented in this exhibition, visible through the window of L'Imagier's eastern façade on Rue Front. A common sack is embroidered with ornamental patterns and filled with sand from the shores of the Désert River in the Kitigan Zibi Anishinabeg First Nation reserve. The patterns and sand symbolize the culture and land of Monnet's family and ancestors, but the sand, along with the sack usually used in the construction industry, points equally to heavy extraction, which is impacting the topography and ecosystems alike. This sculpture is the seed for a larger body of work that Monnet will present in 2024 at a solo exhibition on the occasion of L'Imagier's 50th anniversary, exploring the links between her community, built form, and land.
---
Opening night | Friday November 4 at 6 pm
6 pm : Opening night, with the curator Amin Alsaden.
DJ Bagowji
Hot drinks by La Femme à marier
Howard Adler's NDN tacos Pop (cash or e-transfert).
Free admission
---
Our current exhibition Caroline Monnet: Patterns of Belonging was the subject of a cultural coverage (in French) by Christelle D'Amours on Radio-Canada's Sur le vif.
---
Artist Biography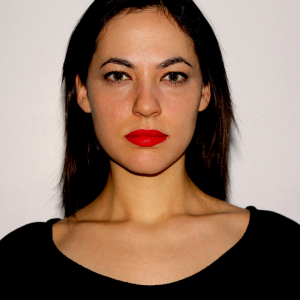 Born to an Anishinaabe mother and a French father, Caroline Monnet ​ is ​a multidisciplinary artist from Outaouais​ ​currently based in Montreal. After studying at the University of Ottawa and the University of Granada in Spain, she pursued a career in visual arts and film. Her work is regularly presented internationally​ and can also be found in prestigious museum, private and corporate collections. Her practice is often minimalist yet emotionally charged. Monnet has become known for her work with industrial materials, combining the vocabulary of popular and traditional visual cultures with the tropes of modernist abstraction to create unique hybrid forms. She is represented by Blouin Division Gallery.
Curator Biography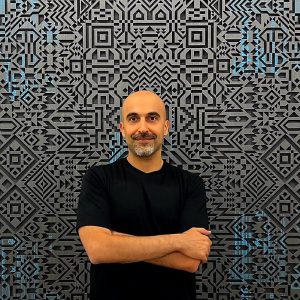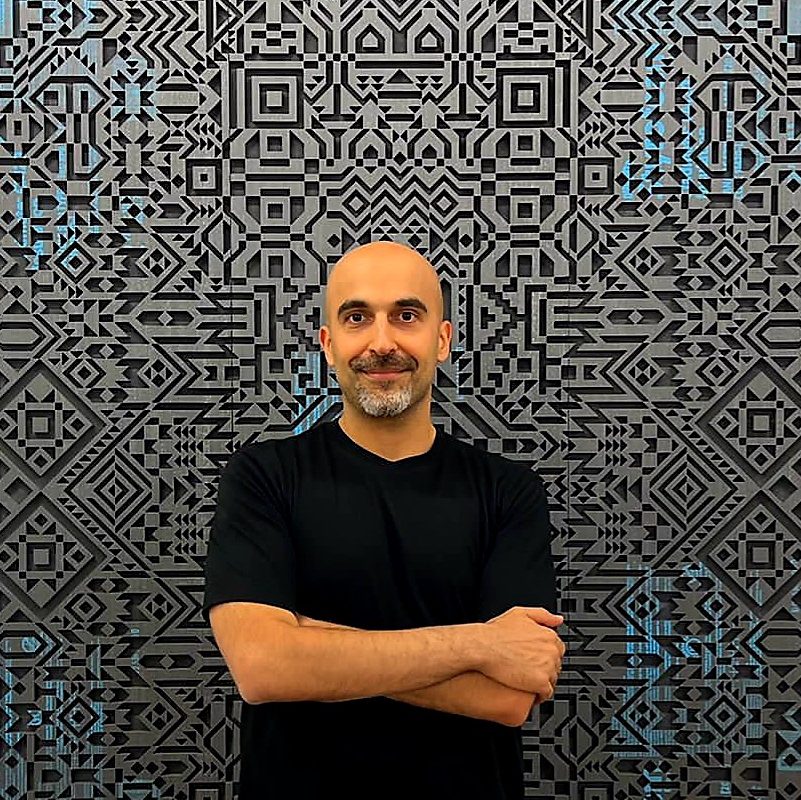 Amin Alsaden is a curator, educator, and scholar of art and architecture, whose work focuses on transnational solidarities and exchanges across cultural boundaries. With a commitment to advancing social justice through the arts, Alsaden's curatorial practice contributes to the dissemination of more diverse, inclusive, and global narratives, by decentering and expanding existing canons, and challenging hegemonic knowledge and power structures. He is particularly interested in how artists and architects interrogate collective agency in the public realm, while envisioning novel visual and spatial responses to the experiences of alienation and belonging.
L'Imagier thanks Blouin Division for their collaboration, and the Conseil des arts et des lettres du Québec and the City of Gatineau for their financial support.
---
Caroline Monnet: Nidendagoziwin Ijinagok
Amin Alsaden odojibigan
Caroline Monnets ka nibjesidjigadenag ododimitawin, oga pikiwedon koki tibi ka0ija odjibatc Aylmer. Odotimitawin atsokadeni eh-kotadendagonig oma aki-ni, Ottawa River Watershed ka ija ateg, Anishnabeg odiki-kag. Misowatc gotc weskitc oma ehgi-pi anikitc Anishnabeg weni akikag, kawin tebwe nagosinni nogom minigig kapi nimehtowatc, ozam aji pikan ijinagonig akinni wapishkiyeh kako tigoshig, nanagodan kawin nisowidaksinonig. Monnet oga minsidon ka-ijabigadenig. Ogi-pi kagwe nisistan Anishinaben kakpi nosiniyaminjan, minigig kaki-pi atisokagojan ododemin odi ishkwiyak, anish kewin ogi oniton ozam wapishkiyeh odinakonigewin. Weshkidg ishkwiyak, kawin etah wedi ki-abidisinon kidja kenimitc ododemyan eh-ijagabwinjan, ogi miyodonawa tebwetomowini actic nisistimowini. Nogom oda abijiton wapishkiyeh odinabijitowin kidja atsokadig ka-ija pimadizinanonig, Monnet, opigiyasidon weni kidja kendig awiyek, odenasig agwa ka wabidimowatc weni, actic oda animodan eh-tinizinjan oma kiyabij anishnaben.
Nibjesidjigade ka ija-pi madowazitc anishnabe (2019), mizinseh L'lmagier's nigabanong nehkehnah kaki wabidig, kiwabidan apitc ki-pigishimog Parc de L'lmaginaire. Atsokadeg apitc awiyeg ka madawazitc, ogishton kidja kwekanagozidizitc eh-ija madfawazitc kidja widokowajan awin koni ododemyan, wedi ininkiwin atsokehmigan adi eh-inendik aji awik nogom megwatc kina kegon eh-mah kwekseg. Nogom maneh kiwabidananan eh-mamowisig kegon, pikan ijitcigehnanog, nanda awiyeg tedigo wibitc, keh dish kodikgig. Winwah ka ijitcigeyatc weni, wapidanawa pejigon kapi ijanagonik ka tebwetimowatc, ki atsokadeh maneh ishkwiyak kegon kipi ijiyebik, madazowini ogi apitcitonawa mamowi tebwetimowini kidja astokeyatc nigan koni ishkwiyak ka ijiyebizowatc koni n igan keh ijiyebik- kinah kegon eh mamowisig, pinigotc midjiyon actic kwesegong.
Eh-ijinagog odimtawin, Piwanego / Noogom (Autrefois / Maintenant) (2021), acitc oma kiga wabidanawa ka nibjesidhigadeg, L'lmagier's eh-ijanagonik win o-wasantcigan ka ija wabidik nigan. Kiga wapidan atsokewin mizingwadeg mishkimot kak, Kitigan Zibi tycigigam nego moshkinehsin. Mizingwasin mamowi nego atsokemigani Mannet mamowi ododemin-omadiziwini, anish nego yedi mamowi mishkimot abidin apitc kegon atsokadek onashtcigemigig, nogom kipitcimitctonanan eh-ija onashtcigemigik aki kak mamowi awesisig eh-ija pamadiziwatc. Wedi nogom pigijish ka wapidimowin, Monnet oga mishaton kwe wabidigewetc 2014 iojisenik, apitc nibjesidjigadenik L'lmagier 50th minigik animkodowaginitc, adi eh-odapkesinig kapi odisetc, eh-ijanagonik kagi-pi ojiyomiganik, odiki.
***
Eh-odapikesig atsokazo
Anishnabewiyon ojojomin, anmitcigojiyon o-tadamin, Tedigo maneh odija kishkiton Monnet, Outaouais Montreal nogom tijikeh. Apitc ka ishkwa kinamagozidj Ottawa mamowi University of Granada Spain, Ododimitawin nogom oda-atsokadan kidja wabidjigadenik kogoni eh-ija ojitok koni omizinseton. Kina awesh nogom kiwabidimowan ododimitawin, acetic nibjesidjige-migwamik ka tebwetimowatc ododimitawin. Odininkiwin kan mishasini anish maneh awiyeg onisiditan koni koga pidjimitcton. Monnet kendagoni ododimitawin eh-ijanagonig, eh abidjitog kegoni ka-abidinik nogom mamowi weshkitc inabijitowin ishkwiyak, mamowisini anishnabe ka-pi ijigijowetc weshkitc mamowi nogom, nogom o-gwe ojiton kidja nijosinik awik kidja nisistig. Blouin Division Gallery ka nibjeshemogadjan.
***
Kinendasowini eh-natisokasitc
Amin Alsaden kinendasowini, kinamagewini, actic ki kinamowagini kidja pidiksidotc kegoni, kidja mizinbiyak koni kidja mizinsetok atsokewini. Kina awin okitkimik owidjigabowiman eh-inegizindjan. Wi nigansidon kegi ijinagonigiban miyawa ijitcigewini, kegoni ija kijendik kidja wabidjigadenik, Alsaden kagi kinamowaginitc kidja kinendasitc, wi nakoton eh obowesinik, kina kegoni, okitkimik eh-natsokemiginik, agwa kidja onisinik koni kidja mishatcigadenik nogom ka tebwetic awik, mamowi agwa kidja mikimaginiyatc minigik eh-ija kendimowatc anishnabeg. Anish miya kawi kendik adi ehnabidjitcigadenik ododimitawinya apitc widokagodjan awin koni adi eh ija ankonotcigadenik odikidowin, megwatc dish wi atsokewin adi kapi ijiwebizitc awik ki pikanshimaginitc eh ija kendik diah. Alsaden ka ndinjak weshkitc mamowi nogom atsokani, kina okitkimik, Arab mamowi Muslim ododinan eh-ija kishkitondjan eh-nidimindjan kegoni, Maneh ki ija widokazo actic maneh awesh ki-ija pi-atsokeh.