Berirouche Feddal's Instagram Takeover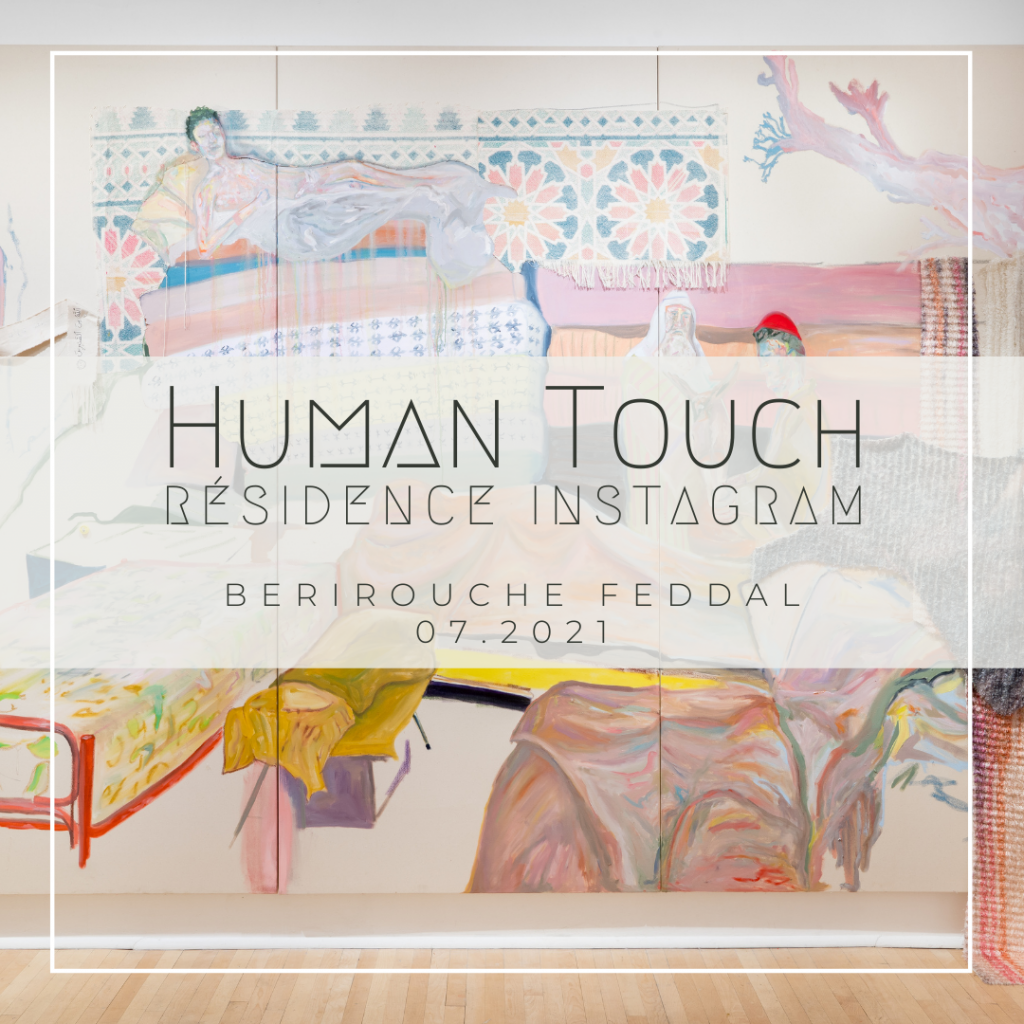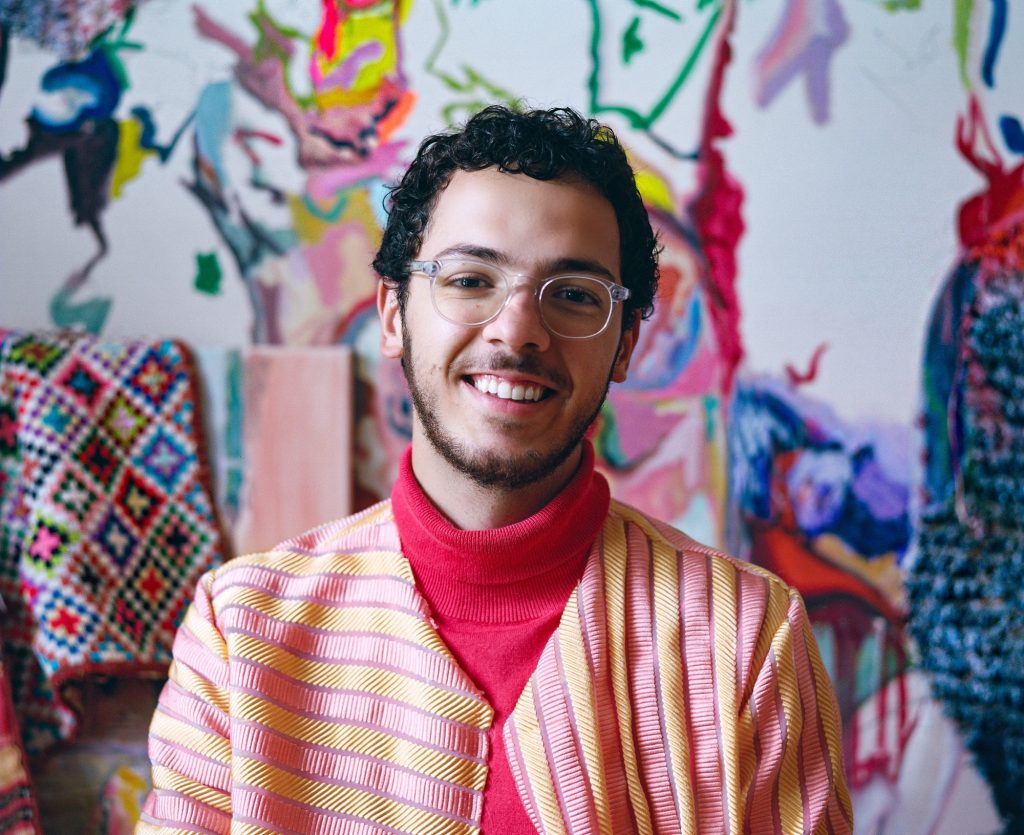 At the occasion of our fourth Instagram residency, we chose to share with you the work of Berirouche Feddal (Vrirouc nat uqassi, ⵠⵔⵉⵔⵓⵛ ⵏⴰⵝ ⵓⴽⴰⵙⵉ ) a Canadian artist of North Africa, with Amazigh heritage, based in Montreal. Starting tomorrow, you can discover his most recent works, as well as the themes and reflections that guide his practice.
Stay tuned
Follow Berirouche's Takeover on Instagram
Day 1 – Monday July 26, 2021
We are pleased to introduce Berirouche Feddal (Vrirouc nat uqassi, ⵠⵔⵉⵔⵓⵛ ⵏⴰⵝ ⵓⴽⴰⵙⵉ ), a Canadian artist of North African origin, from an Amazigh heritage and based in Montreal. Berirouche defines himself first and foremost as a transdisciplinary artist. His reflections on history and culture are also transposed into sculpture, installation, painting, video, photography, writing, performance and through a wide body of printmaking techniques.
"Hi everyone! I will start by introducing you to the place I grew up, my town and my village in present-day Algeria. I feel nostalgic and sad these days with the closing of the borders and the global health crisis we are experiencing. My family and I only want to return home to mourn the dead and support our family and all families in emotional need. To soothe this deep wound, I would like to take you to Bordj El Bahri, Boumerdes, Algiers Center, to the MAMA reserve and Irdjen in the Wilaya of Tizi Ouzou.
Taken with my phone, these photographs of everyday life represent images that move me deep down; inspirations that sometimes become compositions."
– Berirouche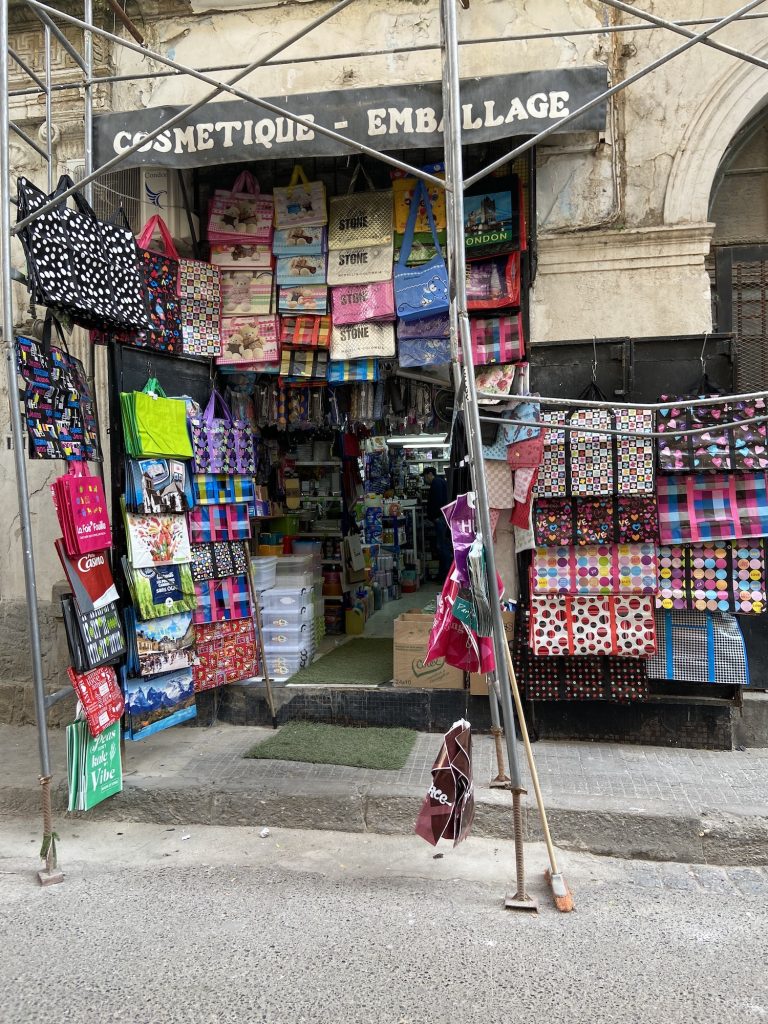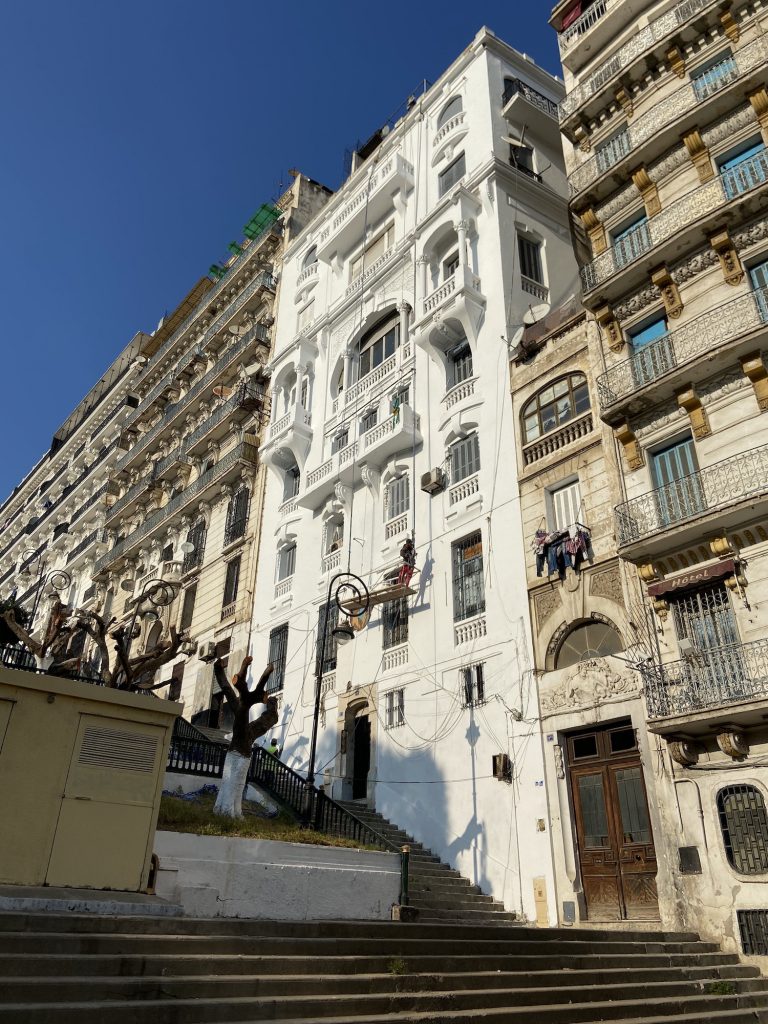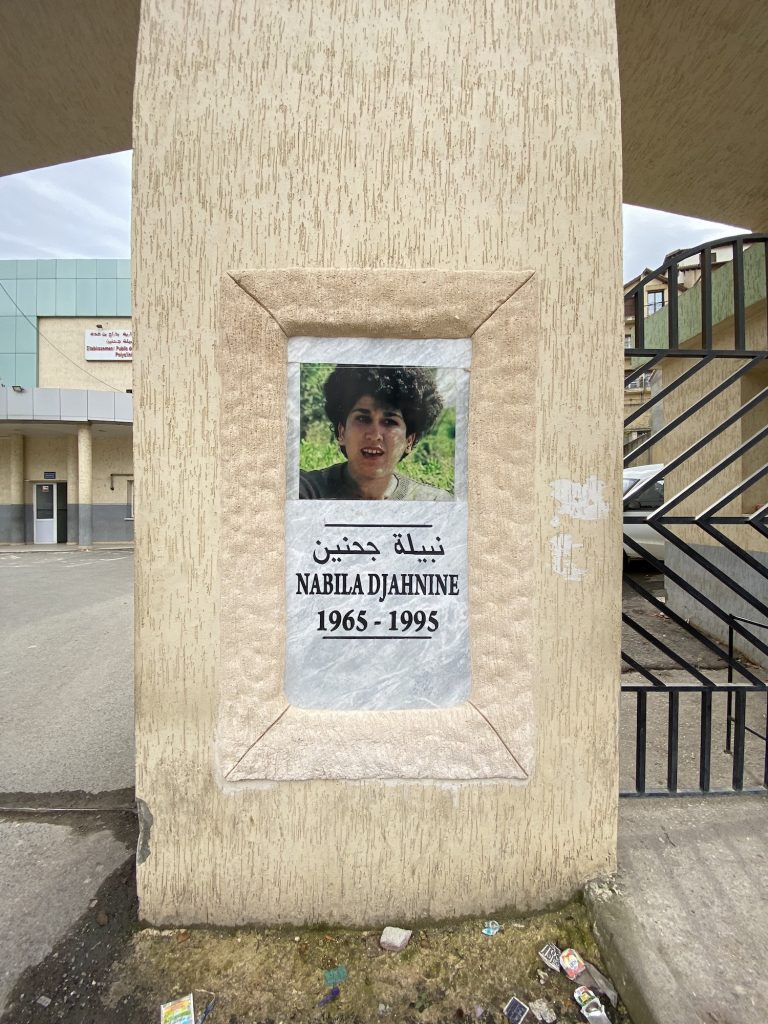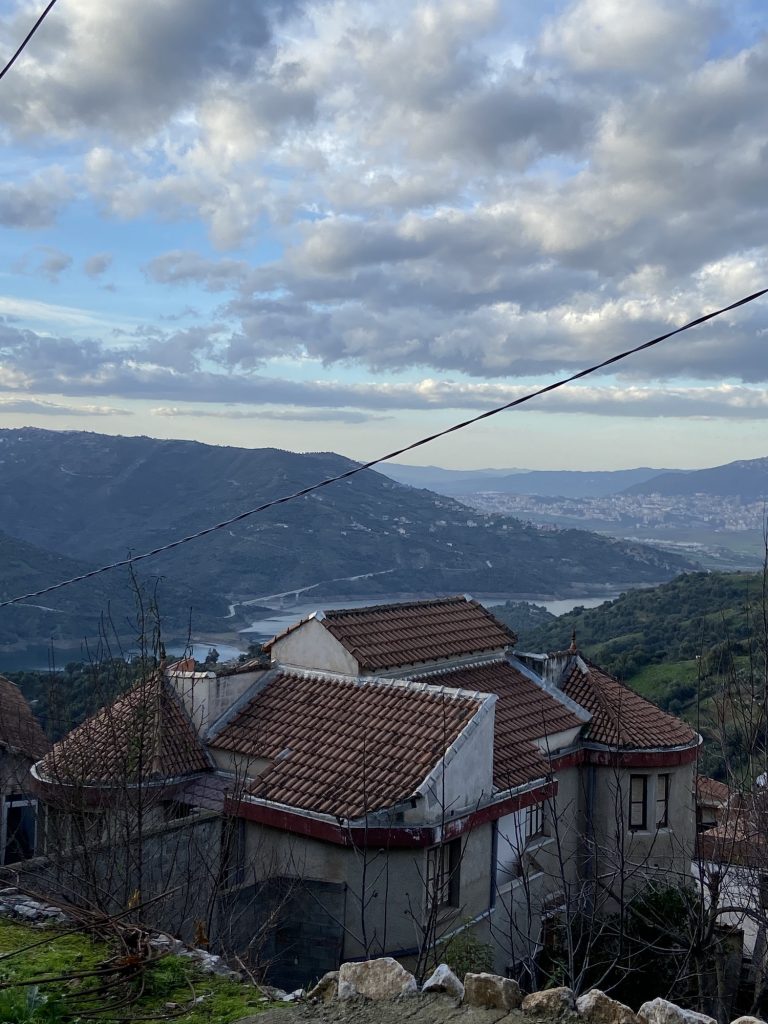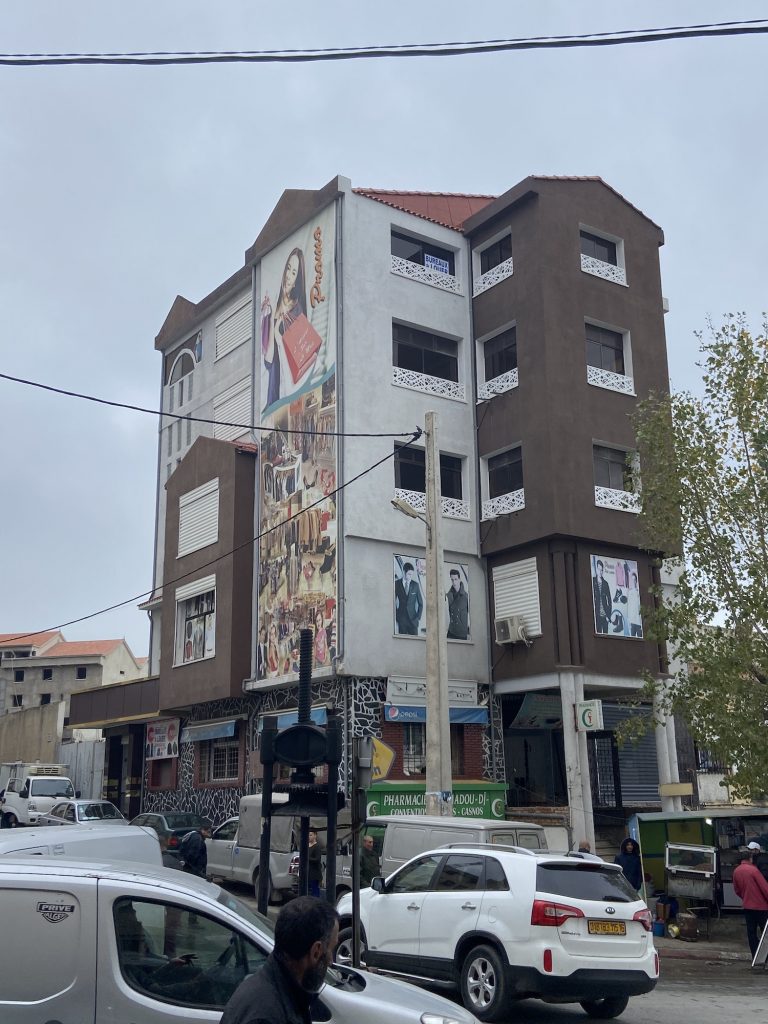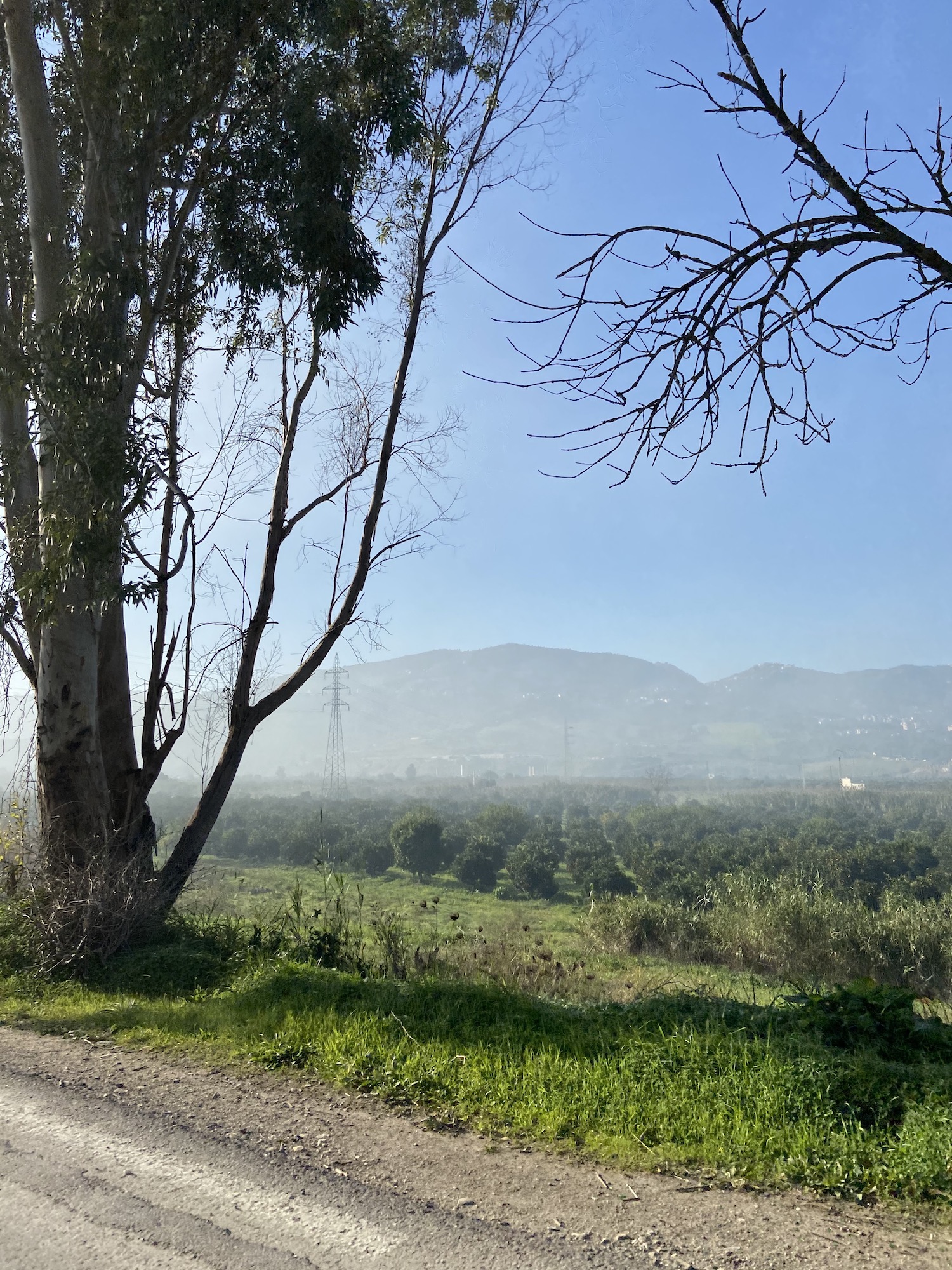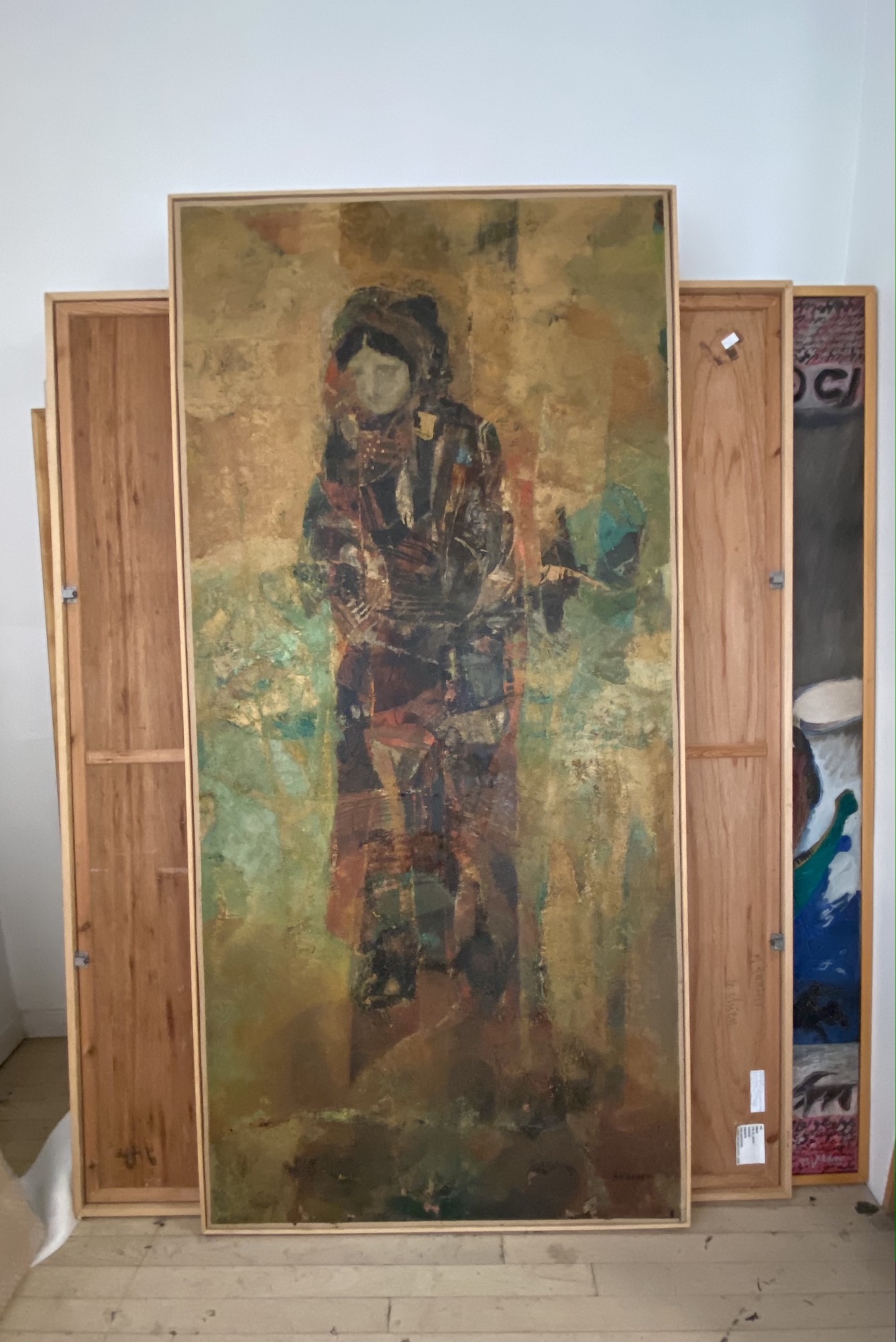 Day 2 – Tuesday July 27, 2021
"Today I wanted to go through my inspirations with you and the artists I admire. To begin, an artist who has made many collaborations with the writer Kateb Yacine (1929-1989). I think of M'hamed Issiakhem (1928-1985) towards whom I carry a great admiration. He is one of the founders of modern painting in Algeria. His political subjects are captivating and painful.
From my youngest age, I had the chance to know an artist with powerful messages. He is none other than Matoub Lounes (1956-1998), an Algerian singer, musician, singer-songwriter and poet of Kabyle heritage. He has greatly influenced my approach to writing and activism.
Finally, I must tell you about Baya, whose real name is Fatma Haddad (1931-1998). An Algerian artist who, in her adolescence, inspired painters like Picasso and Matisse. I must say that her colourful body of work is breathtaking and gives off a sincerity that truly speaks to me."
– Berirouche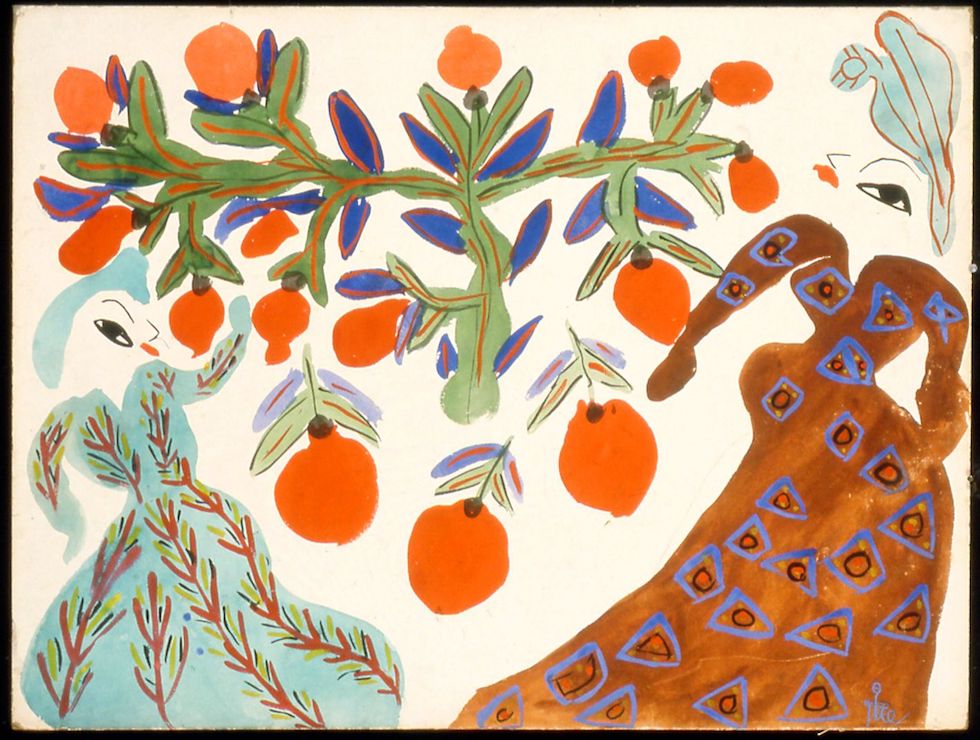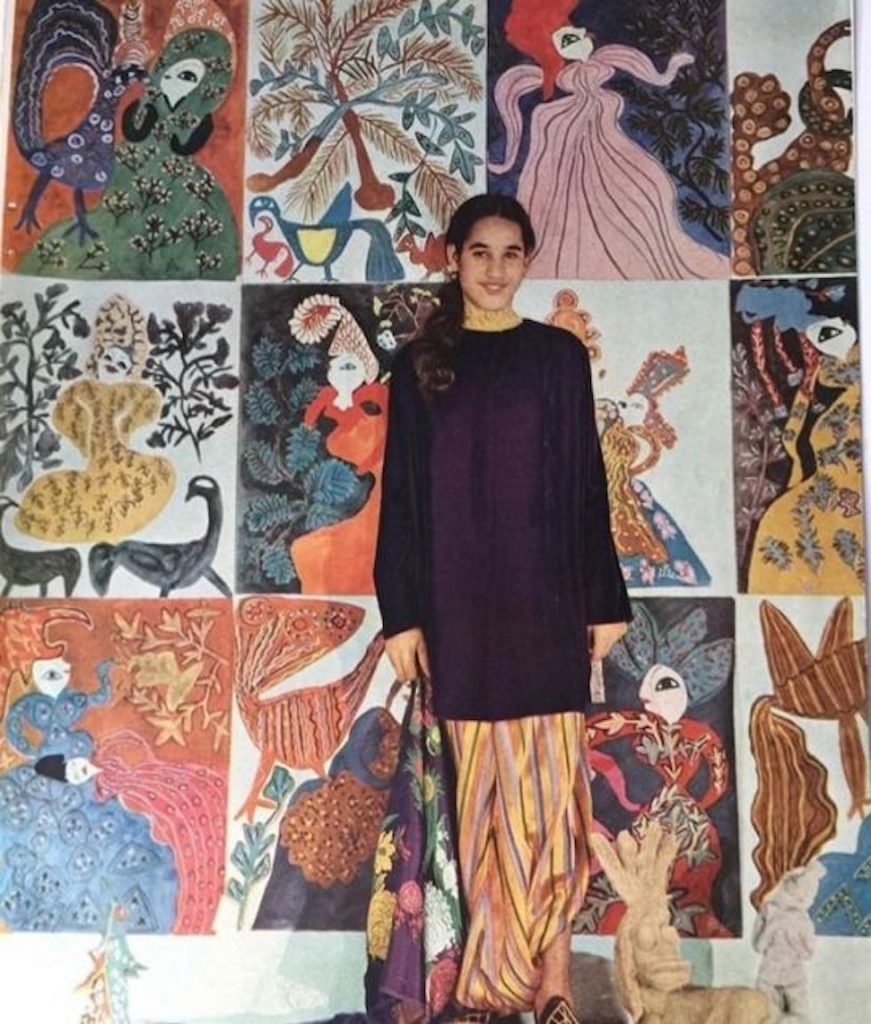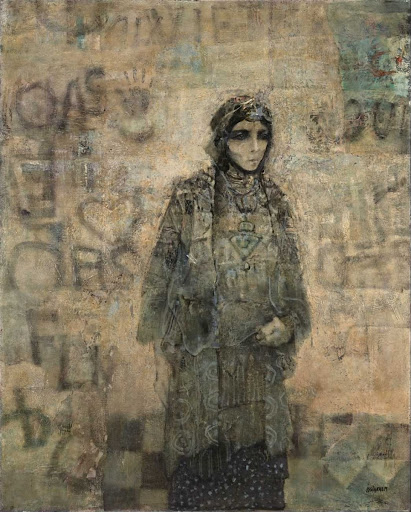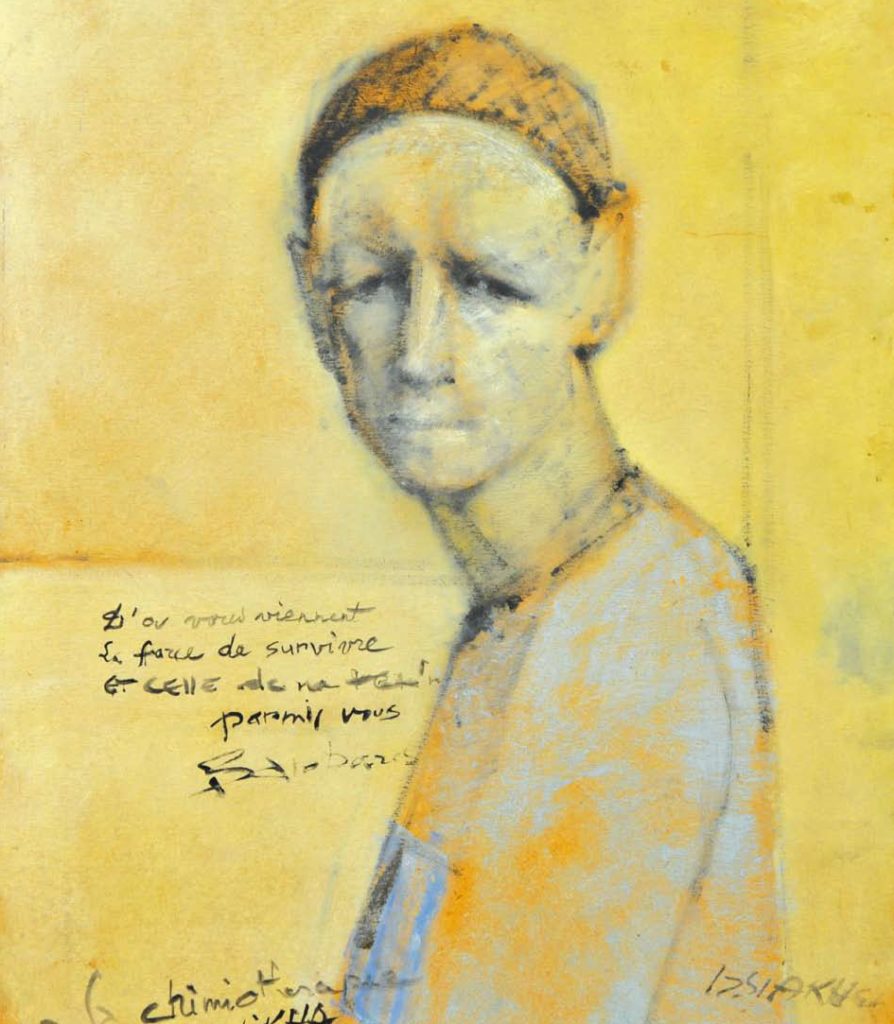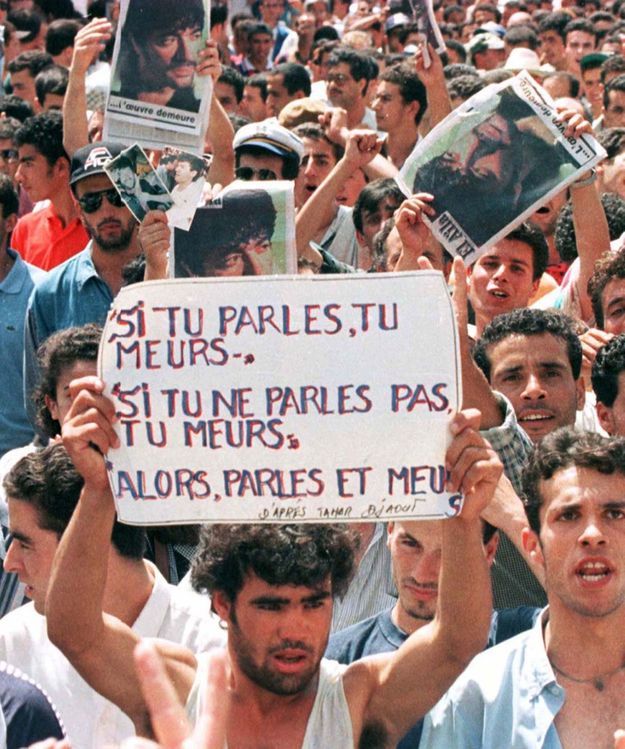 "Through time, I have discovered some incredible people with immense potential. I wanted to share with you some examples of artists and cultural workers that I appreciate, which makes me reflect on our ecosystem as an artististic community. All of these people are a source of inspiration and wonder to me. These artists, gallerists, cultural workers are engaged in everyday life, showing great courage and forming a community that I admire and will be marked by their footprints."
– Berirouche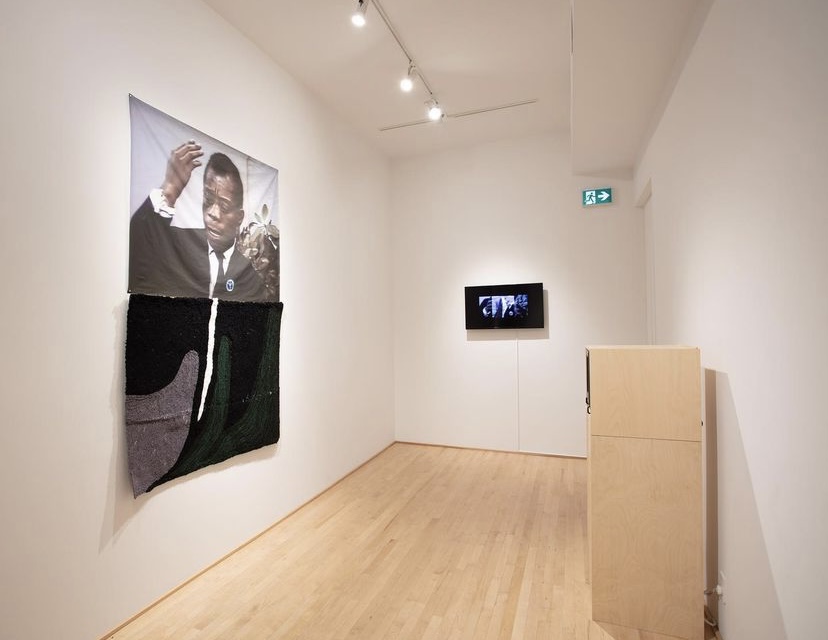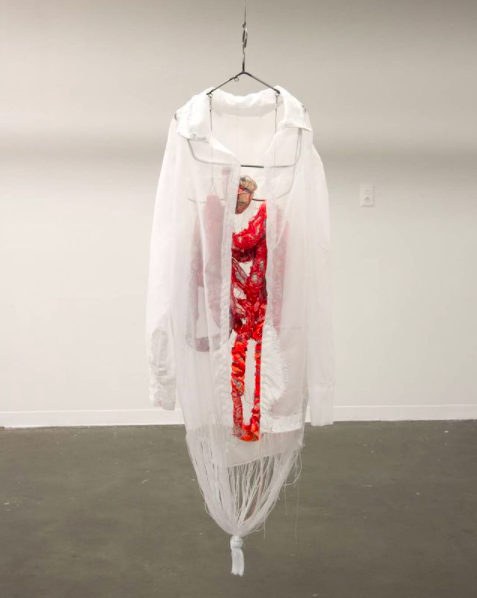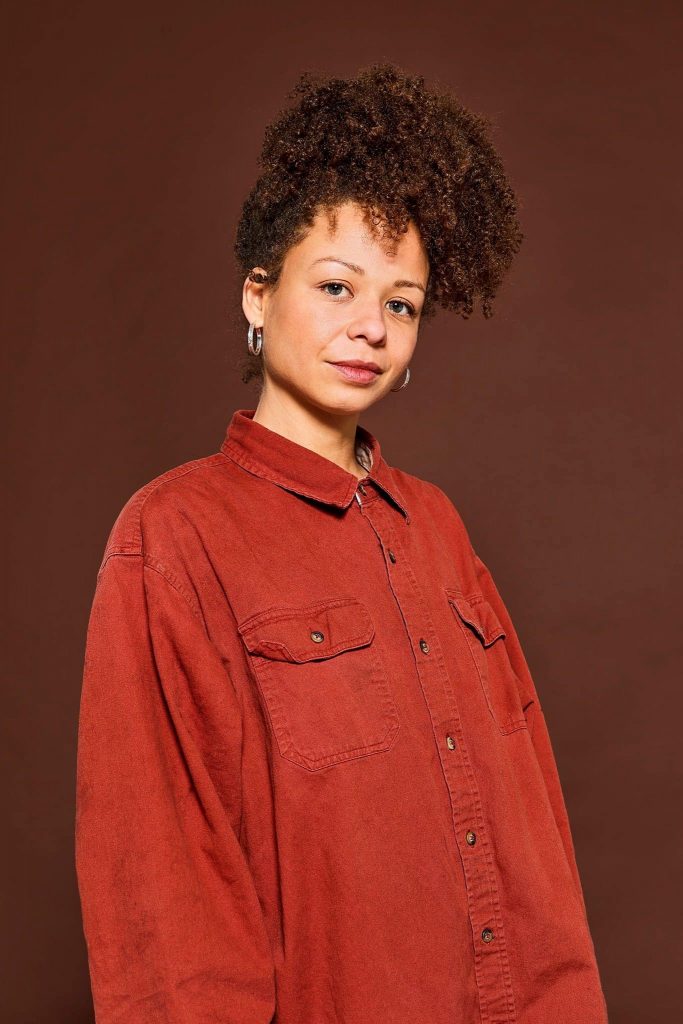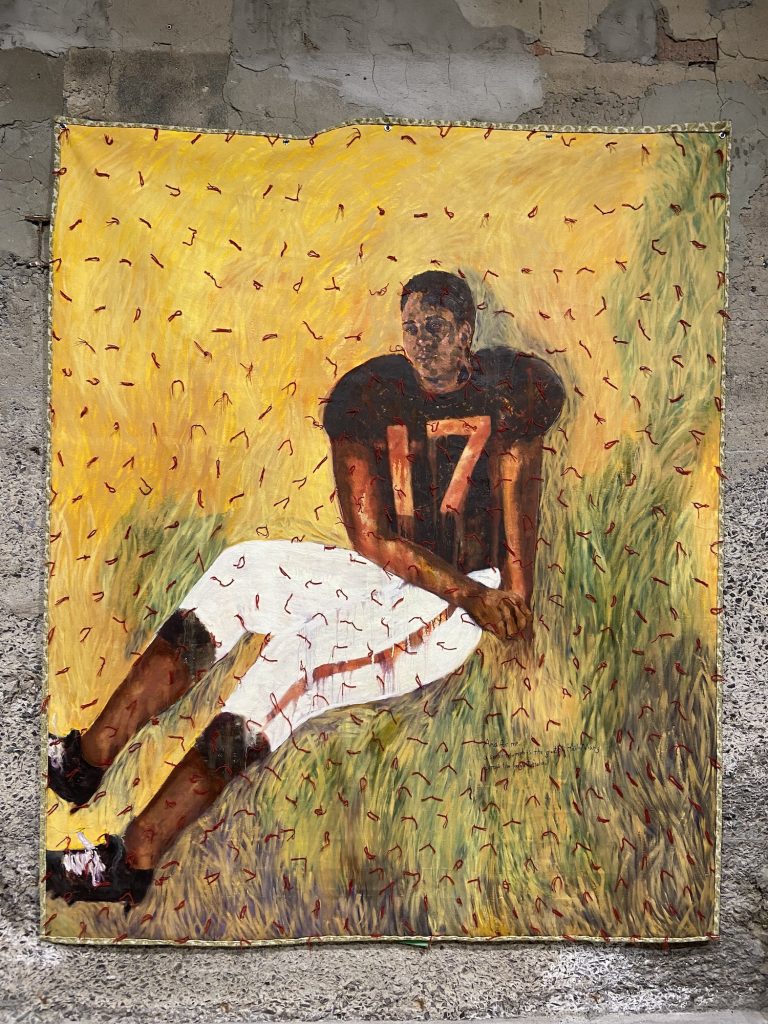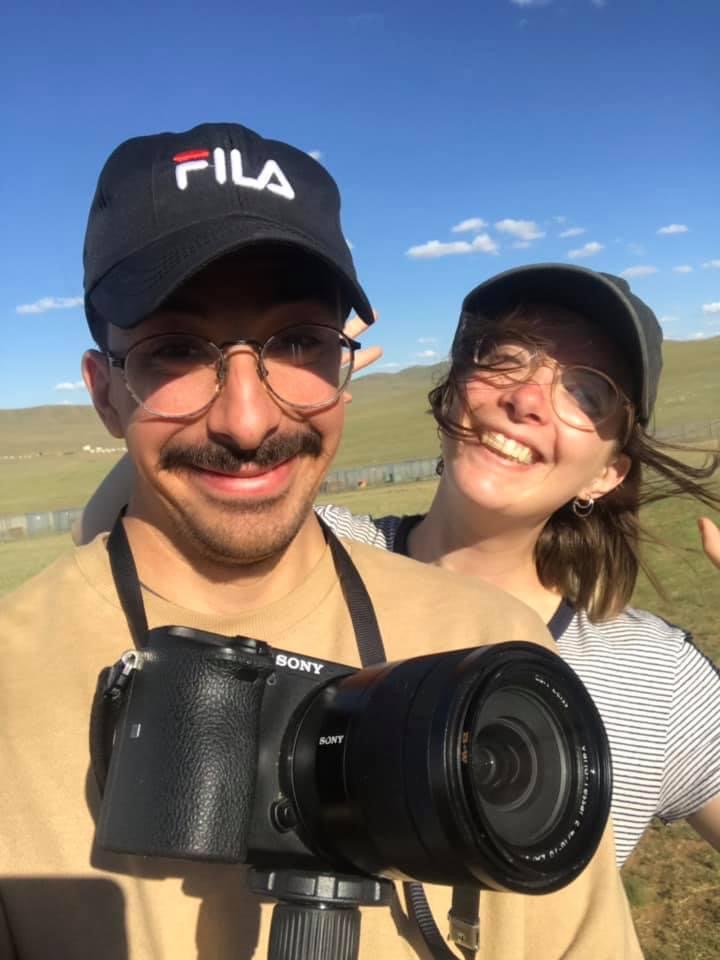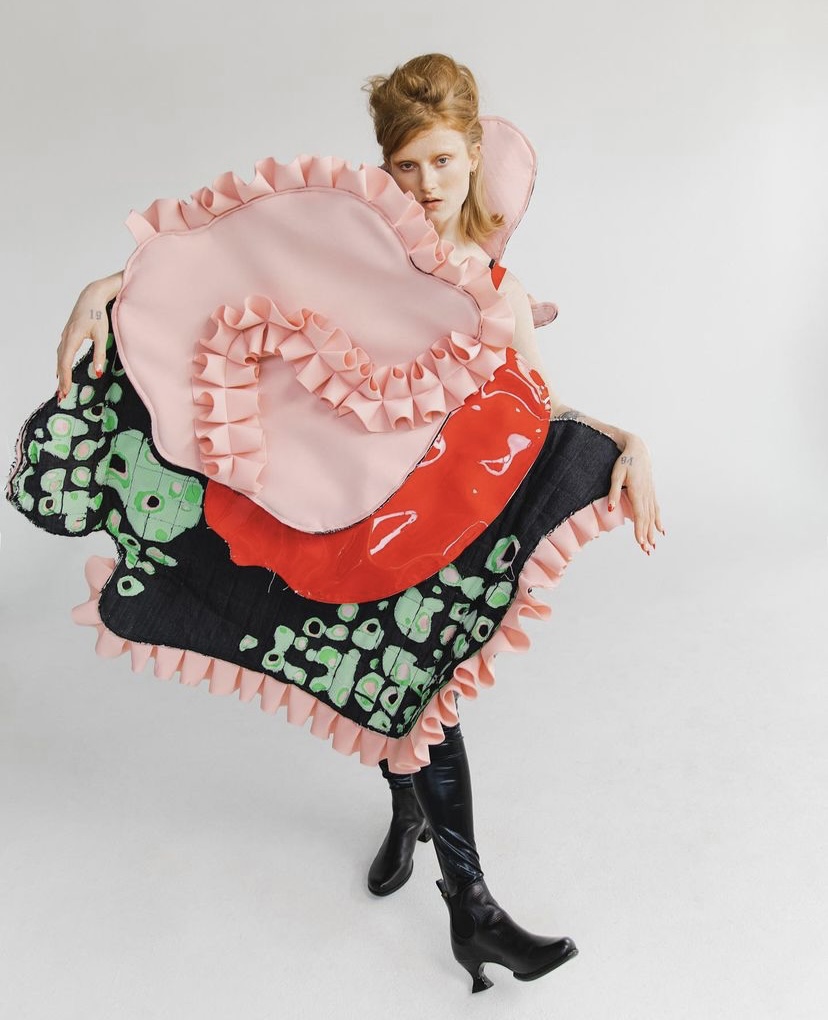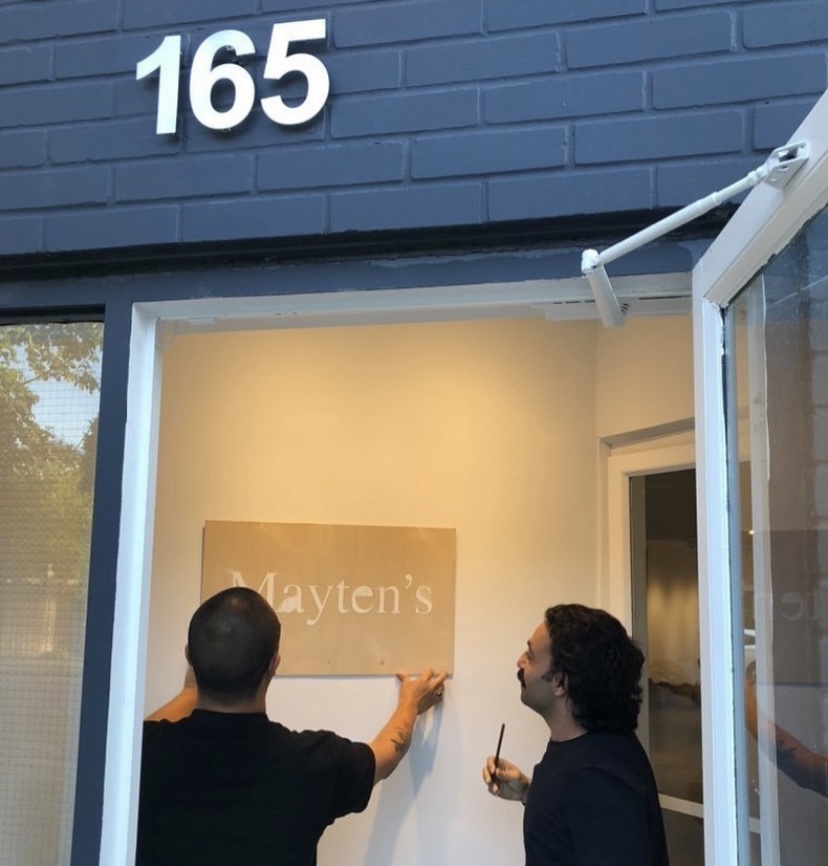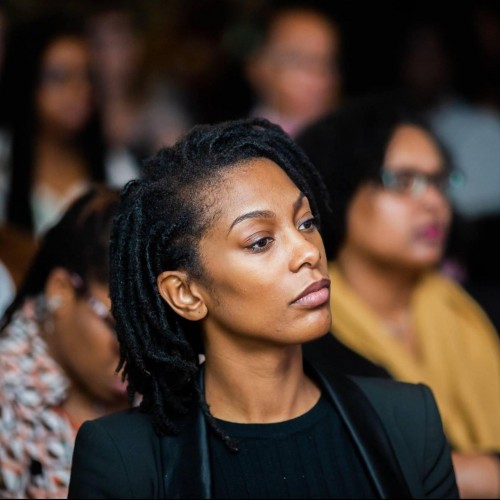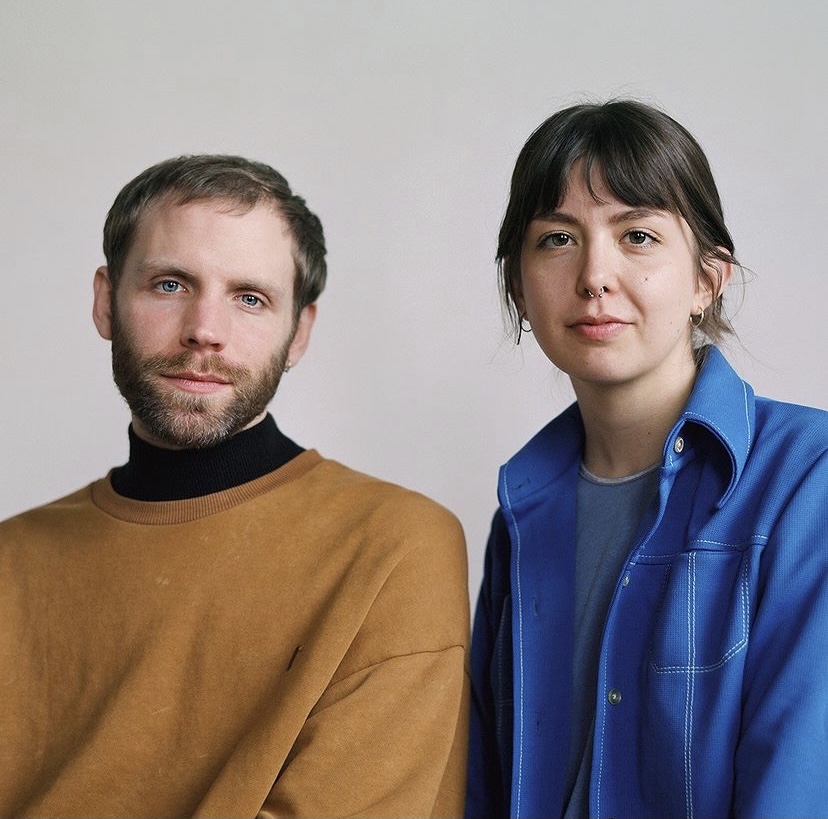 Day 3 – Wednesday July 28, 2021
"New academic adventure planned for September 2021. I am going into glassblowing to finally bring to life some projects I had in mind for a few years. This adventure will take place at Espace Verre. Having always used fabric, transparent paper or Japanese paper to represent the evanescence and fragility of memories that inhabit me, I wanted to find a way to transpose this cultural fragility with this material that is blown glass. Here are some inspirations to accompany my future projects: François Daireaux, Lorna Bauer and Mona Hatoum."
– Berirouche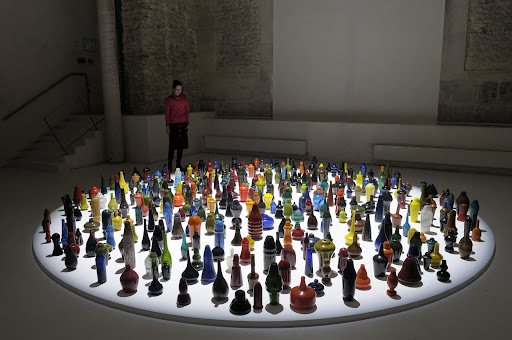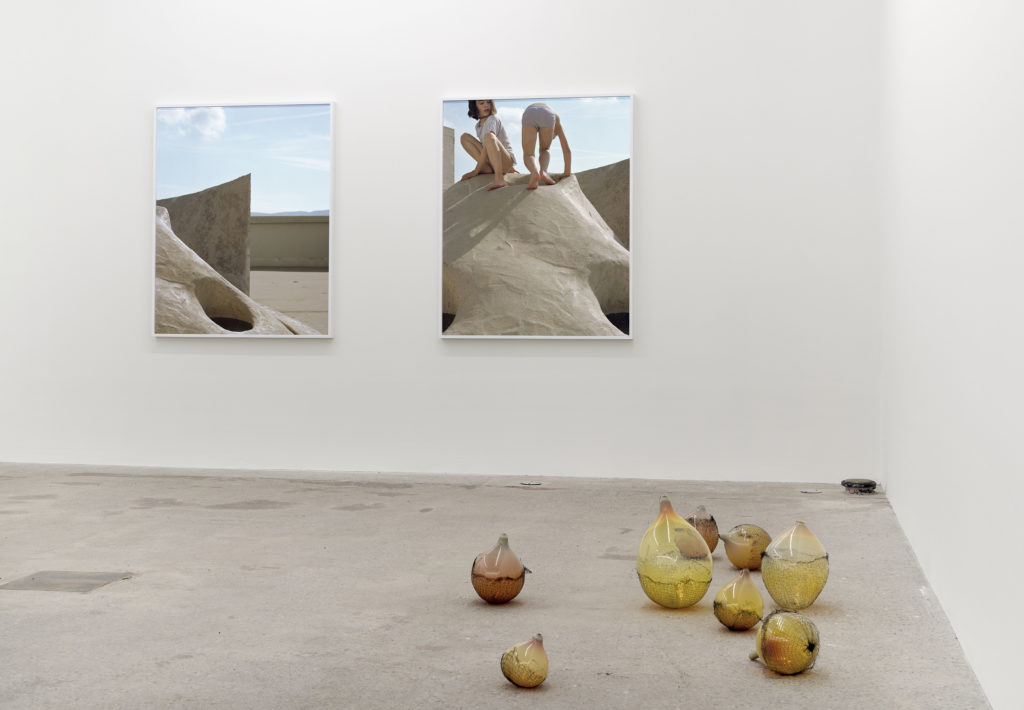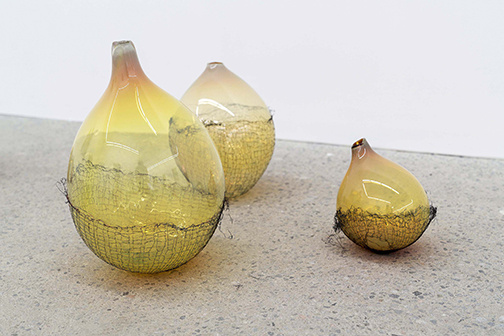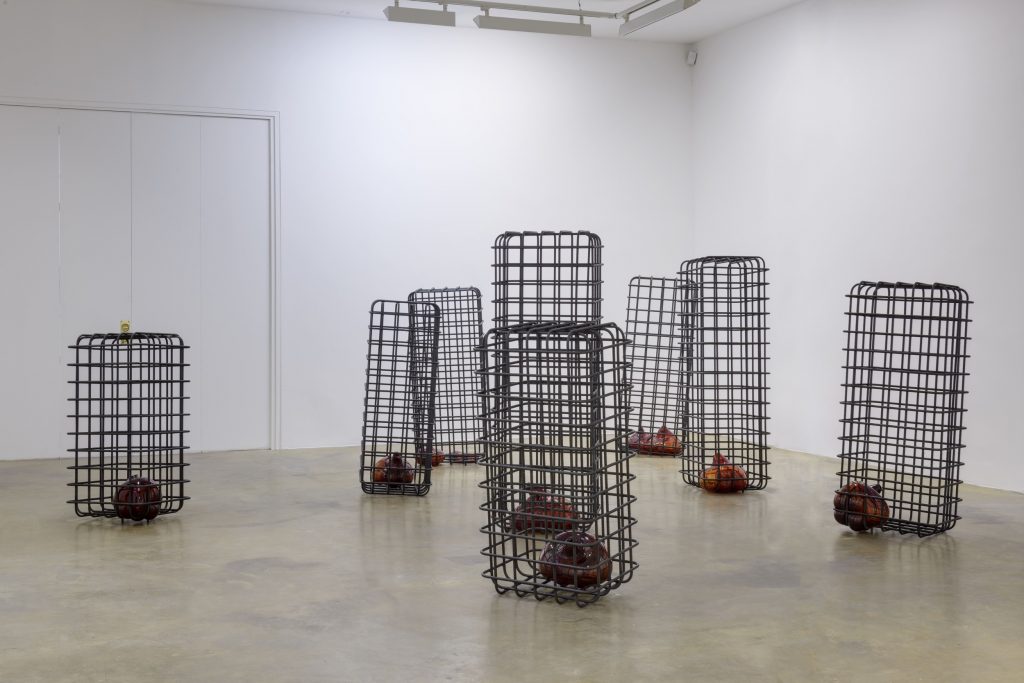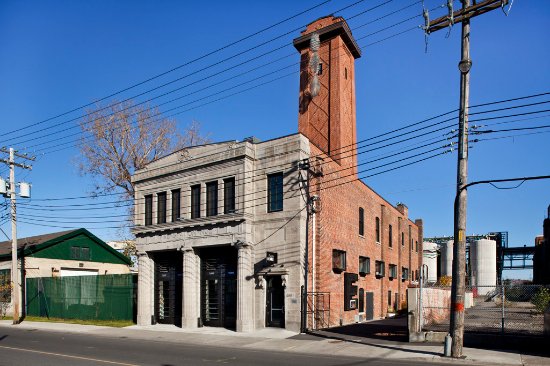 "In January 2021, thanks to the @ConseildesartsdeMontreal, in collaboration with the organization @artchmtl, I had the chance to do a one-month residency at Artch. I started writing my first book of poetry. This is also where I elaborated my project that I will present at Dorchester Square (Montreal). Today, I share with you some images from this residency and my inspirations, as well as finished works. I have undertaken to produce small drawings and poems. I will combine these sketches and texts to create a new universe that will lead to the publication of my first book. You will be able to purchase this small collection in mid-September 2021."
– Berirouche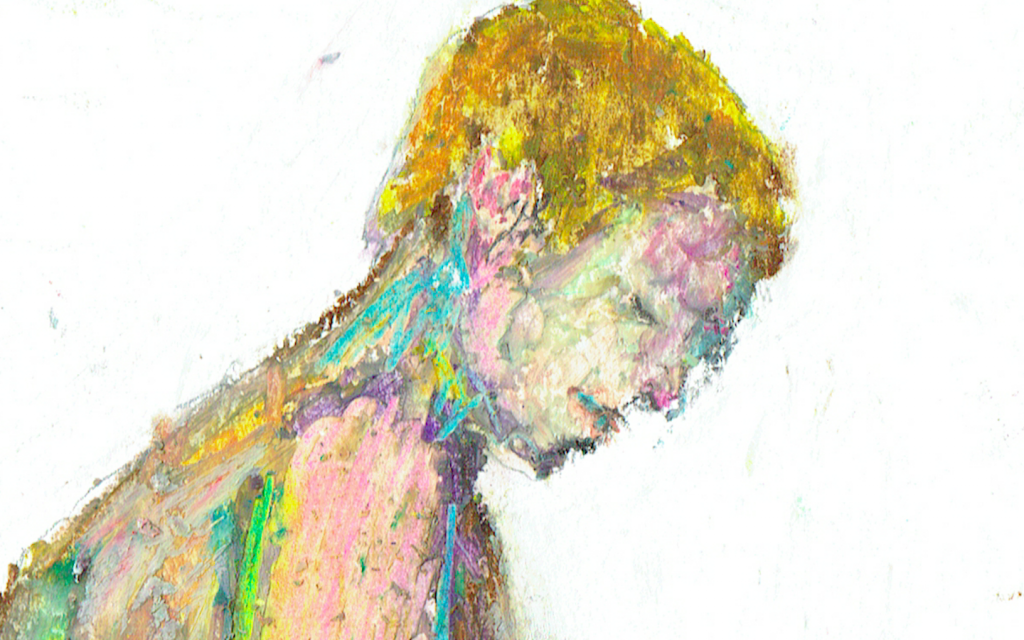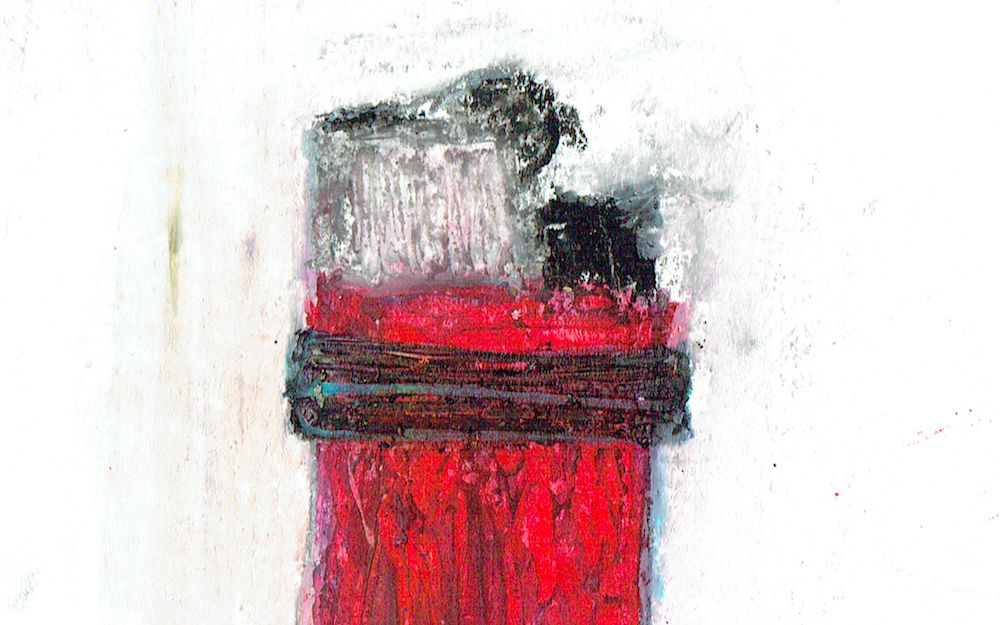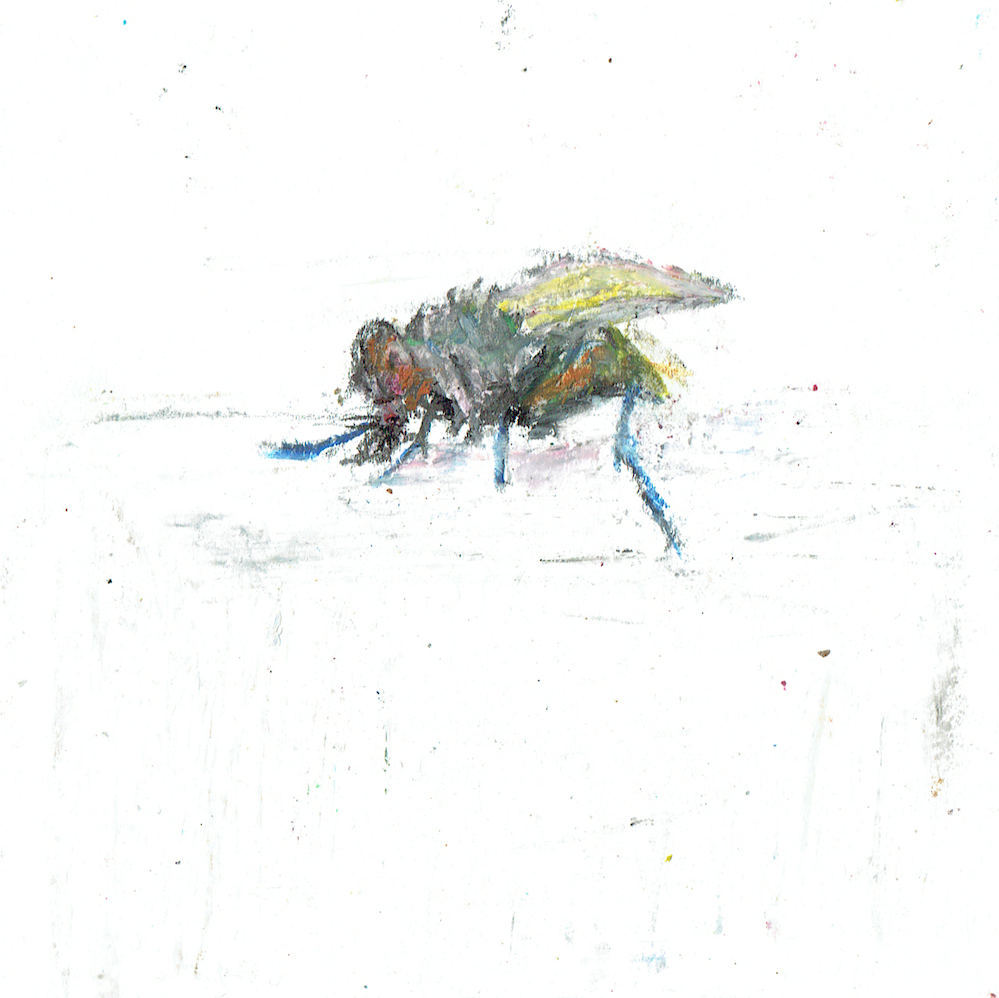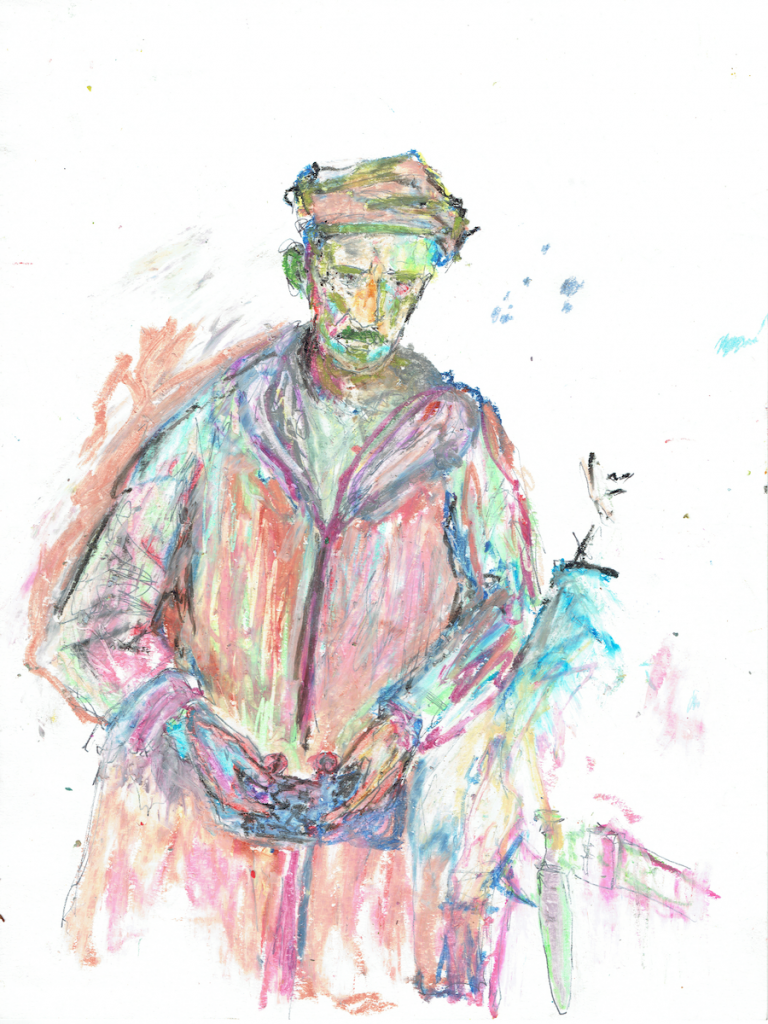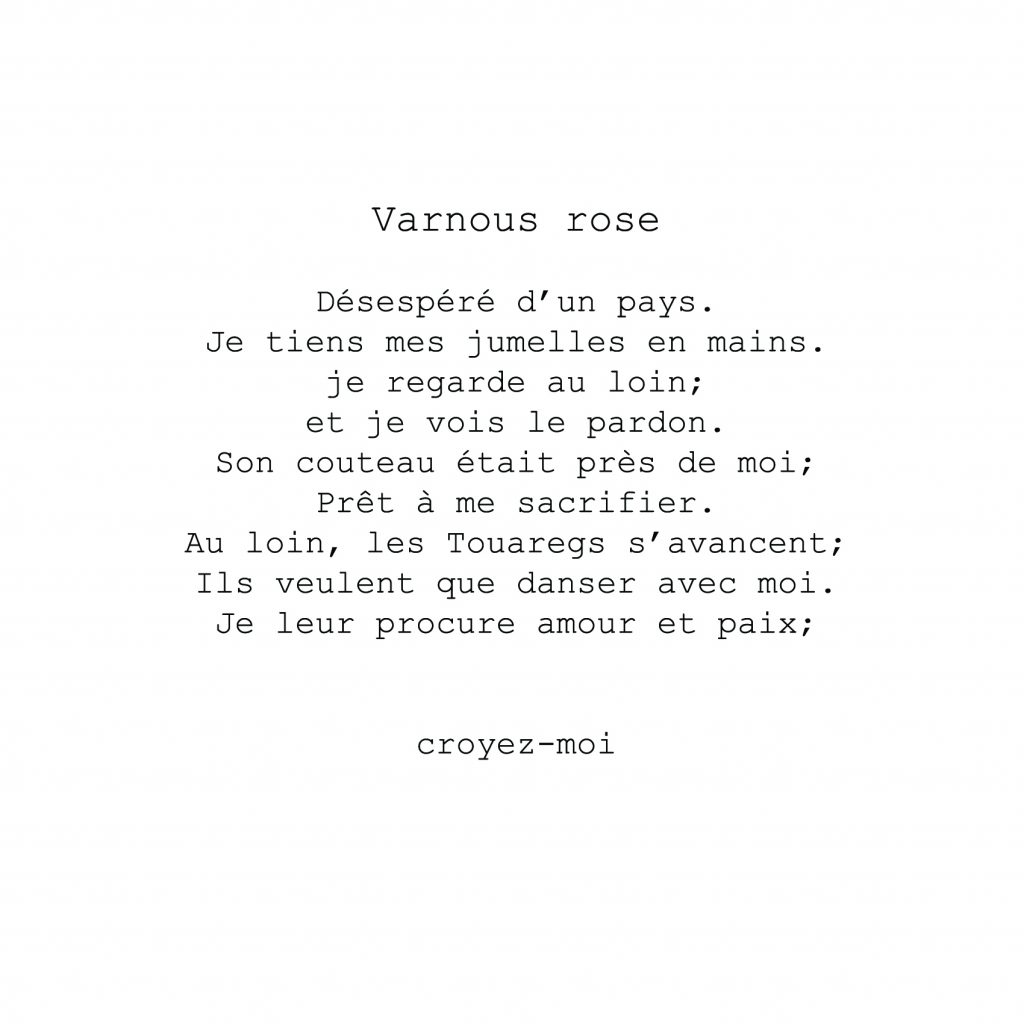 "Upcoming exhibition at @Maytensproject, in collaboration with Preston Pavlis (@prestonpavlis ). Over the course of a few months, Preston and I chatted via Zoom to find a topic we could collaborate on. These meetings led us to discussions about the act of smoking cigarettes. This topic came to mind, as we found that it was often a channel used to converse with strangers or that sometimes it also expresses the loneliness of a character smoking. For my part, the cigarette made me think of Algiers coffee shops but also of the absence of women in them. During our conversations, we found it very interesting to talk about exoticism through orientalist works and to revisit this exoticism in our own way, using the pretext of the cigarette. I decided to print in silkscreen all the characters smoking the bitterness of life and its stories."
– Berirouche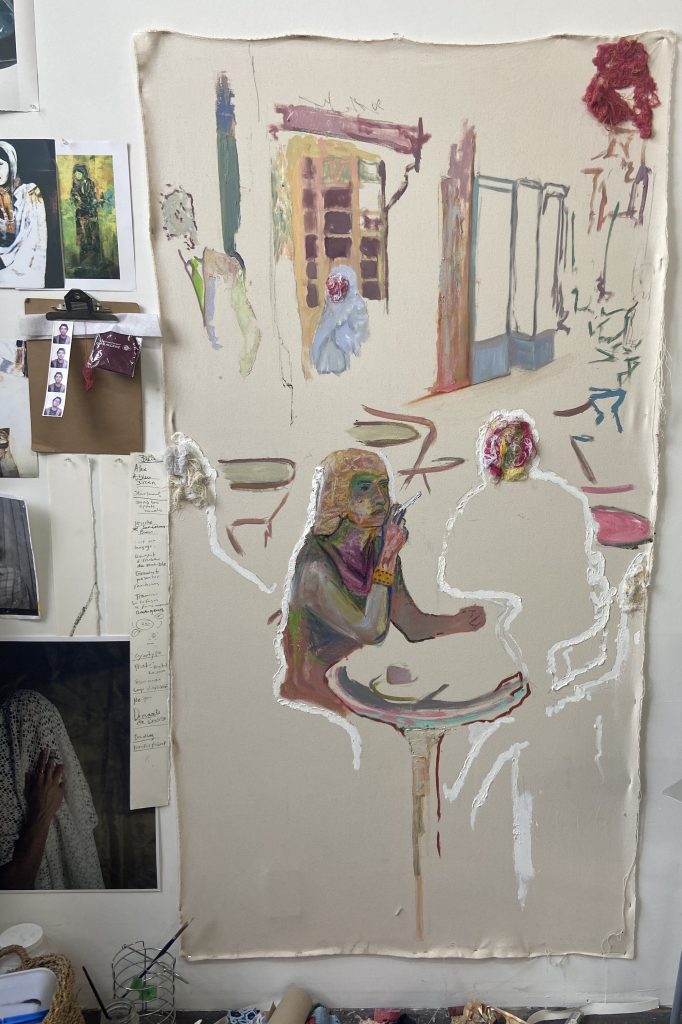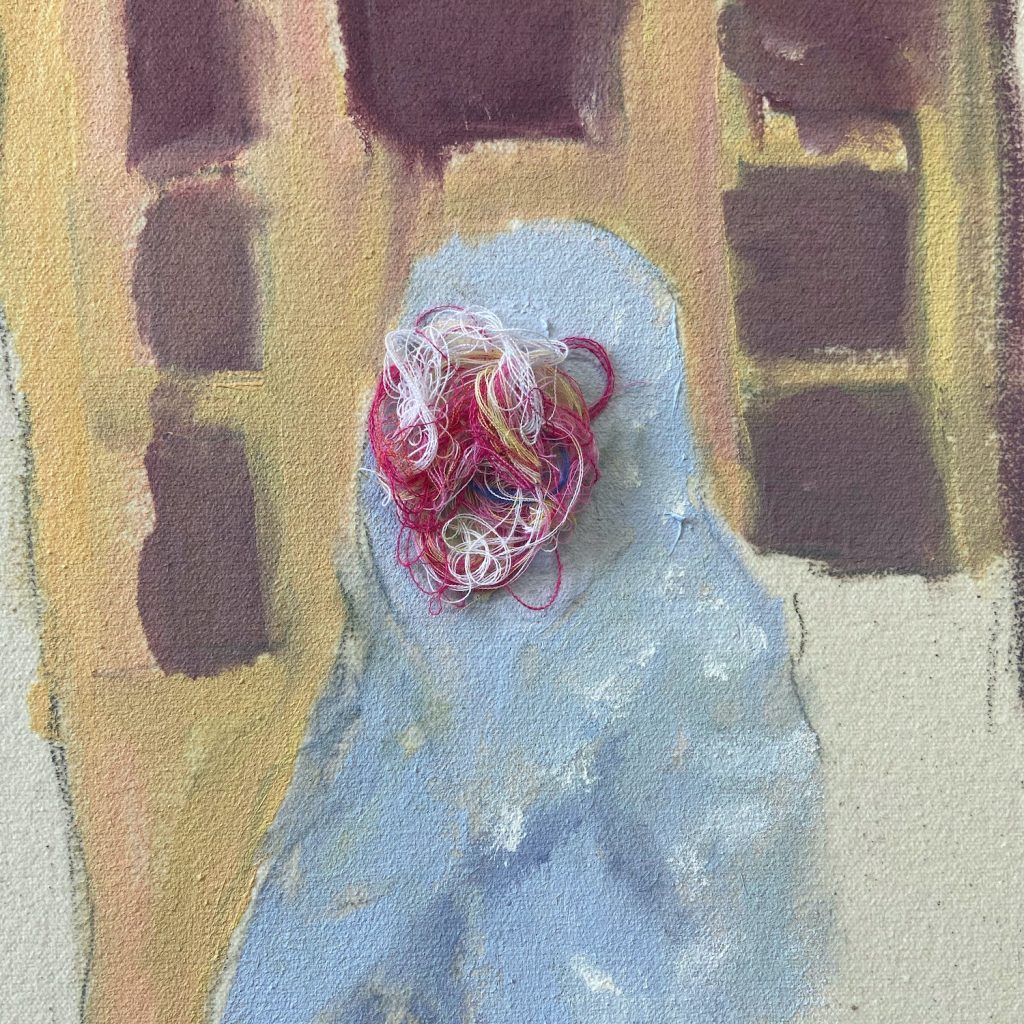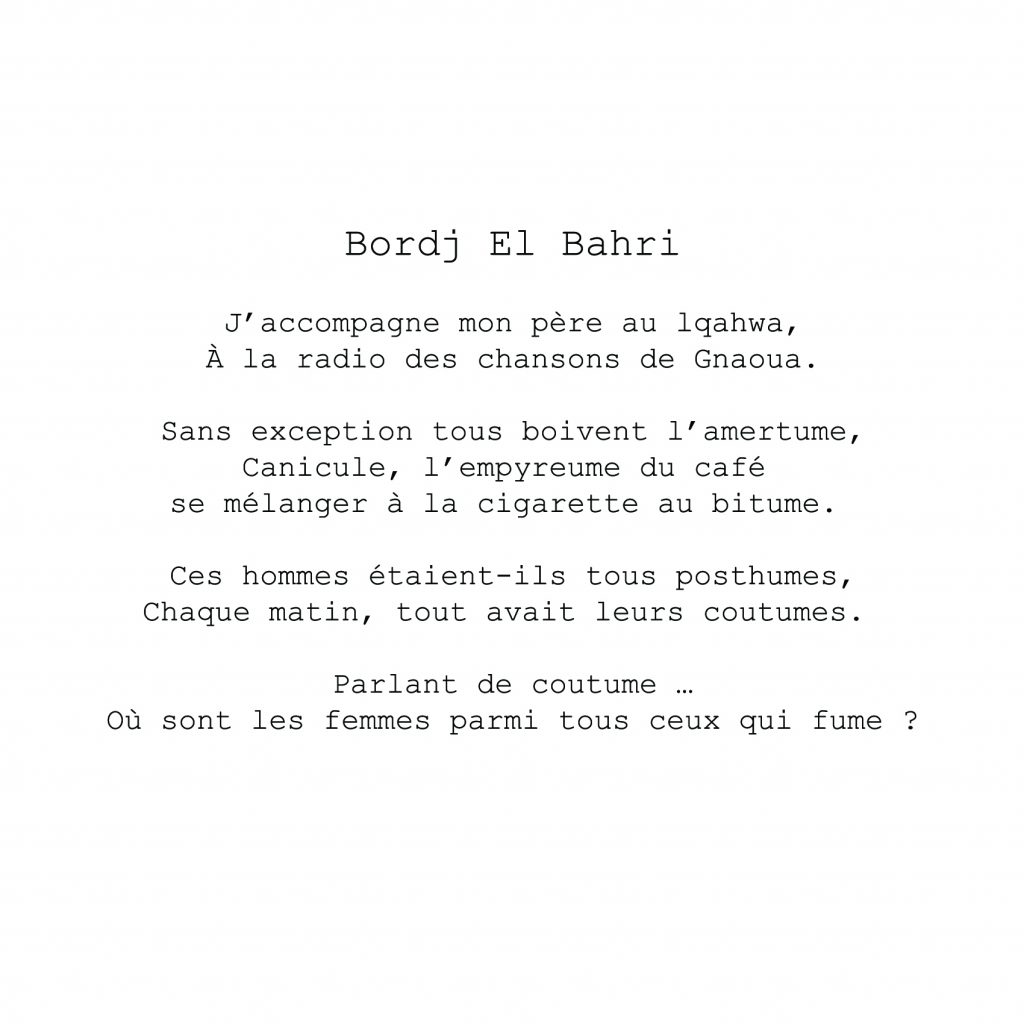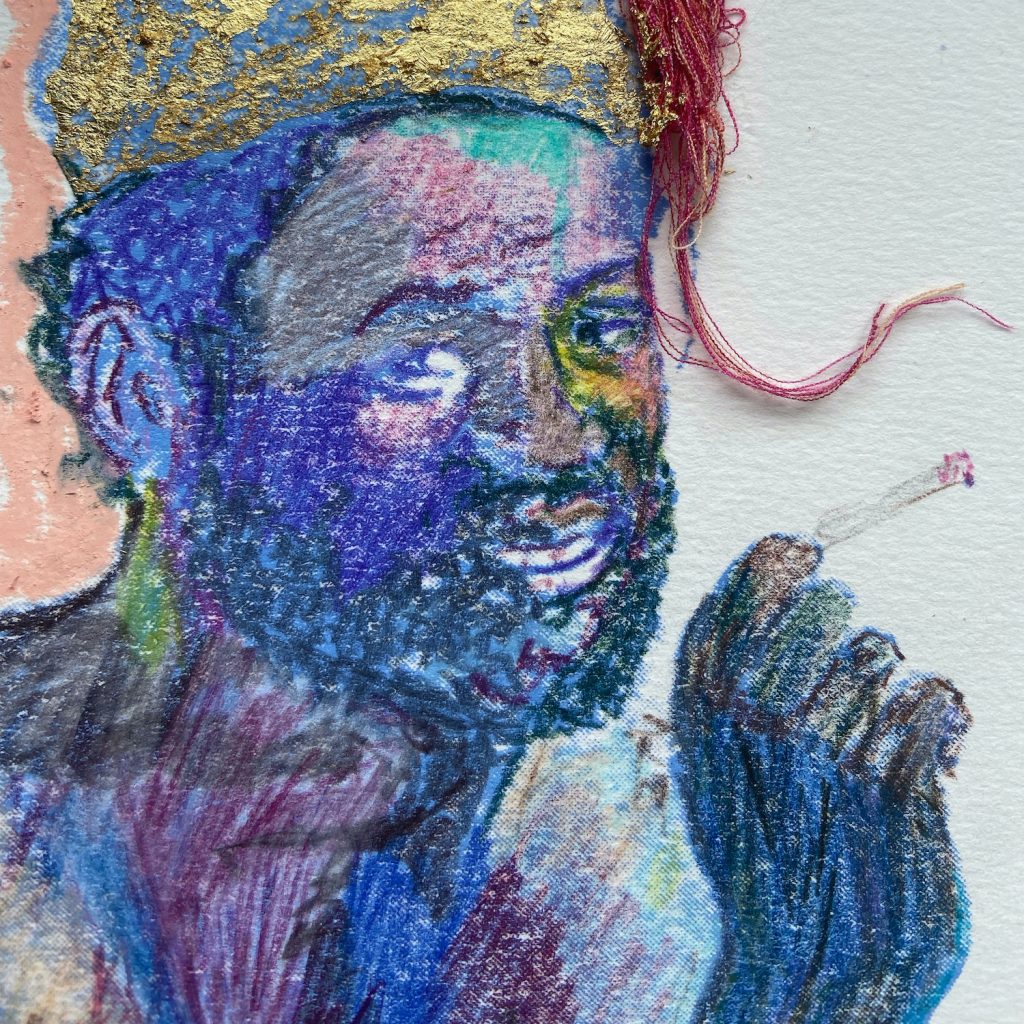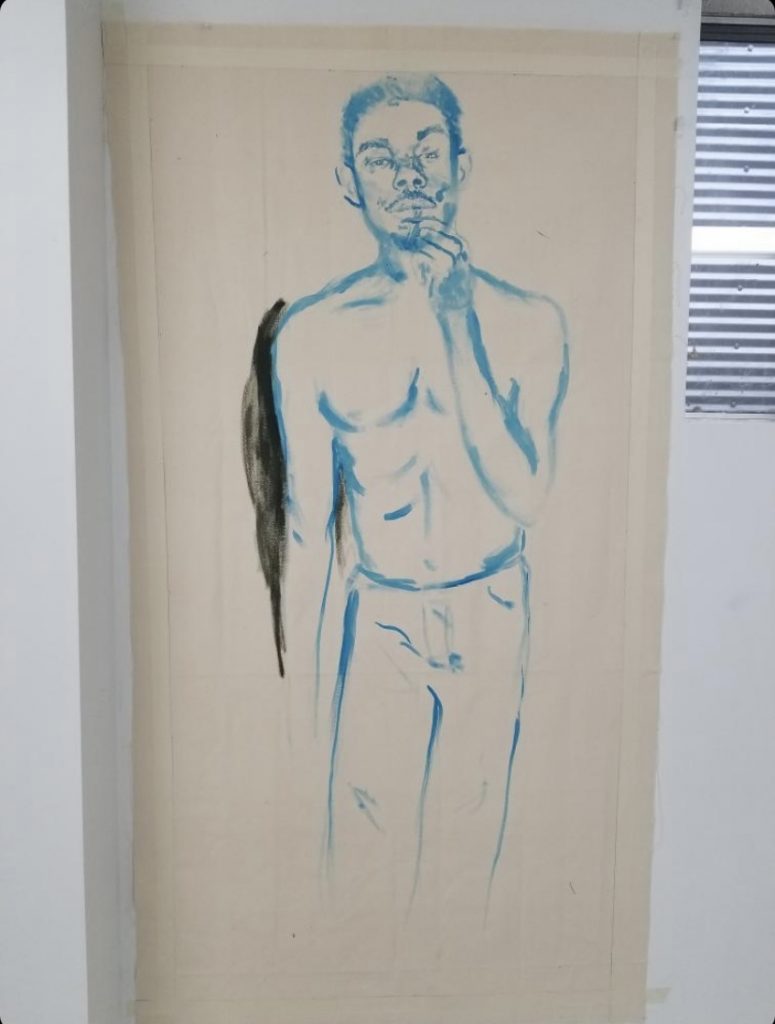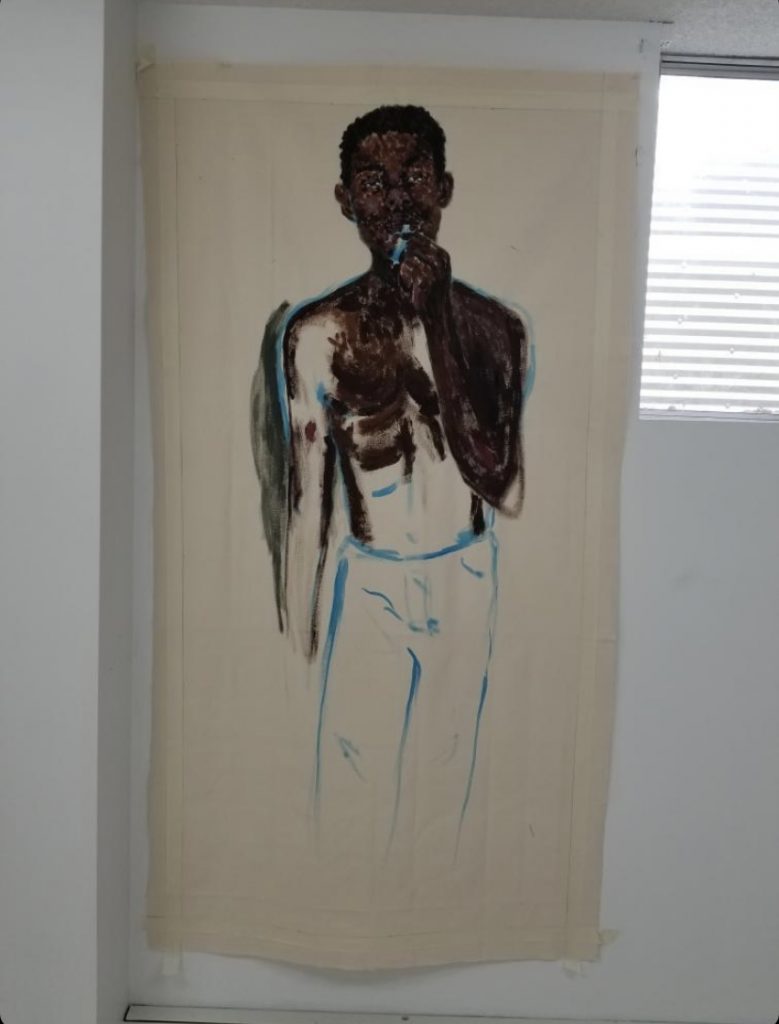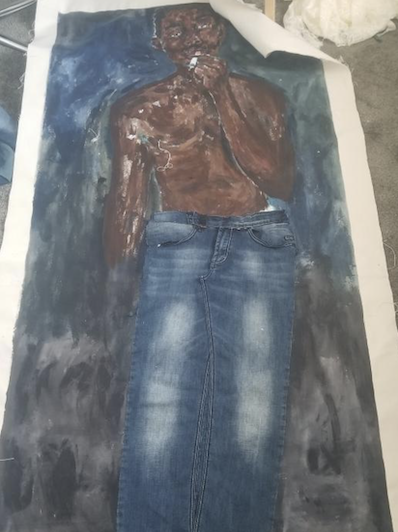 Day 4 -Thursday July 29, 2021
"In 2019, @elisabethperrault and I did an exhibition in Morocco at La Conserverie @laconserveriedemarrakech. Located in the old industrial district of Marrakech, La Conserverie is a former factory transformed into a cultural centre now hosting performances, exhibitions and installations. For this exhibition, some of the works were created from a childhood trauma. Indeed, I was traumatized by the image of the dead body of Matoub Lounès during his burial. I was therefore interested in the last image of murdered people. More precisely, I wanted to start from these images of our murdered Kabyle compatriots from the colonial era, and then shared in newspapers, videos and French propaganda. You have from left to right portraits of Amirouche Aït Hamouda, Mouloud Feraoun and Lounès Matoub that I created. I then wanted to reproduce a funeral ritual for them."
– Berirouche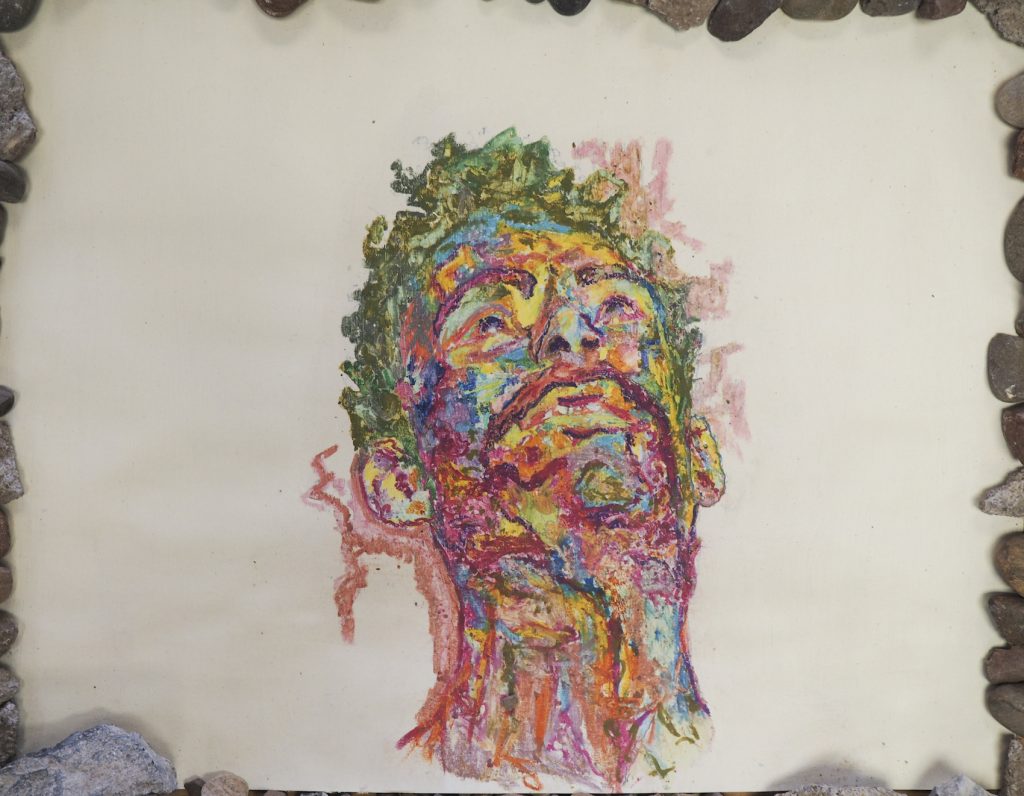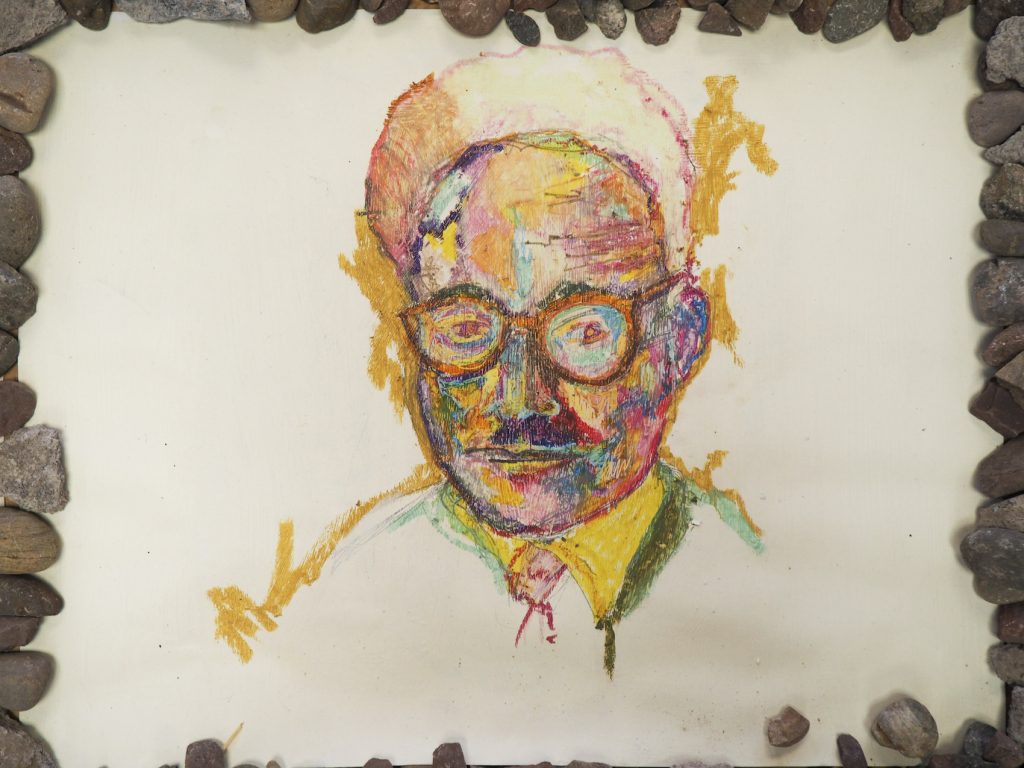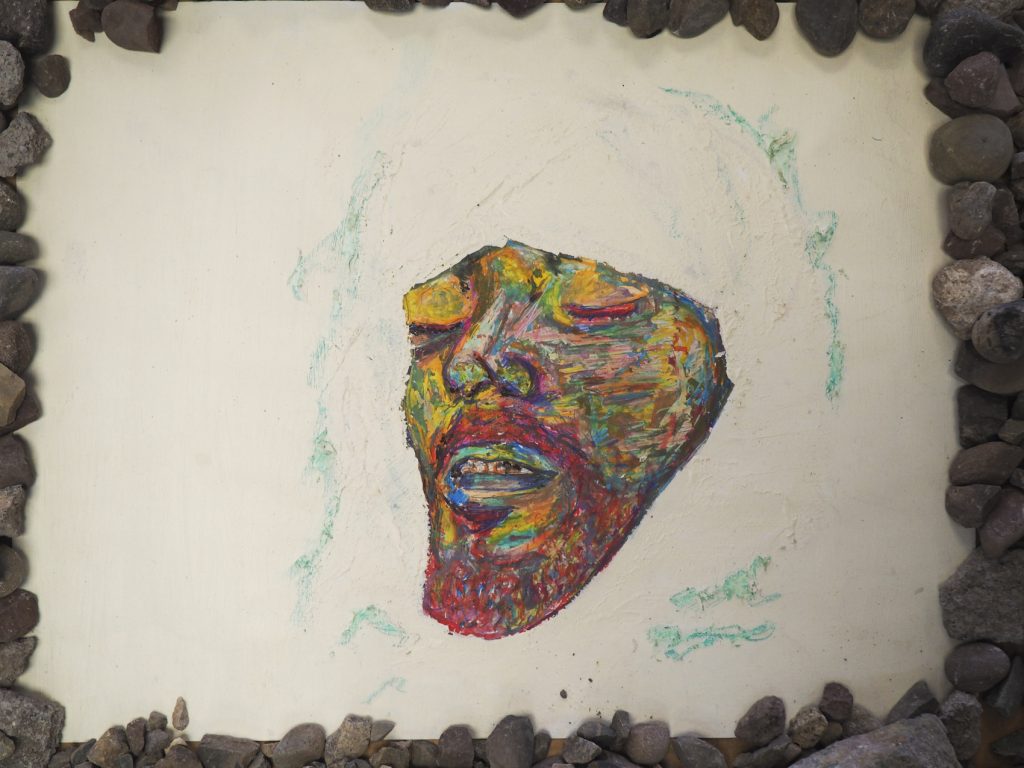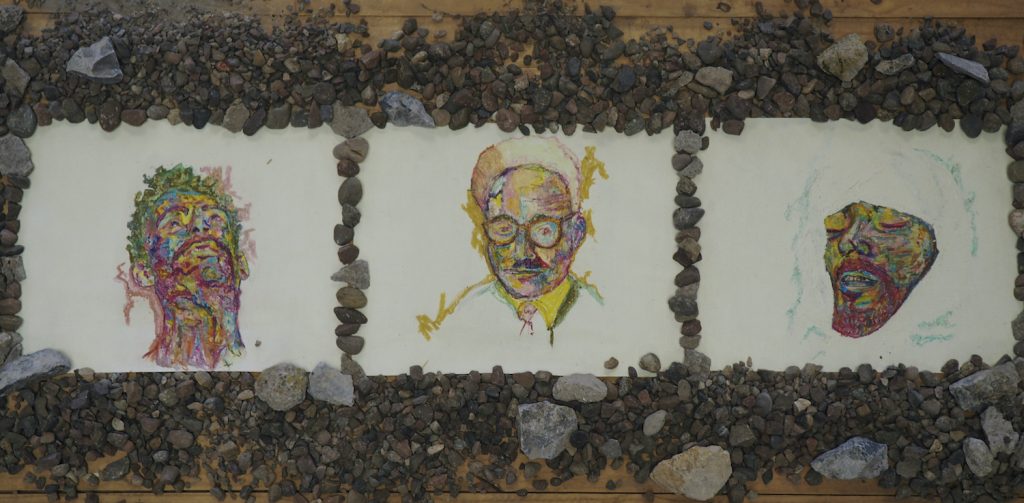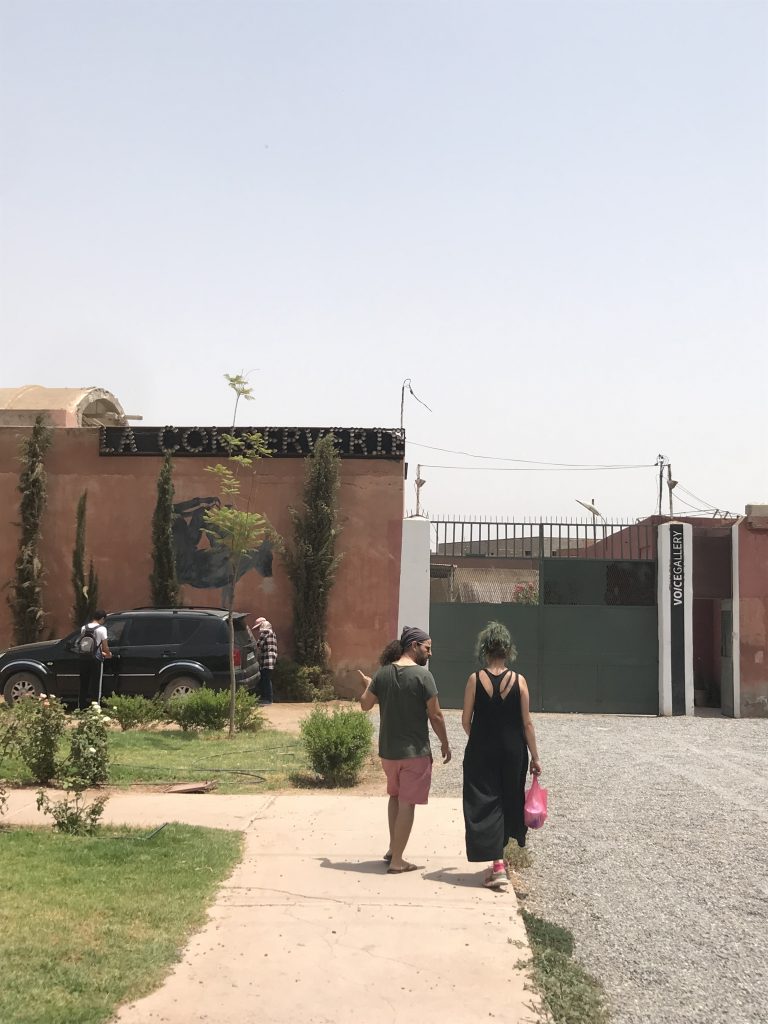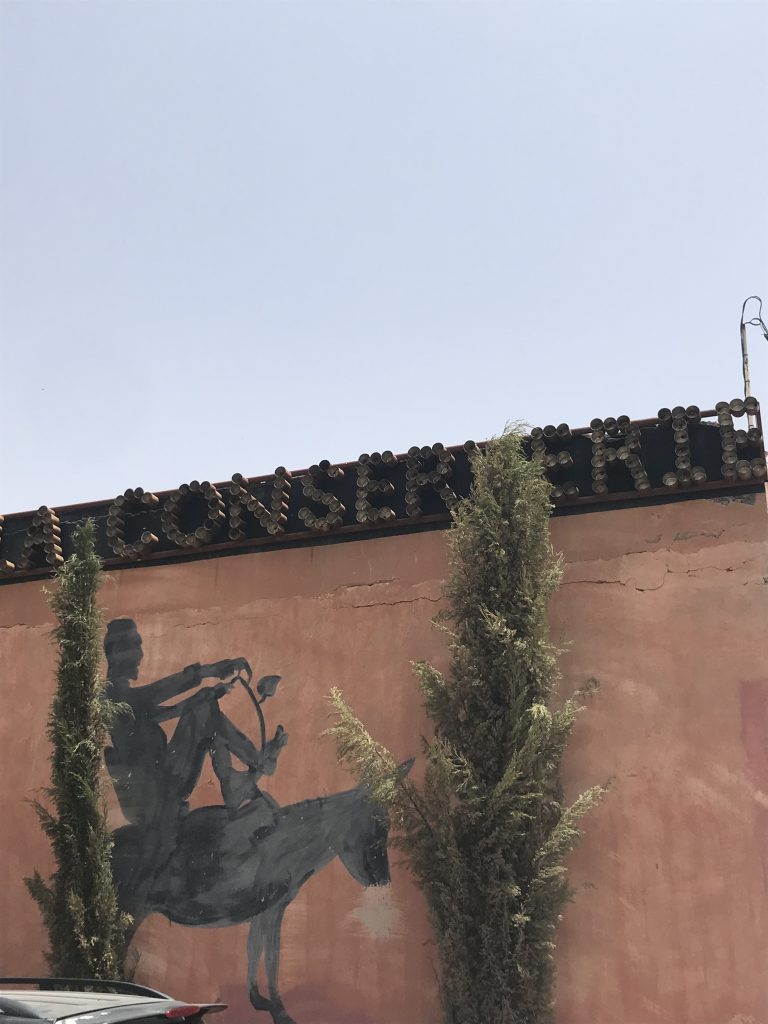 "I am revisiting my work from 2017-2018. I'm taking a close look at my engagement from that time to better understand my emotions then. I am revisiting that journey because it is important, almost naive, but I like to tap into this idea of introspection on my body of work. I want to give life to these works and give it another form. For the moment, I am re-engaging with these works that I find incomplete, perhaps or abandoned by time. I want to integrate them in my new production and also understand why I have put them aside. I often find myself revisiting my work and giving it a second life."
– Berirouche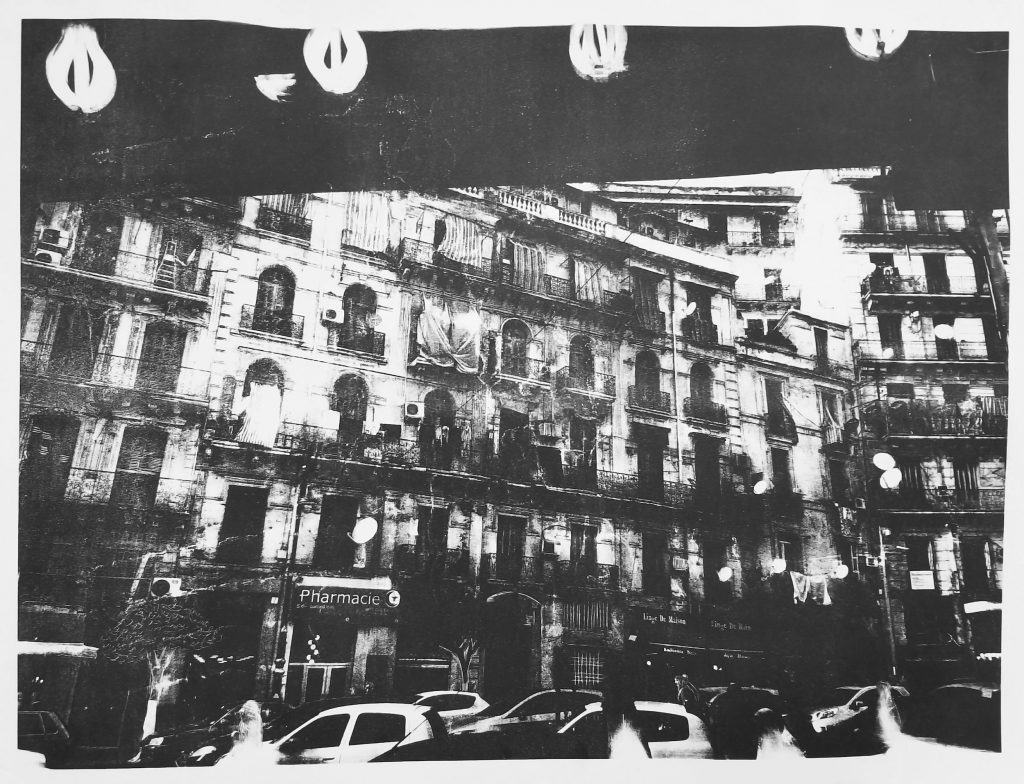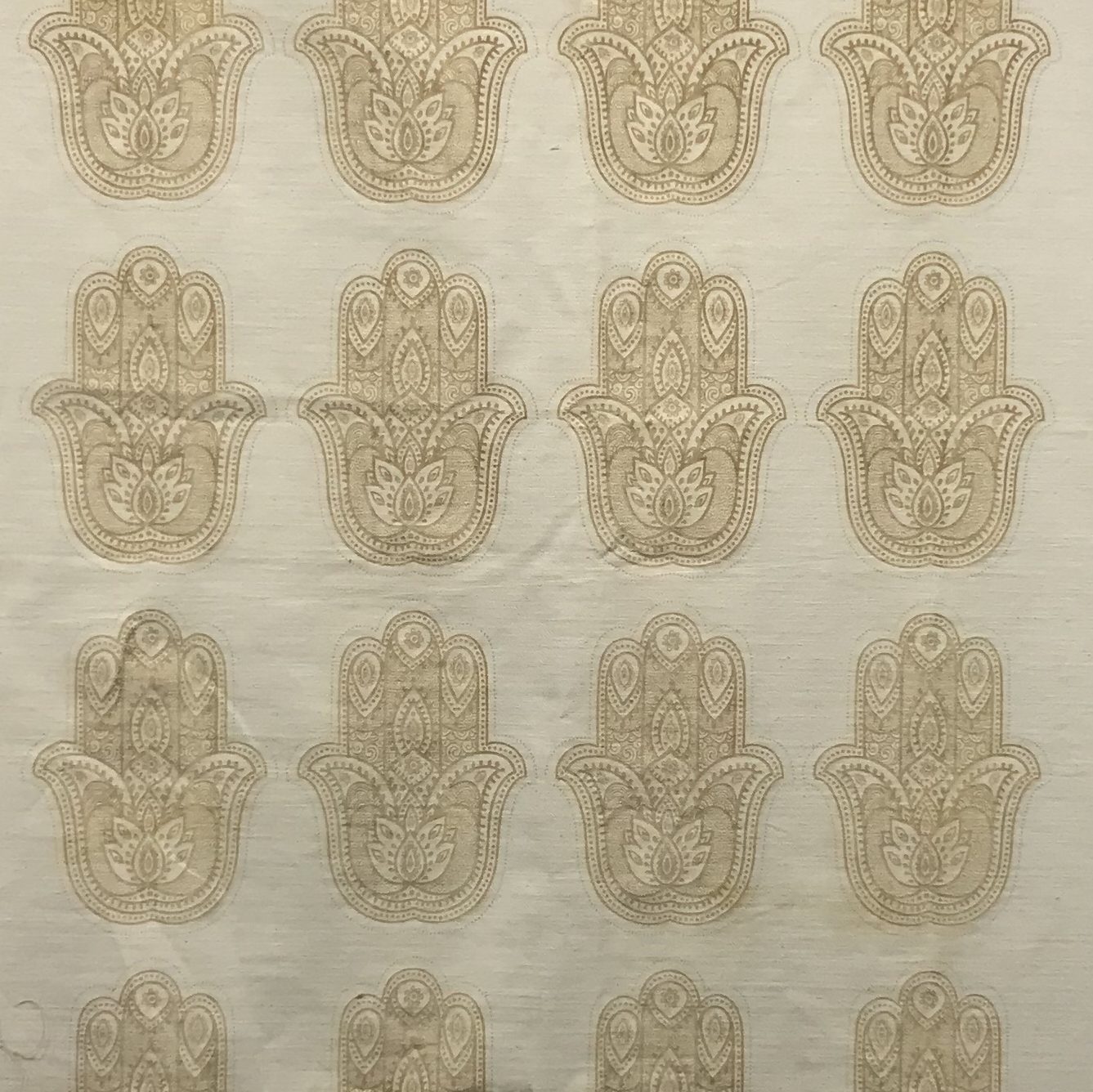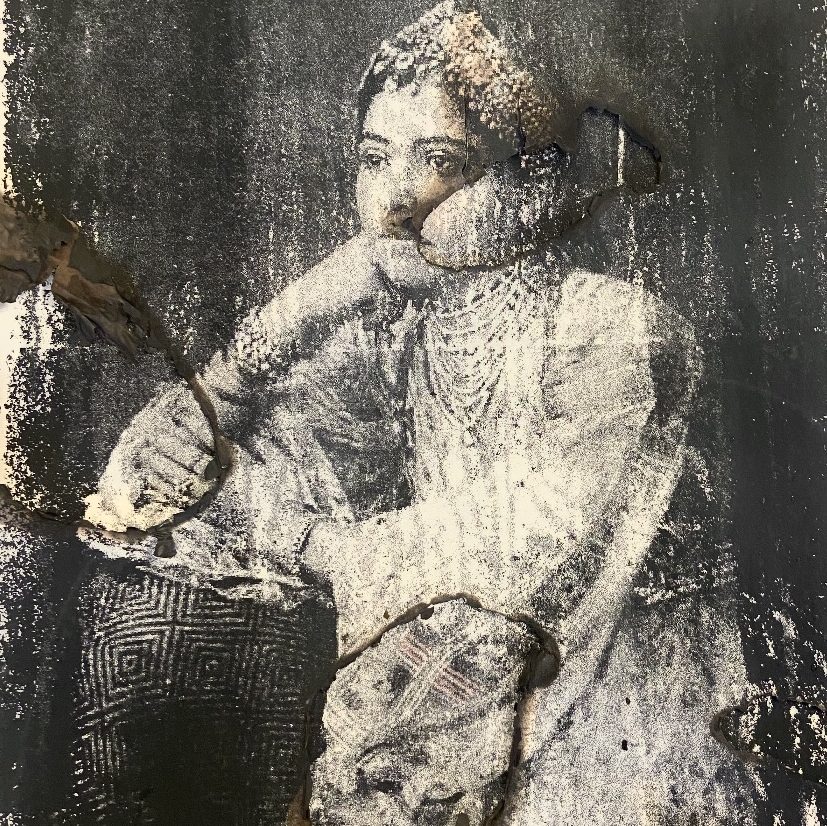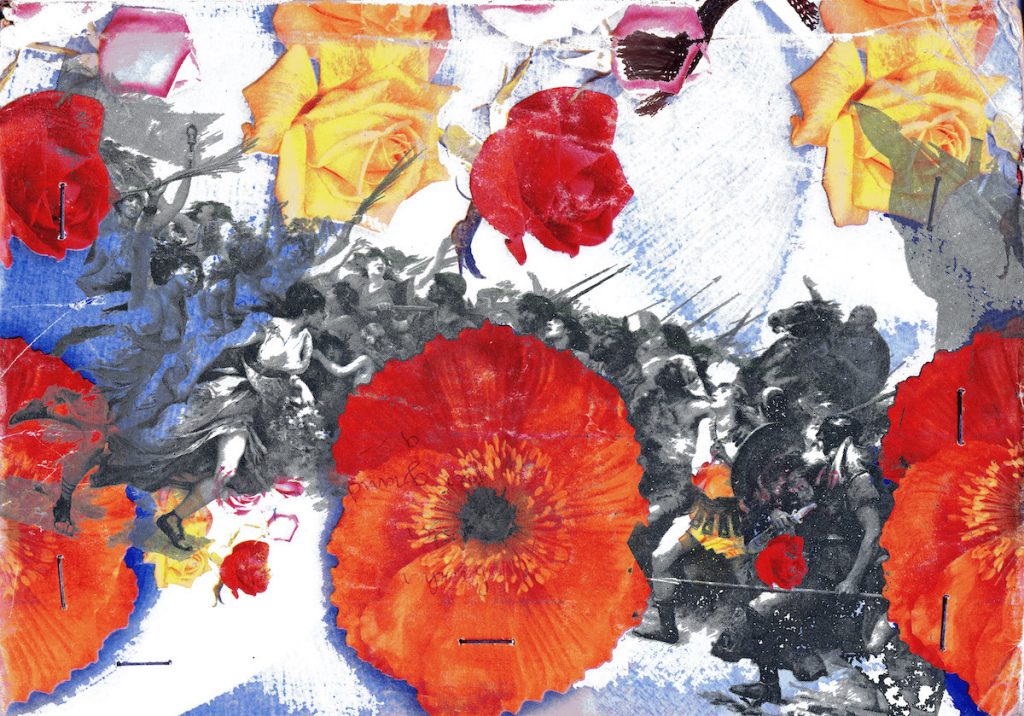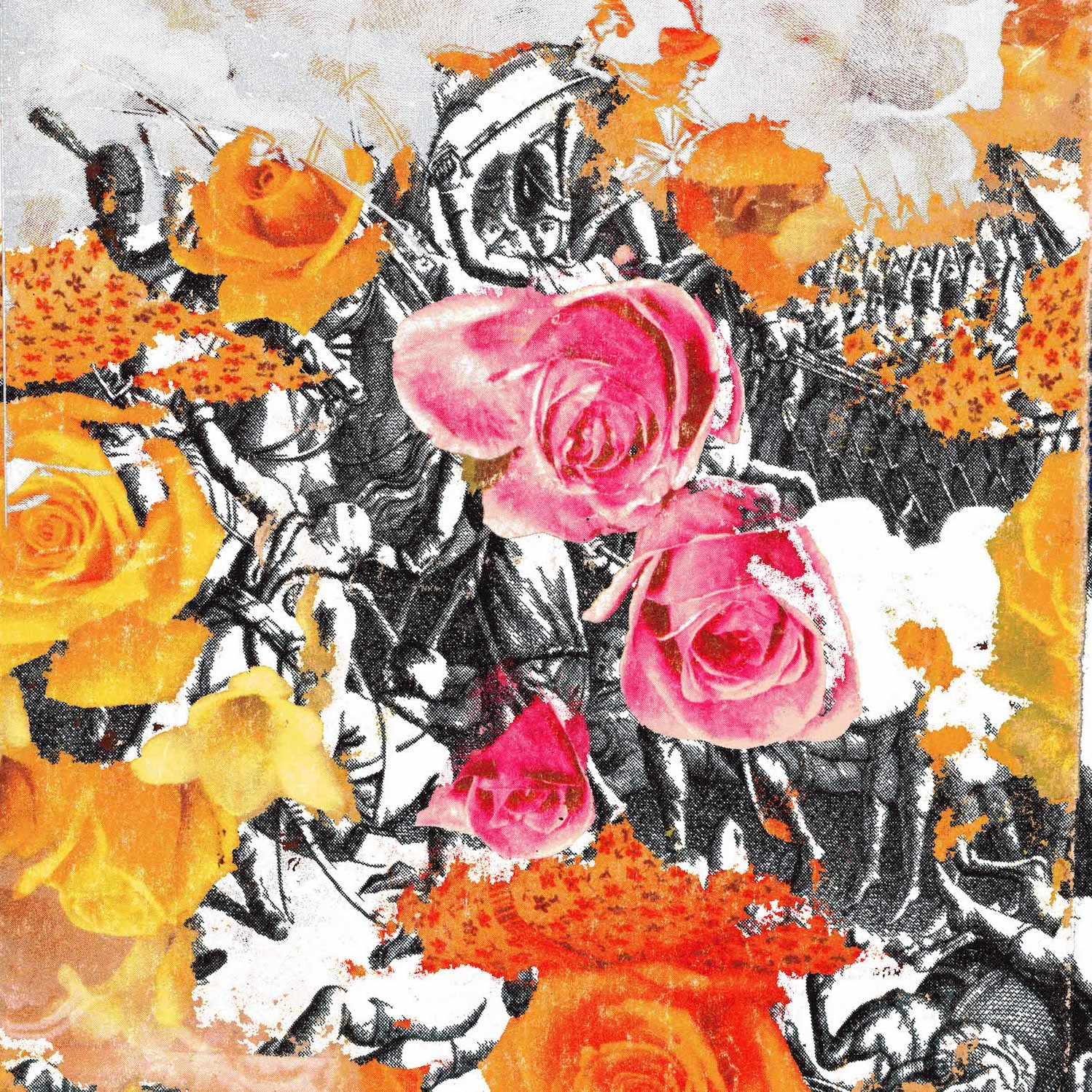 Day 5 – Friday July 30, 2021
"I explore themes relating to my Amazigh heritage as well as common agrarian peoples from Berbers to First Nations. Such topics include: African popular culture, historical violence, orientalism, religious symbolism, fetishism, de-colonialism, and my own migration story among other personal memories. The intersectional narratives in my work and my transdisciplinary approach often involves research in the areas of history, politics, science, technology, as well as collaboration with other artists. If I define myself first and foremost as a transdisciplinary artist, my reflections on history and culture are transposed into sculpture, installation, painting, video, photography, writing, performance and through a large body of printmaking.
Here are some examples."
– Berirouche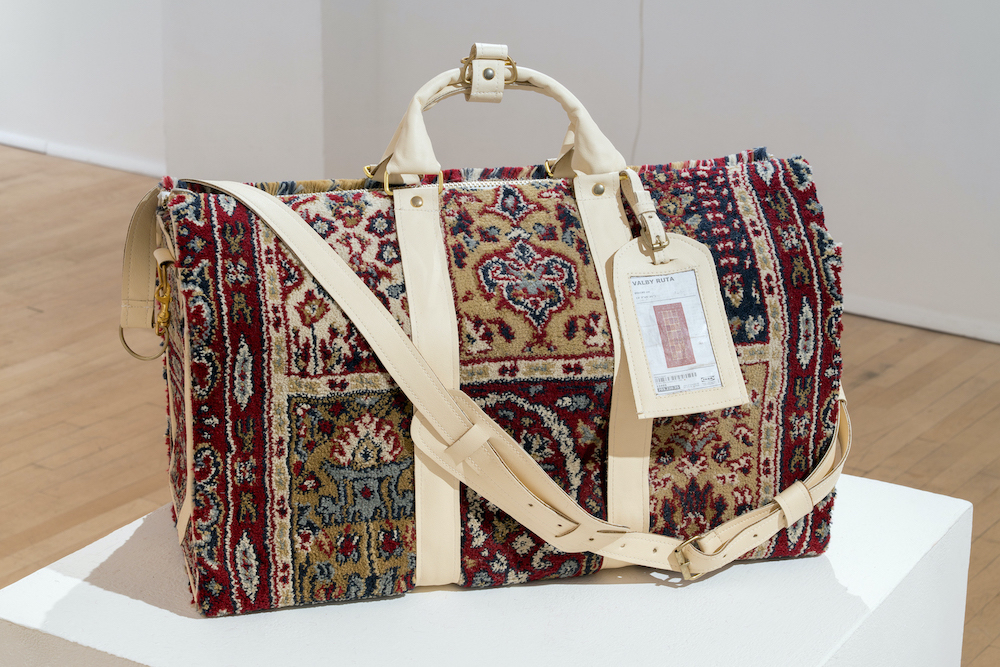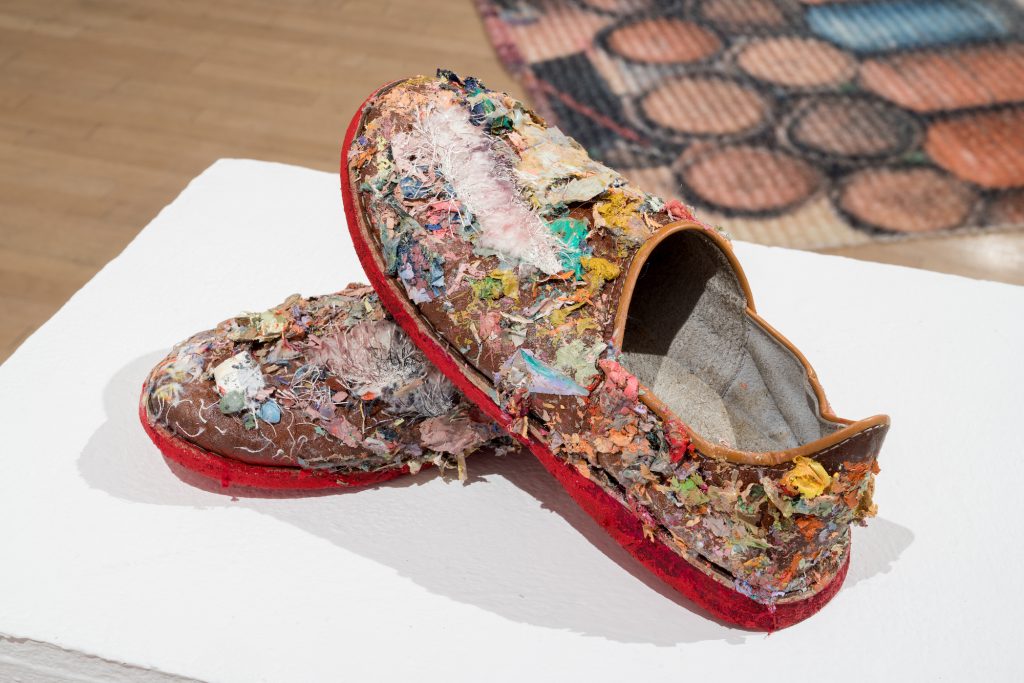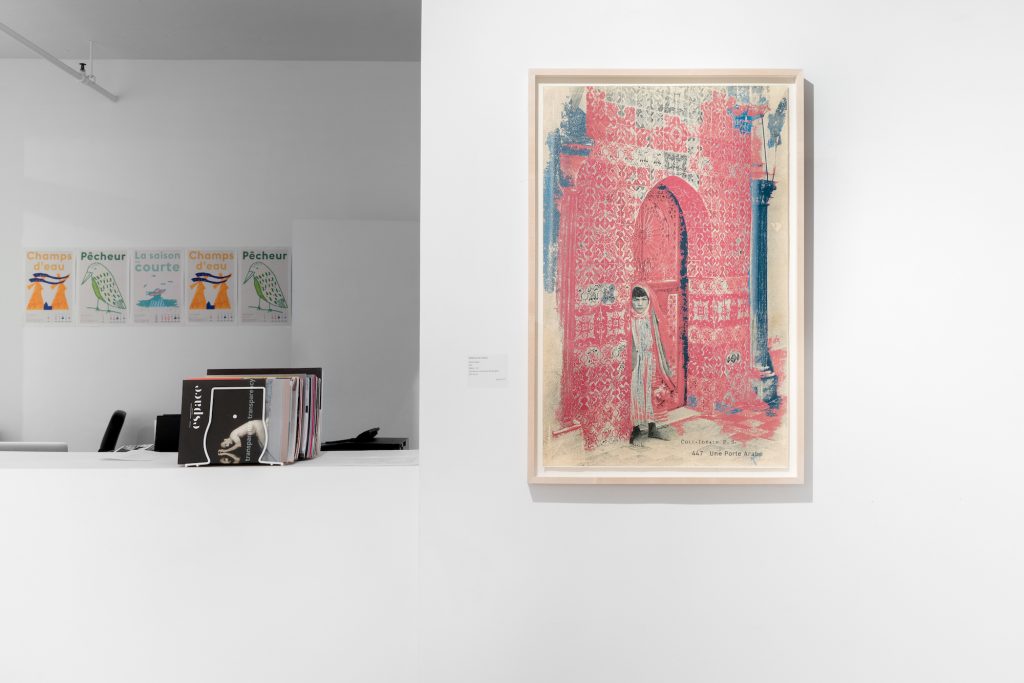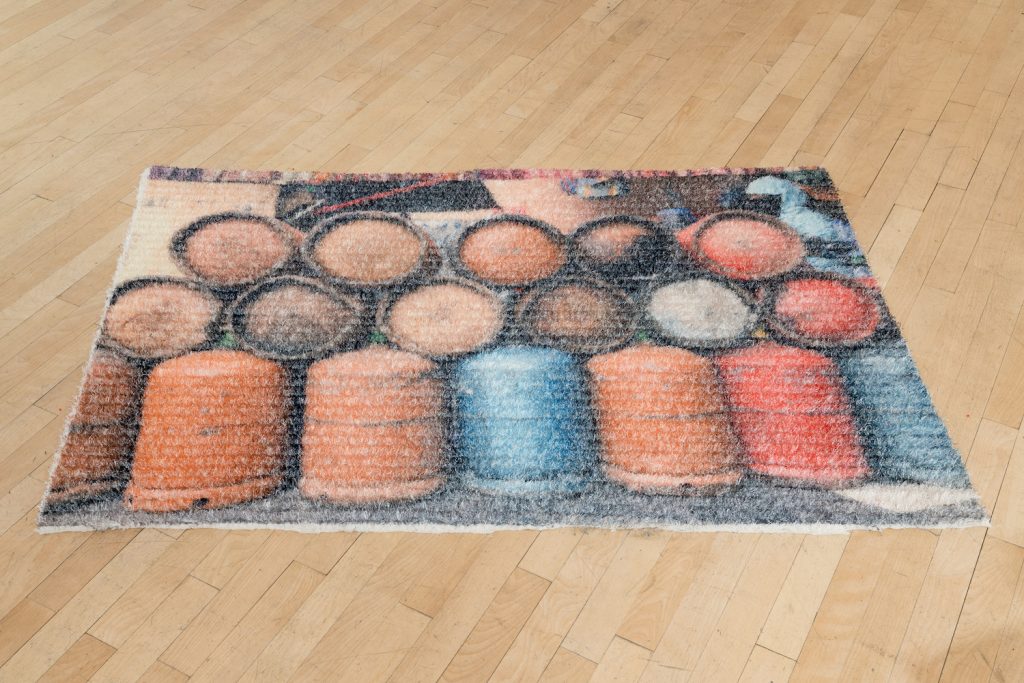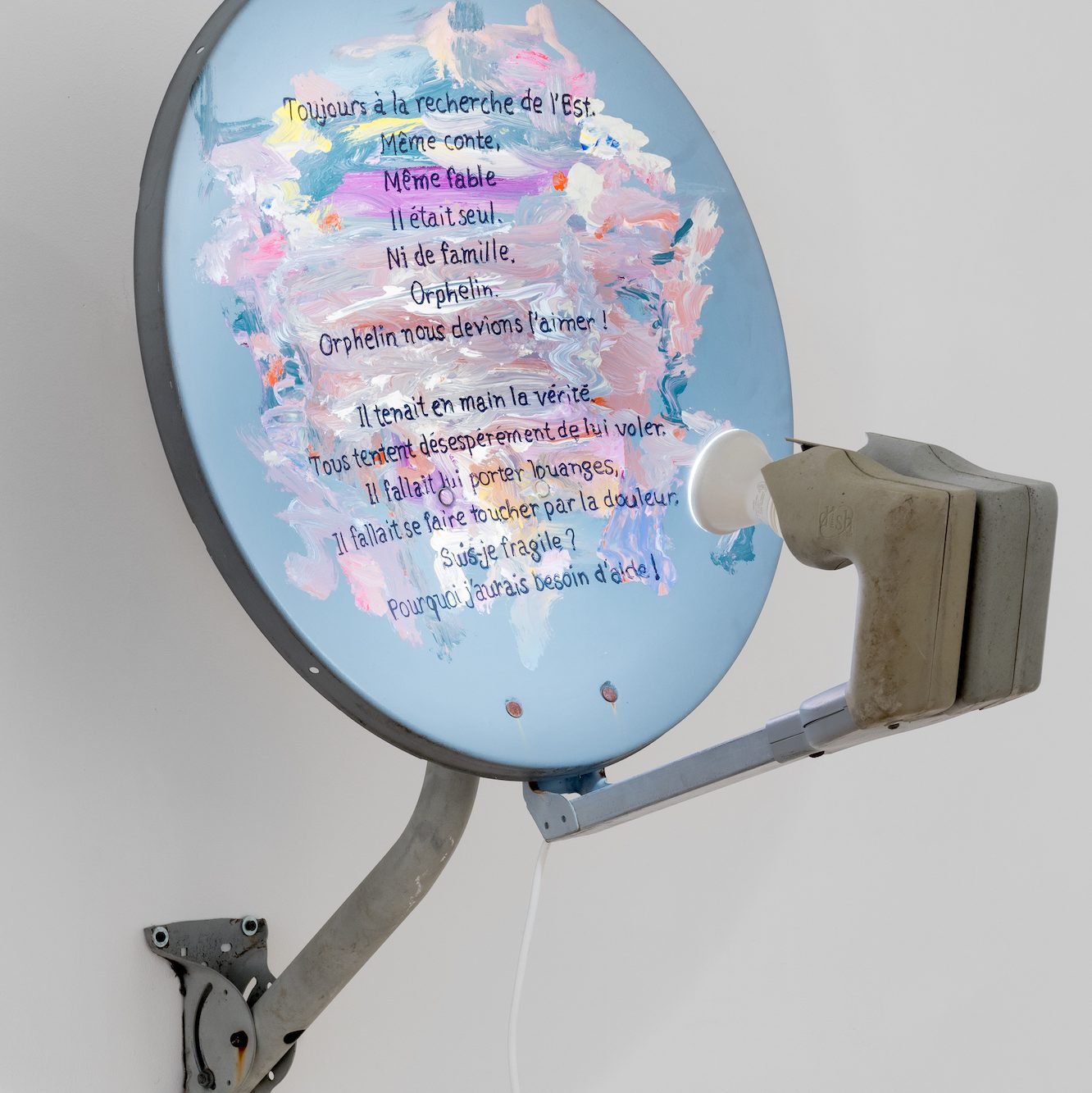 "I'm working on a very special painting that I've been thinking about for the past five years. This idea goes back to 2016, during my trip to Algiers-Centre (Algeria) where I rediscovered that place from an adult perspective.
In front of the square of the commune, I was transfixed by the sculpture of Marian Konieczny (1930-2017). This "equestrian statue of Emir-Abdelkader" made me think about its legitimacy. With its inauguration on July 5, 1968, the President of the time Houari Boumédiène, renamed the Place Bugeaud (a former French marshal known for his role during colonization) for the Place of Émir-Abdelkader (emblematic figure and reformer of Algeria).
Later, I discovered another equestrian statue from the colonial era. The work of Carlo Marochetti (1805-1867), "Statue équestre du duc d'Orléan," (portraying Ferdinand-Philippe d'Orléans, one of the key players in the conquest of Algeria), inaugurated on Oct. 28, 1845, in the former "Place du gouvernement" (the very first square in Algiers that was established by the French army)."
– Berirouche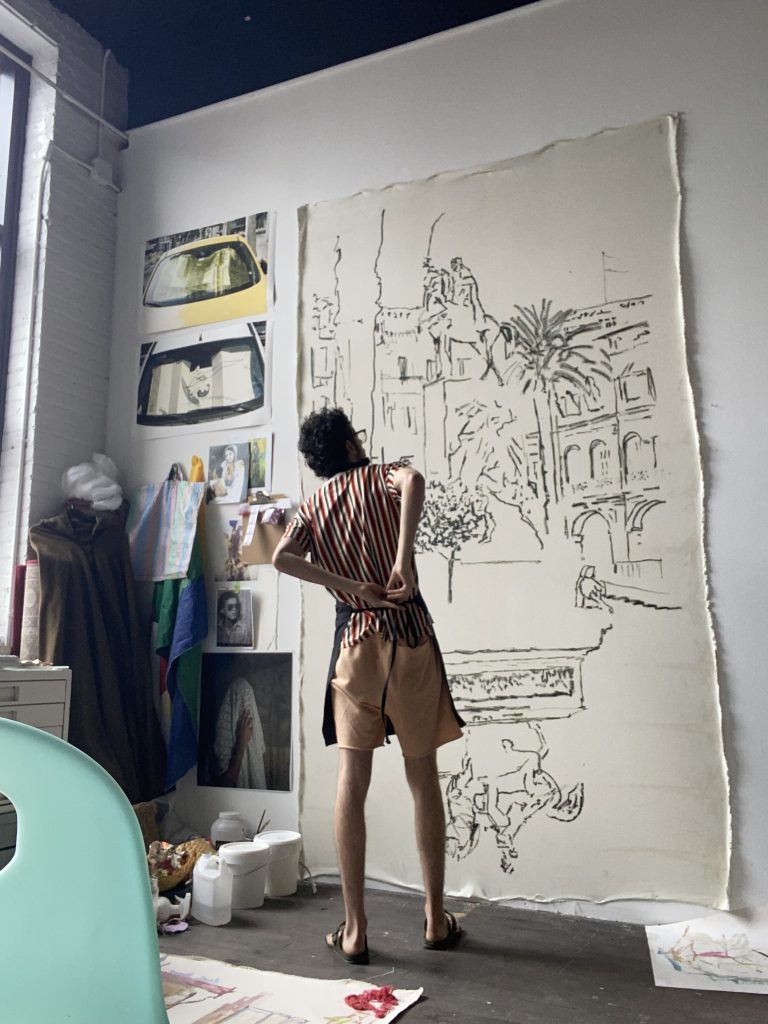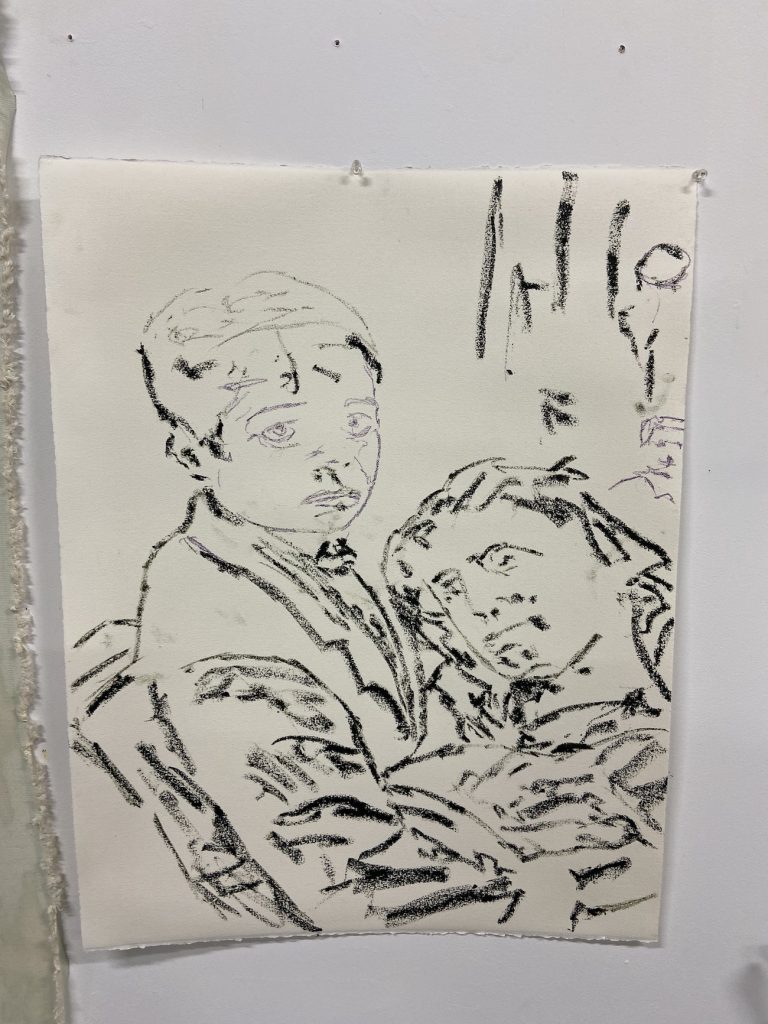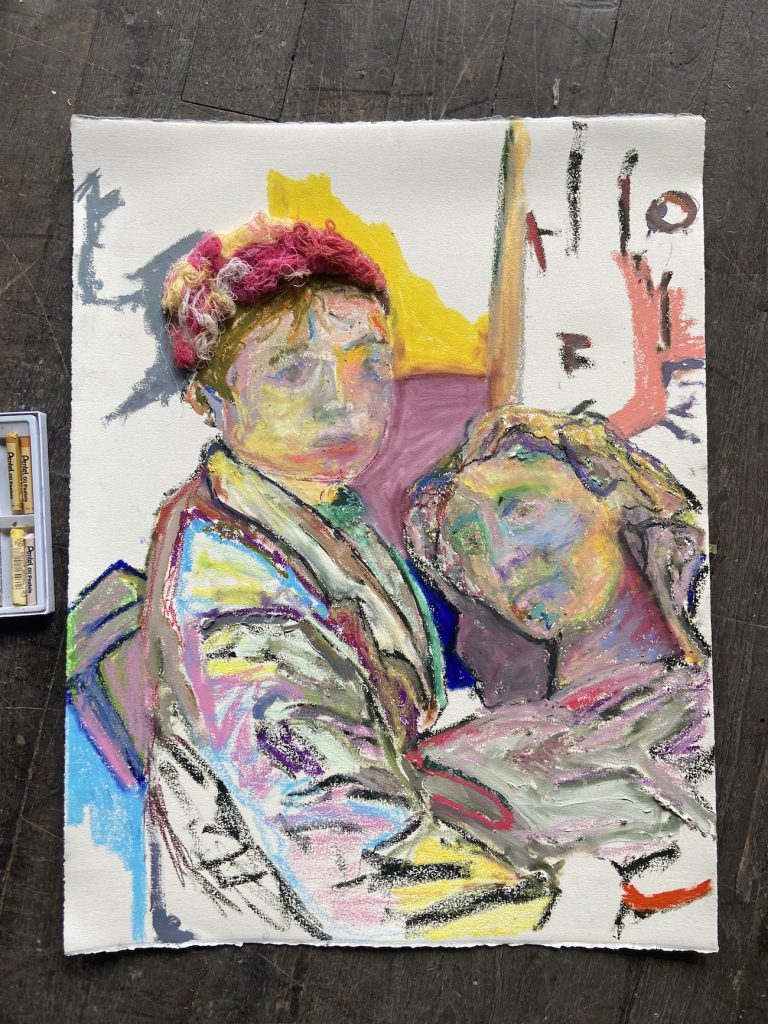 "I wanted to challenge the validity of these two equestrian sculptures with a new creation. Therefore I juxtaposed these two figures to make a single composition, in the form of an oil painting. Eventually, I would like to reproduce it in the form of a sculpture, elevated and intangible.
Behind these public sculptures lies the deepest secrets of Algeria's history."
– Berirouche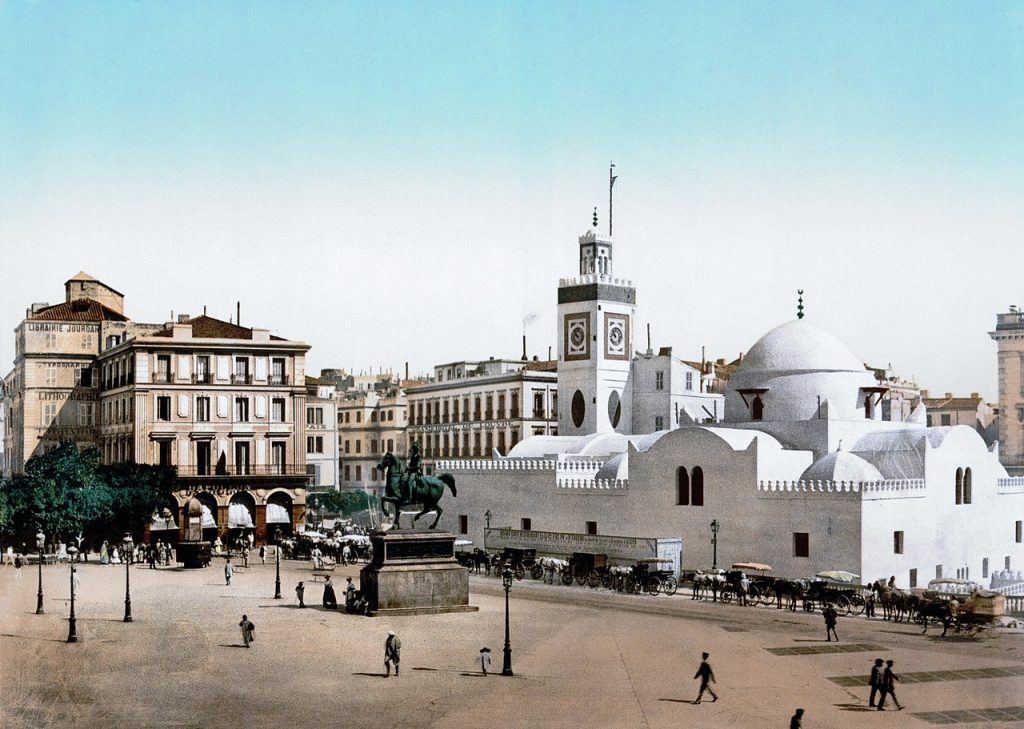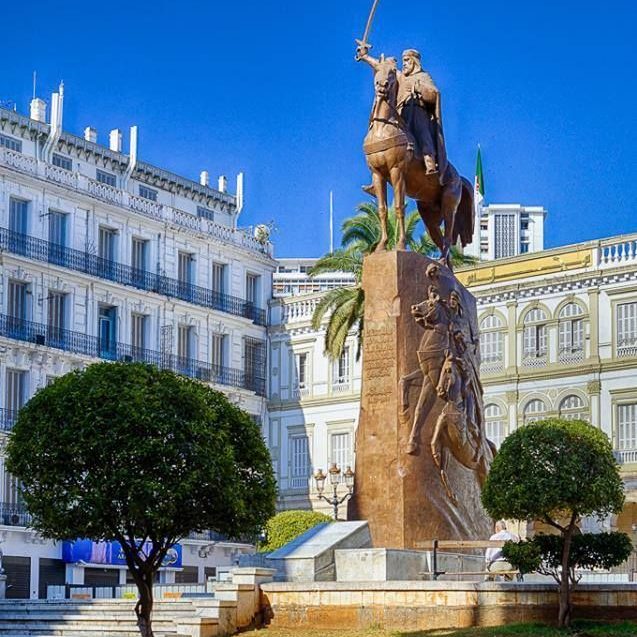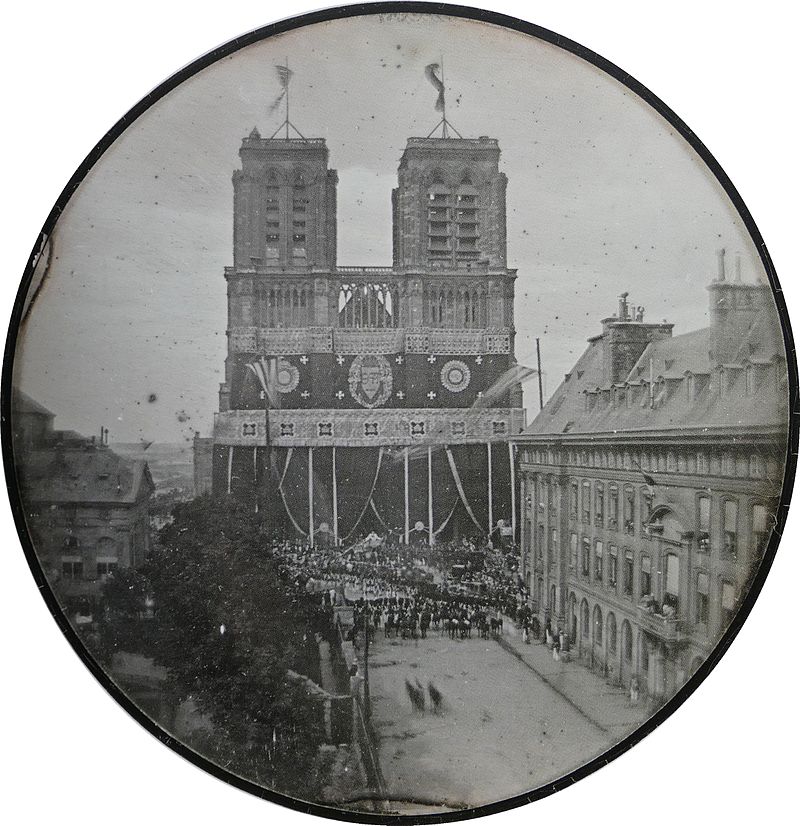 "Thank you all so much for your support during my residency. I would like to especially thank L'Imagier for their exceptional work and for our pleasant and sincere conversations.
Here are a few works representing my immigration journey, alongside personal archives. I also want to thank my parents for believing in me. When I first entered the art world, they were on the fence, but now they encourage me 110%. My father even wants to collaborate with me on future projects.
Finally, I would like to wish all the communities still directly affected by this pandemic much courage and strength. Please donate to hospitals around the world that need it to provide oxygen to the suffering patients. I send my sympathies to the families who have lost a loved one during this pandemic. I send my thoughts to my aunt Zahoua for her courage, despite the death of her doctor husband. She continues to brave all these devastating emotions."
– Berirouche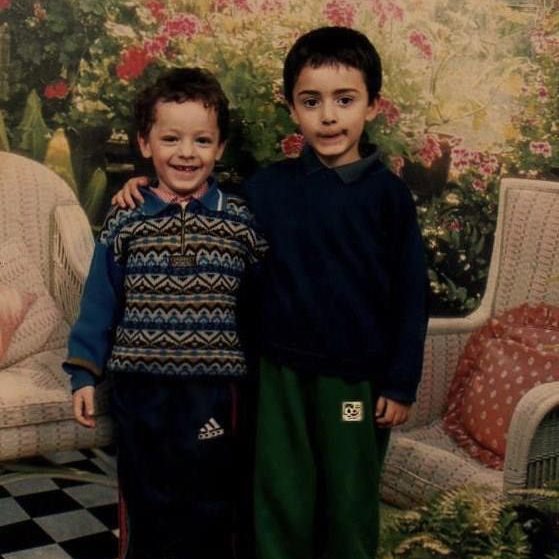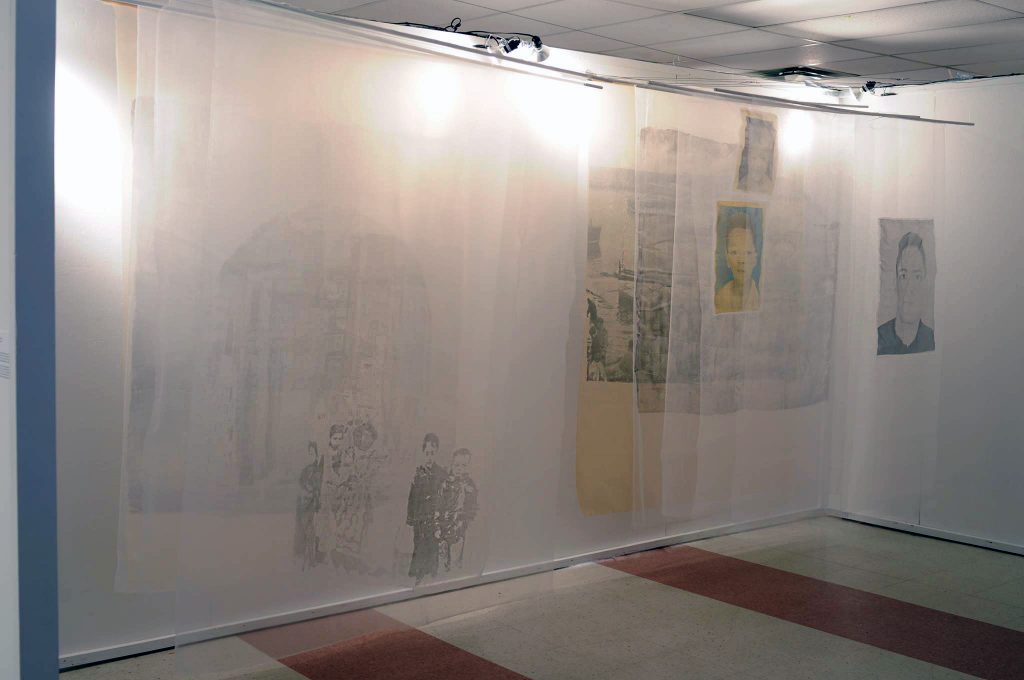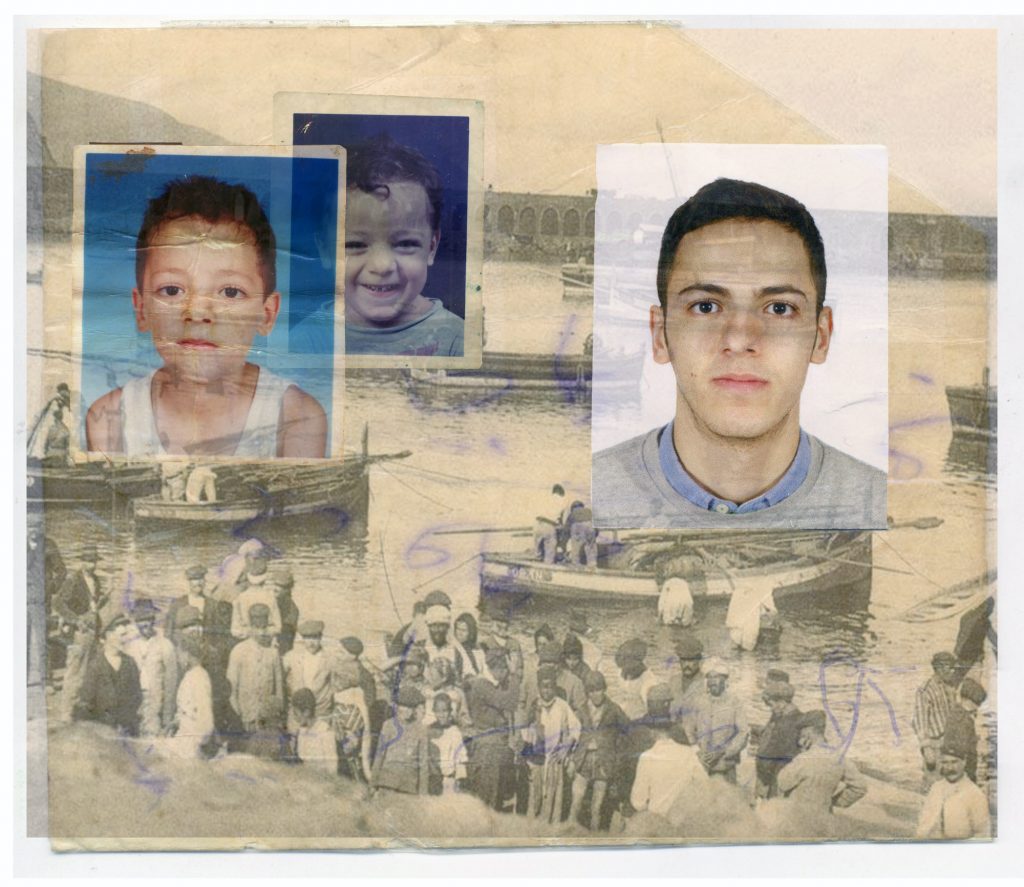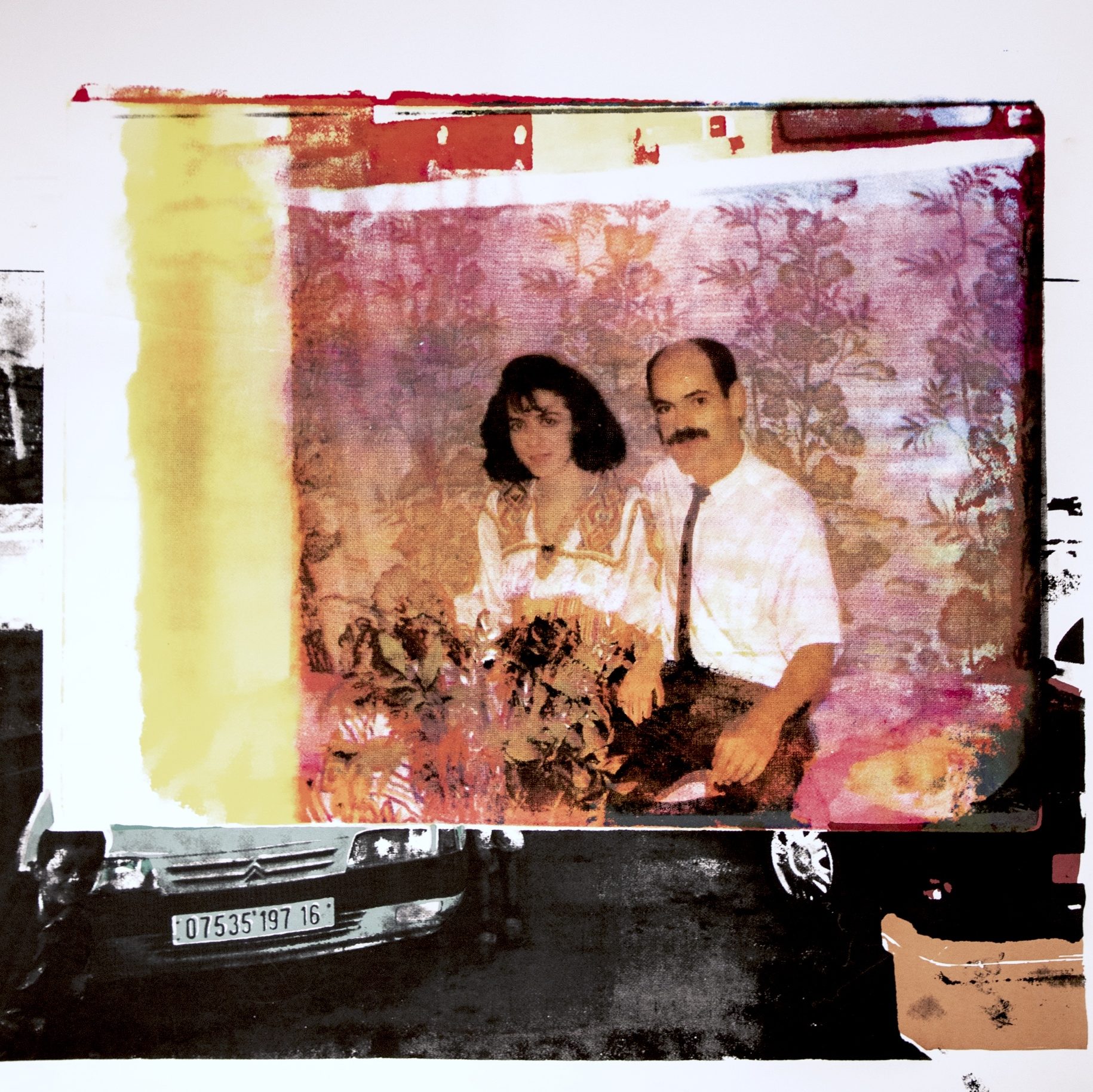 Discover the other Instagram Takeovers.